With launch of its own network in the U.S. rapidly approaching, it's worth looking at the potential benefits it has for shareholders of the World Wrestling Entertainment (NYSE:WWE).
The new streaming channel dubbed WWE Network will be available to wrestling fans in the United States on February 24 for $9.99 per month. It will require a minimum of 6 months commitment for those ordering the service.
Fans of WWE will immediately recognize the tremendous deal offered, as all 12 pay-per-view events are included in the deal. Since most wrestling fans order only two, or at most, three pay-per-view shows a year, it's quite a step up to be allowed to see them all for about the same price as two shows.
At about $120 a year, it costs only about the same as 2 events at the normal $45 to $65 paid for each pay-per-view event. That is a terrific incentive for fans to sign up.
There were other models considered by WWE before deciding on a streaming model. For example, an HBO premium pay channel model was taken into consideration, as was an ad-supported network model.
It may be the on-demand features which would cater to older fans that was the tipping point for this model, as it should draw in new fans that remember a lot of stars from the past who want to see them wrestle again.
source: Yahoo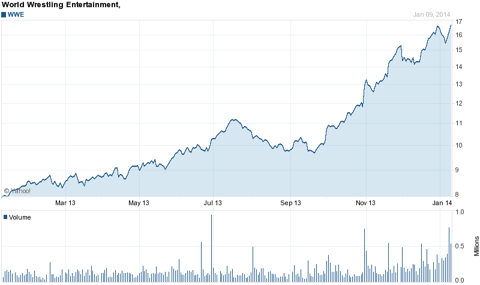 Potential
To get the greatest market penetration, WWE Network will be offered on a variety of devices, including Apple iPhone and iPad; Samsung Galaxy; Xbox 360, PlayStation 3 and PlayStation 4; and Roku, among others.
According to chief strategy and financial officer for WWE, George Barrios, if the company is able to attract 1 million subscribers for the service, it will reach the break even point. But internal research suggests it is more likely new subscribers will sign up in a range of 2 million to 4 million. Barrios stated that somewhere around 800,000 to 1 million customers sign up for pay-per-view events annually.
If the break even point is about 1 million and research concerning the number of new subscribers likely to try the new service are accurate, this is a tremendous potential revenue generator and cash flow catalyst for the company.
What it means is it will cost about $120 million annually to run the new service, with the possibility of four times that amount of revenue generated if it comes close to the 4 million mark in new subscribers. Even it is comes in at the low end it will be a big hit for the company and boost the share price of WWE.
With a 6-month commitment required to sign up, it'll take until August to see what the attrition rate will be for those originally signing up for the new Web channel. There will of course be continual customers signing up throughout those months, but the initial group of customers will provide a benchmark to measure the service against.
Even with cannibalization of its pay-per-view business, the company will break even at 1 million subscribers. With 2 million subscribers it should generate about $50 million OIBDA, with the upper end of 4 million subscribers, it should generate about $150 million OIBDA.
"Raw" and "Smackdown"
With live events still a big draw, "Raw" and "Smackdown" will continue to air on cable television, although new rights deals are being negotiated at this time, with expectations they will be in place by March 4, 2014. Subscribers to the streaming service will be able to watch encores to the live events if they choose.
A better deal for TV rights will be another revenue boost for WWE, in addition to the new streaming network.
Also, at this time all licensing deals for content bring in a total of approximately $140 million. The largest agreements are on in the U.K., one in India, and two in the United States. In the U.S. the new licensing deals should be completed by the end of April, with the deals in the U.K. and India projected to be in place at no later than the end of January 2015. Other deals will have to be negotiated, but these four account for about $100 million of the $140 million in revenue generated from licensing fees.
Those choosing not to sign up for the new service will still be able to access PPV events via cable or satellite distributors.
International Markets
WWE has been incrementally growing its global presence, which now accounts for 27% of company revenue. Since content is normally offered internationally that has already played in the U.S., there is very little in the way of costs to grow out this part of the business. Obviously, the more it can grow around the world the better for shareholders, as it's a tremendous margin and earnings part of the business.
Outside of the United States, other regions will have to wait until the latter part of 2014 or early 2015 to get access to the streaming content. This includes Canada and Europe.
Internationally WWE generated close to $11.2 million in revenue in the third quarter, which points to some real potential for signing up new streaming subscribers once the content is ready for those markets.
Basic Strategy
There are a couple of things to look at concerning this business model and strategy for investors. One is the potential for a more predictable revenue stream, and the other is the interesting reversal of a la carte to bundling; the opposite of what many customers are looking for with other content they want to view.
How WWE has been operating is it has offered one pay-per-view event per month throughout the year. Now with the new streaming service, it will take that a la carte content and bundle them together. The thing to keep in mind here is sports content is able to be sold and packaged differently than other content. This is why this streaming content strategy has a good chance of working for the company.
This will allow WWE to market the new service as a huge money saver with terrific value to its fans. The twelve pay-per-views would cost between $600 to $700 annually if they were all acquired by a customer. The company can use the $120 figure to contrast the value of the content being offered, and that doesn't include the thousands of hours of archived material included in the service.
I think this is powerful marketing bait that has proven value to customers, which could surprise as to how many sign up for WWE Network.
With pay-per-view being so important to the performance of WWE, it's apparent the company wants to take the unpredictability of month-to-month sales and bundle it into a predictable revenue stream. That's a lot of what this new streaming service is all about.
Conclusion
Since WWE is understood by a lot of people to be scripted content, it is at times underestimated by investors because it's not considered to be a real sport. But I've heard a number of people who are fans of WWE events talk about them as if they are real stories and battles unfolding in time.
Whether we know the difference or not doesn't matter. It's the fans that count, and that customer base continues to grow around the world. It's not different than a so-called reality TV show being discussed around the water cooler as if there was no influence from the network. Both are controlled environments, but wildly popular among those that like to immerse themselves in these fully or partially scripted content universes.
With that in mind, WWE has some tremendous upside potential in the next month and year, as it opens its new streaming channel to its fans. The share price is likely to rise in anticipation of the upcoming launch date on February 24, and depending on how well that does, could jump again if it outperforms expectations.
Another catalyst is the TV rights and licensing deals being negotiated at this time. Combined these are powerful forces that should push the share price of WWE up nicely. Only a very disappointing subscriber count for the streaming service could slow this momentum down.
In 2013 investors pushed the price up by more than double, believing the company is undervalued.
Disclosure: I have no positions in any stocks mentioned, and no plans to initiate any positions within the next 72 hours. I wrote this article myself, and it expresses my own opinions. I am not receiving compensation for it (other than from Seeking Alpha). I have no business relationship with any company whose stock is mentioned in this article.