Gartner recently released their estimates of Q4 shipments of personal computers (PCs) estimating 82.6 million units worldwide were shipped in the December period.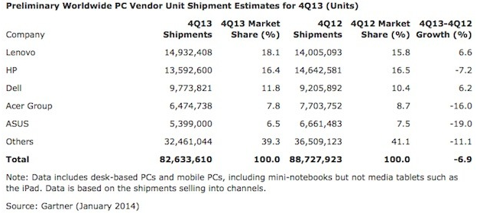 For Intel (NASDAQ:INTC) the numbers matter. In Q3 Gartner reported PC shipments were 80.3 million.
Intel guided to revenues of $13.7 to $14.2 billion for its fourth quarter. Analysts' estimates (from Yahoo.com finance) are for net income of $0.48 to $0.45 on revenues of $13.5 to $14.1 billion.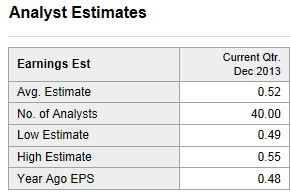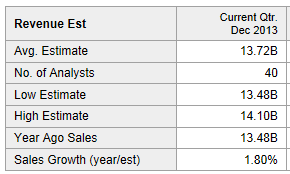 If the Gartner numbers are correct Intel will very likely beat its guidance and analysts' estimates. My crude model for Intel shows Q4 revenues of $14.5 billion with net income of $0.64 per share.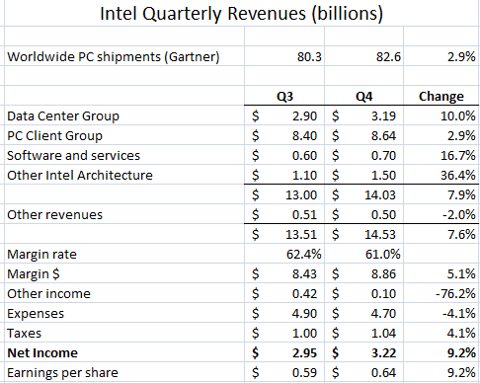 My model assumes that Intel held its share of the PC market, that unit shipments in Q4 estimated by Gartner were paralleled by shipments by Intel to computer makers (and did not come from inventory reductions in the field), that Data Center revenues grew by 10% and that "Other Intel Architecture" grew by $400 million reflecting the large number of Intel powered Windows tablets that I saw in stores over Christmas. I am assuming 1 million incremental devices with Intel content at $40 a device. Intel no doubt provided substantial promotions to get its Bay Trail processor in devices but I am assuming those promotions are reflected in the margin line rather than a reduction in revenues.
If I am right and Intel beats the street by as much as a dime a share it might spur many to review their forecasts for 2014. PC markets are bottoming and could even pick up this year. Intel's foray into tablets will have some success in my view. And, the very rapid pace of Intel process advances presages sustained high margins.
I am long calls on 120,000 Intel shares hedged by a 10,000 share short position.
Disclosure: I am long INTC. I wrote this article myself, and it expresses my own opinions. I am not receiving compensation for it (other than from Seeking Alpha). I have no business relationship with any company whose stock is mentioned in this article.