The business of football is always about two things; fan base and the success of the club. This is what determines how much a club makes, and how strong its brand is. Now, Manchester United (NYSE:MANU) or "Man United" is one of the most successful sporting clubs in the world, and arguably the most valuable in terms of market valuation. Its value grew tremendously over the last twenty or so years, during which, it collected several trophies.
However, since the beginning of this season, and following the retirement of its iconic manager, Sir Alex Ferguson, Man United has found it difficult to maintain consistent success in its performances. In fact, the club now risks finishing outside of the top four, and thus missing next year's, UEFA champions league. This makes one thing clear; Man United must spend, and spend massively.
When I speak of spending big, I suggest buying excellent players that will undoubtedly require an attractive compensation package, thereby raising the company's operating costs. Additionally, the company is likely to report reduced broadcast revenue as it stands to finish lower than last season. Furthermore, the long-term future, which I think remains bright, will have to pass the litmus test, as the club faces the possibility of following in the footsteps of domestic rivals, Liverpool. Liverpool has struggled to reach its 1980s highs, since 1990.
Now, with the inevitable spending on top-notch players, Man United's operational costs are likely to increase by about 10%-15% next year. Last year, the company reported a tax credit of GBP 155M, which played a leading role on the reported profits. This means that, in the current fiscal year 2014, it might be tough for the company to report profits, unless another tax credit comes through. For this reason, I think that Man United is substantially overvalued and presents a potential 30%-50% downside over the next 1-2 years. I will be discussing this downside in details shortly, but first, let us look at its business model.
The Business
Manchester United reports revenues from three major business segments, namely: Commercial, Broadcast, and Matchday.
Revenue from the commercial division is further segmented into three units, including sponsorship revenue, which comes from the club's sponsors, Retail, Merchandising, Apparel & Product licensing, which comes from shirt sales and a certain share from Nike (NYSE:NKE) sales, and new media and mobile, which comes from video and content in web and mobile devices.
The company's broadcast revenue comes from live TV coverage rights, both from within the U.K and internationally, as well as participation in European competitions.
Finally, Man United also receives a significant amount of revenue from matchday ticket sales.
Now, let us discuss these in detail, and see what factors drive their revenue potential.
Commercial Revenue
This is Man United's largest revenue generator, contributing about 42% based on Fiscal 2013 results. This unit usually reports a majority of its revenues in FQ1, which includes the period from July 1 to September 30, of every calendar year.
This is mainly because many sponsorship deals are activated just after the end of the fiscal year, and before the beginning of the club's preseason tour. This is well depicted in the club's F1Q14 results as commercial revenues represent 60% of the overall revenues.
Commercial revenues are driven by sponsorship deals, sale of merchandise and apparel licensing, which rely on the club's strong brand and the massive fan base. Manchester United has a gigantic following from across the globe, with reports suggesting a figure close to 700 million. Its Facebook page is approaching 40 million likes.
This is what sponsors look into, when they get into contractual negotiations with the club. In my opinion, I do not think sponsorship revenues are in any sort of threat for now, but as for the future, that is quite debatable.
There are other sporting rivals coming up, both domestically and internationally, fighting for the same market. The number of sponsorships and the amount committed by sponsors are only as good as the club's brand.
The company's brand value dropped to second place behind German Bundesliga giants Bayern Munich in May 2013 as the Bavarians won the UEFA Champions League and the German League. Man United's brand value, which fell from about $853M in May 2012 to about $837M, stands to decline further on poor club performance.
Therefore, Man United's commercial revenues, including sponsorships, sale of apparel and licensing will depend on how well it keeps its brand on the top, thereby maintaining a sustainable growth in its fan base.
Broadcast
Manchester United's broadcast revenue mainly comes from the Premier league and UEFA Champions League matches, media rights.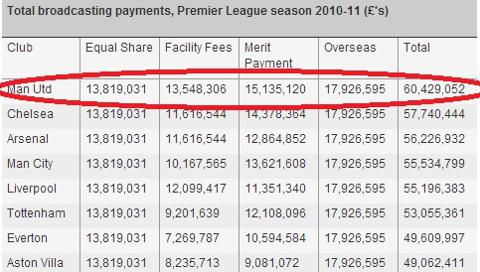 For the Premier League media rights, 50% of the amount generated from the premier league is shared equally among all the 20 teams, 25% is distributed according to the number of live match coverage in the U.K (facility fee), and 25% is shared based on the position a team finishes at the end of the season. The number of live matches allocated to a team depends largely on the club's brand. In fiscal 2013, Man United received about GBP 60M in total.
For the UEFA Champions League media rights, the model is a different. Only 75% of the money is distributed among the participating teams, with each participating team guaranteed about EUR 7.2M. The rest depends on how far the team gets in the competition, and the number of matches won. For instance, when Manchester United reached the finals in 2011, they received about EUR 53M in total, whereas last year they received about EUR 30M.
Matchday
Manchester United has the highest average stadium fill rate in Europe of about 99%. In terms of numbers, only Germany's Borussia Dortmund has a higher figure of 80,000 compared to Man United's 75,000. However, its tickets are not among the most expensive in England, which perhaps explains the high fill-rate.
Nonetheless, the most notable aspect in matchday revenues is the number of games the club hosts per season, especially in the case where fill rate is as impressive as man United's. Therefore, its participation in Europe, which guarantees at least three additional home matches, and a decent run in domestic cup competitions are paramount to incremental matchday revenues.
In the current fiscal year, Manchester United's revenue guidance is dependent on finishing third in the Barclays Premier League, and reaching the quarterfinals of the UEFA Champions League, and the domestic cup competitions.
The good news is that the team seems set to reach the quarterfinals of the UEFA Champions League if it can get past the Greek opposition (Olympiacos), and it has already surpassed projections in the league cup. However, its target league position at the end of the season remains in doubt, and it has already bowed out of the Football Association Cup two levels below quarters.
People
Last season, Manchester United's current squad, bar retired Paul Scholes, won the league, back from their local rivals Manchester City. However, a change of guard at the end of the season sparked what many felt could mark the beginning of Man United's decline, with Sir Alex Ferguson retiring after 27 years, and subsequently recommending fellow Scott, David Moyes to become his successor.
In the following month, CEO David Gill, also left his post, and Ed Woodward succeeded him, making a total overhaul of the Club's top leadership. Since then, Manchester United has not been the same in terms of performance. Some say Ferguson was too good, and that is why he won the league with the current crop of players, which in a way highlighted his mastery of the game.
Reports now suggest that, for David Moyes to take Man United to its former glory there has to be a massive overhaul of the current team. BBC football pundit and former Tottenham player, Robbie Savage predicts that Man United may have to spend as much as GBP 200M if it is to get back to its usual self.
"Manchester United must spend £200m if they are to rebuild their squad to the standard that once made sides visiting Old Trafford feel helpless--- It will take an awful lot of money to rebuild this [Man United] squad, but I still think the former Everton manager is the one who can do it," Savage Wrote on his BBC Sport Column.
Now, just after the close of the summer transfer window, there were reports that Manchester United was willing to spend as much as GBP 60M during the January 2014 transfer window. Later on, more reports emerged indicating that David Moyes had been given the nod to spend as much as GBP 100M on new players.
Spending Implications
In my own assessment, Manchester United could spend anything between GBP 100M and GBP 200M during this summer's transfer window, and I believe such players would also demand a huge compensation package; thereby raising the company's operating expenses.
It is also good to note that, the fact the club missed out on key players last summer following Sir Alex Ferguson's retirement indicates how difficult it would be for Man United to attract world-class players. Sometimes, players are only interested in working with highly respected managers, who have earned their recognition through success.
Now, with all due respect to David Moyes, Ferguson was exceptional as are many other top managers at top clubs. This means that Manchester United may have to do it the Manchester City, or Chelsea way, to regain success. They will have to spend a lot of money in order to convince world-class players like Wayne Rooney to stay, leave alone signing new ones.
The English front man currently earns about GBP 260k per week, while his fellow striker, Robin van Persie gets about GBP 240k. If the club adds three more top players, it may have to cough out amounts in the region of GBP 150k-200k per week, each. According to football analysts, Manchester United needs two more world-class midfielders, and a full-back, as well. That sums up to more than GBP 500k per week.
If this is a direct replacement to the current crop of players who earn between GBP 55k-90k per week, then that would sum up to a net increment of GBP 300k per week, or GBP 15.6M per year. Note that we are yet to factor in contract renewals, which if added, the figure could rise to as high as GBP 20M per year.
In fiscal year 2013, the company's staff expenses grew by 11.6% or nearly GBP 19M to GBP 180.5M, but this was mostly because it added about 80 new members of staff, and not new player additions. Therefore, the inevitable spending on new players is not only going to deplete the company's current cash balance of about GBP 81M, but also balloon its annual staff expenditure thereby reducing EBITDA and the operating cash flow.
Is Manchester United A Profitable Business?
Last year, Man United reported an adjusted profit after tax of about GBP 17.35M. This compares to 2012's GBP 4.8M. However, when reading these statements, it is always good to try to read between the lines. Man United's gigantic leap in profits to GBP 17.35M was as a result of a massive growth in the amount obtained from the repurchase of secured notes. It reported GBP 21.9M worth of premium on the repurchase of secured notes compared to last year's GBP 2.1M.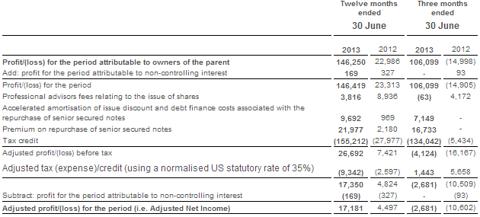 Even though the company refinanced its debt during the year for GBP 10M worth of annual savings, its finance costs still grew from GBP 50M to about GBP 72M during the year. I fear it could grow further if the company decides to finance its inevitable spending on players this summer using debt.
Note that, repurchase of secured notes is not part of the company's regular operations. Therefore, this cannot provide a guaranteed avenue for profits in the future. This means that, in essence, Manchester United is not a profitable business based on last year's results.
Also notice that, the company received a whopping tax credit of about GBP 155M, compared to 2012's GBP 27.9M, which in a way made its un-adjusted profits look rosy, by posting a profit of GBP 146M, which offset the pretax loss of GBP 8.7M. In 2012, the company posted a pretax loss of GBP 4.6M. Based on the most recent quarter results, tax credit stands at about GBP 177k, compared to GBP 26.5M reported the same period last year. If this is replicated through the next three quarters, then Man United is up for a tough year.
Valuation
Manchester United's recent performances have cast a towering cloud of doubt on its ability to finish amongst the top four teams in the premier league this season. Even a fifth or sixth finish seems debatable as it currently languishes in the seventh position. It indeed has a lot to prove before getting back to glory days.
This implies that the company's broadcast revenues from the Premier league are likely to go down, based on the fact that its merit award money could be in the region of GBP 10M, about GBP 5M less than the amount received by the league winners if it finishes 7th, or thereabouts.
Additionally, that could also rule it out from next year's UEFA Champions League, unless it wins the cup in the current campaign. Manchester United generates approximately GBP 30M worth of broadcast revenue from participating in the UEFA Champions league.
Also as noted earlier, participating in the Champions League brings more matchday revenue, and based on the company's ticket prices and attendance average of 75,000 (approximately 70,000 being Man United fans), the three group-stage matches held at Old Trafford are bound to generate GBP 8.4M.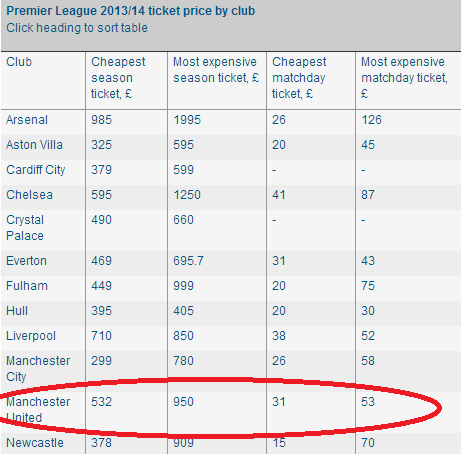 Now, the clubs ambitions are to at least get to the quarter finals, which means every fiscal year it anticipates about five home matches, which would bring the expected matchday revenue from the UEFA Champions League to about GBP 14M.
However, if Manchester United could finish fifth or win the league cup, then it could still play in a European Competition, the Europa league, thereby covering for the matchday revenue associated with the UEFA Champions League. (NB: the league cup is a domestic cup competition-the club has already reached the semi-finals, but it lost the first leg paly-off away to Sunderland-chances are if it goes past Sunderland, then it will likely play city rivals, Manchester City in the finals-very hard to call).
The overall revenue decline, barring increments from other sources would be about GBP 38M-44M. Now, if we factor in the likely increment in operating expenses of about GBP 20M, this cuts the company's operating profit by about GBP 60M in the next fiscal year. However, as for the current year, it will depend on whether the company buys new players this month. Otherwise, only the broadcast revenue would be affected by the club's poor results in fiscal year 2014.
Whichever case, for the next 1-2 years, Manchester United's profits are likely to fall significantly. Also, note that, for the last two years, the company would have reported losses, had it not been for the case of items unrelated to its usual business operations as discussed earlier.
The company's Q1 results came out strong showing massive improvement from last year, but this was largely because a good number of the deals signed with sponsors got activated. Additionally there was higher renewals and new sponsorship deals, the club noted in the financial statements. That said, the company currently boasts a training 12-month P/E of 12.36x, thanks to "profits" reported in the last two years.
Obviously, the tax credit factor has played a major role in this pricing. Therefore, based on the company's business operations, Manchester United is substantially overvalued. Additionally, if we factor in the expected expenditure in the coming months, the company is likely to experience a substantial decline in operating profits. Its projections for the current year also seem unlikely to be met.
Consequently, there is likely to be a slowdown in the trickle-down effect, from the amount generated as revenue to net profits. The company currently trades at about 13.5 in P/EBITDA per share. Based on its projected EBITDA from fiscal 2014 of about GBP 130M ($213M), the company's price would likely rally to about $20 per share. However, as noted earlier, the company stands to report a decline in operating profits by about GBP 60M. Therefore, the company's EBITDA stands to decline by about $100M within the next 1-2 years. If Man United meets its targeted EBITDA of $213M this year, then we are looking at a possible EBITDA of $113M for fiscal 2015. Based on the current P/EBITDA per share of 13.5x, the company's shares would be valued at $9.30 per share. This implies approximately 40% downside for Man United shares, within the next 1-2 years. The sooner investors notice this, the sooner the fall.
Conclusion
Manchester United is a strong brand with a large global following. The company is currently undergoing through a transition period, following the change of guard at the top. This has brought many changes, including performance on the pitch for the club.
Reports suggest that if the club is to get back to its glory days, then it has to spend a lot of money on world-class players, who will consequently demand a massive compensation package. This is likely to increase the wage burden, thereby reducing operating margins.
Since listing at the NYSE, it has benefited from reporting a considerable amount of tax credit, which has boosted its profitability during the last two years. However, in a real sense, the company has been making pretax losses.
The bottom line is that Manchester United's current valuation is questionable as its profits for the last two years emanated from activities unrelated to its normal operations. The thought of a likely decline in revenues and an increment in operating expenses creates an attractive window to take a short position on the stock.
Disclosure: I have no positions in any stocks mentioned, and no plans to initiate any positions within the next 72 hours. I wrote this article myself, and it expresses my own opinions. I am not receiving compensation for it (other than from Seeking Alpha). I have no business relationship with any company whose stock is mentioned in this article.