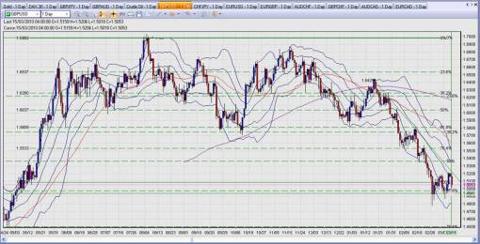 (Click to enlarge)
GBP/USD Suffers From Bad Underlying Economic Fundamentals
Per the UK Independent:
Britain's public finances are in a worse position than those of Greece, according to the latest figures on government borrowing. The Office for National Statistics said yesterday that January alone saw a net shortfall of £4.3bn, far worse than City forecasts and in a month which has always previously shown a healthy surplus. It puts the UK on track for a deficit of £180bn this year, or 12.8 per cent of GDP, economists said, shading the Greek figure, hitherto the worst in the European Union, of 12.7 per cent. In the pre-Budget report the Chancellor forecast a deficit of £178bn for the current year. Warnings that the UK could face a Greek-style crisis of confidence have been building for some weeks, and yesterday saw a sell-off of sterling and British government securities, or gilts, on the disappointing news.
There is a growing chance that the coming Parliamentary elections in June could yield a 'hung Parliament' in which no Party has a sufficient majority needed for a stable government needed to attack the UK's economic problems.
Suffering From the EU Debt Crisis

The EU debt crisis drives down the euro, which in turn feeds demand for the USD, thus driving GBPUSD lower. The EU is a major market for the UK.

UK Monetary Policy is More Dovish Than the US, Which Pressures the GBP
The Bank of England is still considering more QE, whereas the Fed is slowly withdrawing liquidity and moving in a more hawkish direction. Most expect the Fed to begin raising interest rates by no later than September
Technical Weakness Is Evident on the GBP/USD Daily Chart Above
Long, strong downtrend line serves as resistance,
Death Cross [50 Day SMA (red) crosses under 200 day SMA (purple) is well established and growing, suggesting longer term downtrend
The pair remains in the Bollinger Band sell zone (lower 2 Bollinger Bands)
Plenty of room to run before hitting even its 12 month low. Note the longer term chart below: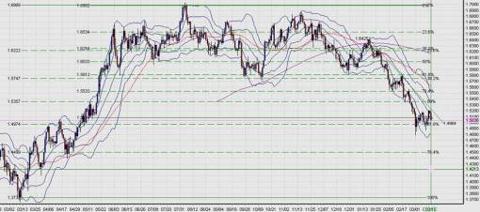 (Click to enlarge)
The longer term picture shows it still has room to fall before hitting even a 52 week low 10 MAR 15
Looking on the Bright Side
The only thing in its favor right now is that it still can borrow, is oversold in the short term and subject to short term bounces and beating low expectations. Good for short term bounces only. As we saw with the USD last year, 'oversold' positioning can last for a long time when markets believe fundamentals justify it.
Game Changers: What Is Likely to Reverse the Downtrend?
A solution for the EU debt crisis
A major tunaround in UK economy or political resolve to strengthen the GDP (doubtful, as a cheaper GBP is good in the short term for the economy and thus for politicians)
Significant bad news for the USD
Disclosure: No positions