ServiceSource International (NASDAQ:SREV) is a leader in recurring revenue management. The company manages over $9 billion in recurring revenues for its clients. It calls more than 70 Blue Chip companies its customers. A few notable customers include Adobe, Microsoft, IBM, Dell and GE. According to the company, "ServiceSource renews a customer contract every 47 seconds through engagements in more than 150 countries and 40 languages."
However, it's been a rocky ride since it's 2011 IPO; the stock is still down over 30% since then. What's more, back in December the VP of Sales stepped down and the stock tumbled some 10%. It has yet to recover. In any case, things are looking up for the company and it's the leader in a very large market.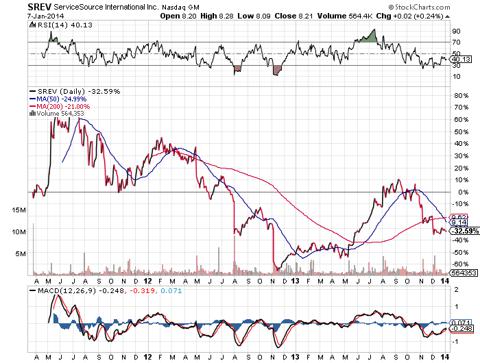 What's ServiceSource all about?
ServiceSource, basically, manages recurring revenue. In essence, the company helps optimize maintenance and subscription of revenue streams, thereby, improving customer relationships and loyalty. Its revenue model is pay-for-performance, which includes getting paid a commission based on renewal sales that ServiceSource generates on its customer's behalf.
Its first major solution is Renew OnDemand cloud app. The second includes a menu of services, which has come about as the company started unbundling its software in an effort to offer SaaS solutions.
The company hit an inflection point after 1Q 2013, and Y/Y quarterly growth has started growing again after four straight quarters of decline. Subscription bookings and subscription ARR (annual recurring revenue) have grown gangbusters over the past year. Bookings are up 313% year over year as of 3Q 2013, and ARR is up 144%, up to $33 million and $16 million, respectively.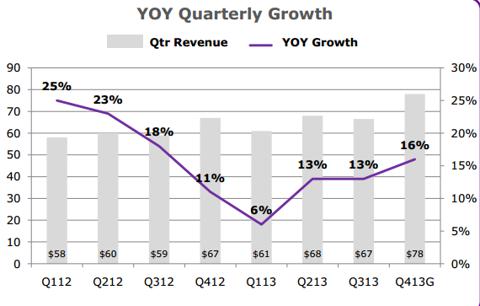 Source: Company Presentation
As far as long-term growth prospects, the company has robust targets. First, the company expects to get EBITDA margin up to 15% to 20%, from the current 6% to 7%. Second, revenues and earnings are set to rise. This fiscal year the company is forecast to post EPS of $0.07 and next year's EPS is expected to almost double to $0.13. Revenues are forecast to grow over 14% from $273 million this year to $312 million next year.
Recurring revenue is a great business to be in
Of all the types of revenue streams, recurring is the fastest growing according to the Technology Services Industry Association. Recurring revenue growth is growing at an average 8% annually, compared to new product revenue growth rate of 6%. Furthermore, IDC notes that recurring revenues from installed customers makes up about half of the profits earned by the entire global IT market, a very large market. ServiceSource believes the total addressable market is upwards of $310 billion for recurring revenue management.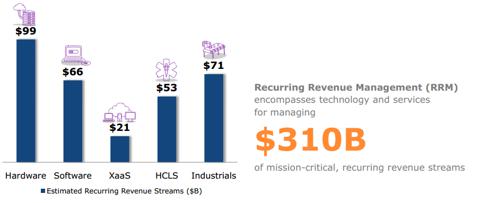 Source: Company Presentation
Thus, despite already being the market leader, there is still a very large market opportunity for ServiceSource. The company believes it has the only comprehensive solution for managing recurring revenues, and it would be tough for anyone to dispute this. Thus, it's a matter of getting the product in front of more people and generating awareness.
Over the last three years, ServiceSource has spent roughly 23% of revenues on marketing. We'd look for the company to boost this number and hire additional sales staff going forward. About 40% of revenues are derived from outside North America, but only 10% of revenues are from the fast growing Asia-Pacific market.
Casting a wider net
Part of what should help ServiceSource generate more revenues is the fact that it's increasing its potential customer base. The first step to this included opening its solutions up to companies that operate outside of the technology field. A few notable industries include healthcare, industrial systems and life sciences.
Beyond that, ServiceSource should be able to further penetrate its current industries. Again, it has over 70 companies that it services, however, there are over 800 companies in its addressable market alone. The initial step for boosting sales will be boosting its sales force that focuses on tech and tech-enabled industries. Derivative to that, ServiceSource can also get a greater portion of recurring revenues from its current customers. Specifically, for the companies that ServiceSource manages recurring revenues, it starts out as managing revenues for a particular product or geographical region, ServiceSource is now looking to better quantify its results for the customer in hopes of leading to increased revenue under management.
In early 2013, ServiceSource got a big win by partnering up with Salesforce.com. Its Renew OnDemand cloud app now directly integrates with Salesforce. This is one of ServiceSource's first initiatives to consolidate the cloud app market. As ServiceSource CEO, Mike Smerklo, notes, "we've seen a growing concern - and frankly as a CEO of a company I see it as well - which is at some point you say, 'How many point solutions do I need?' I don't want to end up where I've got 50 different SaaS technologies in my organization." The key difference between the Salesforce and other CRM providers (such as SAP and Oracle) is that Renew OnDemand is prebuilt on Salesforce. This should help the company further capture more of the large market.
Besides Salesforce, ServiceSource counts 7 of the top 10 SaaS companies as customers. This includes Workday, Bazaarvoice, Jive and Red Hat. SaaS companies are attracted to the two key components of Renew OnDemand - customer success management functionality and integration with Salesforce.com.
Shake-up on the sales side
Shares of ServiceSource took a 10% haircut in December after VP of Sales John Boucher resigned. We cannot understand why Mr. Market reacted the way it did. We and Northland Securities see the shake-up as a positive and in no way affects the growth ServiceSource has going for it. The sales organization has been restructured with the customer success and outside sales units being consolidated. Overseeing all of this will now be VP of Customer Success Jack Ackerman. Outside sales will be run by VP of Global Sales Execution and Design Tom Bonos, who will report to Jack Ackerman. These are all in-house people that know the sales organization and that is why we see the resignation of John Boucher as a non-event and an overreaction on the part of Mr. Market.
Rise of the Chief Data Officer
ServiceSource is looking to grow with the appointment of Mario Faria as its first Chief Data Officer. In the press release, the company said:
"As ServiceSource's first CDO, Faria will be in charge of building an industry-leading global data organization within the company. By leveraging big data, best practices and ServiceSource cloud technology, Farias team will help companies unlock the business value of customer data for their recurring revenue sales activities."
We like this move because Faria is known as an expert in Big Data. He is a well-known speaker at Big Data and Analytics conferences and was the keynote speaker this past November for the Big Data Business Forum in San Francisco. Faria is also a top advisor to MIT's Data Sciences Initiative and to the Bill & Melinda Gates Foundation. Mario Faria spoke to Information Age and laid out his vision for ServiceSource's Big Data strategy and implementation.
"I'm planning on some big structural changes. I'll be creating a dedicated team responsible for data quality and governance, working very closely with the Chief Security Officer (CSO) to ensure we meet regulations. We will have a team of data scientists as well as a team dedicated to data management and architecture."
Partnership with Accenture can really propel growth
In the IT outsourcing and consulting business, there's no better partner to have than Accenture. The company's business description pretty much speaks volumes about the size, scope and scale of its business.
"Accenture is a global management consulting, technology services and outsourcing company, with approximately 275,000 people serving clients in more than 120 countries. Combining unparalleled experience, comprehensive capabilities across all industries and business functions, and extensive research on the world's most successful companies, Accenture collaborates with clients to help them become high-performance businesses and governments. The company generated net revenues of US$28.6 billion for the fiscal year ended Aug. 31, 2013."
By partnering with Accenture, ServiceSource gets to tap into Accenture's client base. According to the two companies:
"Working together, the two companies will combine leading technology, services and best practices to drive companies' top-line results around existing and emerging recurring revenue streams. Accenture will deliver capabilities in systems integration, consulting, business transformation, and predictive analytics. ServiceSource will deploy Renew OnDemand, its cloud-based application that provides the data management, sales automation and sales analytics capabilities needed to maximize recurring revenue. Together, Accenture and ServiceSource will create a comprehensive "Recurring Revenue Blueprint" to help technology companies capitalize on these opportunities"
Quantifying the upside
ServiceSource trades at 63x forward earnings, but it's at only 2.5x sales and a 1.9x EV/sales. Analysts expect the company to grow EPS at an annualized 25% over the next five years. A few of the enterprise software peers include eGain (NASDAQ:EGAN), LivePerson (LSPN), ClickSoftware (NASDAQ:CKSW), Marin Software (NYSE:MRIN), and Callidus Software (NASDAQ:CALD). eGain trades at 5.4x EV-to-sales, with LivePerson at 4.1x, ClickSoftware 1.9x, Marin 3.2x and Callidus 5.2x.
Over 40% of ServiceSource's market cap is covered by cash and it has a net cash position of $2/share (or around 25% of its market cap). As well, ServiceSource trades with a net current asset value that's just under 30% of its market value.
We believe that ServiceSource deserves to be trading more in line with its business service peers at around 4x EV/sales. 2014E sales are $315 million, and at a 4x multiple, the upside to the stock is to over $17, or double the share price. However, in the worst case, we don't see any multiple expansion and ServiceSource trades at a 1.9x multiple in 2014, the upside is still to $9.40, which is 15% higher than today's prices. As well, the average analyst price target is $13.88, which suggests 70% upside.
Bottom line
ServiceSource does its job and does it well. It had a 90% retention rate in 2013 and calls many of the globe's top SaaS companies its customers.. It's already the market leader, the next step is getting its software in front of more businesses. The total addressable market is upwards of $310 billion. Meanwhile, ServiceSource has $11 billion in recurring revenue under management; leaving a large opportunity for growth. With the help of its Salesforce integration and diffusing across more industries, we see over 70% upside for ServiceSource over the next twelve to eighteen months.
Disclosure: I have no positions in any stocks mentioned, and no plans to initiate any positions within the next 72 hours. I wrote this article myself, and it expresses my own opinions. I am not receiving compensation for it (other than from Seeking Alpha). I have no business relationship with any company whose stock is mentioned in this article.