First Trust, the ETF issuer best known for its line of quant-based AlphaDEX funds, introduced two new ETFs last week that tap into an increasingly popular investment strategy. The First Trust ISE Global Platinum Index Fund (NYSEARCA:PLTM) and First Trust ISE Global Copper Index Fund (NASDAQ:CU) join a number of other ETFs focused on mining stocks, but are the first to specifically target these metals.
PLTM is based on an index that includes global stocks actively engaged in some aspect of platinum group metal (PGM) mining, including refining and production. The underlying index uses a modified linear weighted methodology adjusted by revenue exposure to PGM production, where component securities are grouped into linearly weighted quartiles and then equally weighted within each quartile. Among the 25 component companies are MMC Norilsk Nickel (OTCPK:NILSY), Johnson Matthey, and Lonmin Plc (OTCPK:LNMIY).
CU will track the ISE Global Copper Index, a benchmark measuring the performance of public companies that are active in the copper mining industry based on analysis of revenue derived from the sale of copper. Components must be actively engaged in some aspect of the copper mining industry, such as copper mining, refining or exploration.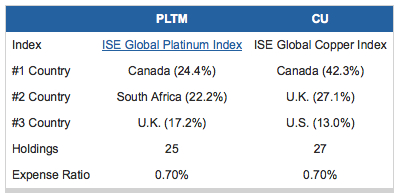 Mining ETFs Take Off
The new funds from First Trust join several existing funds focusing primarily on stocks of global mining companies. More generally, ETFs investing in equities of commodity-intensive companies have seen their popularity surge in recent years, as investors have embraced these funds as an alternative means of gaining commodity exposure. Because the profitability of mining companies and other hard asset producers is often tied to the prevailing market price of the underlying commodity, share prices tend to exhibit a strong correlation with spot price of the related natural resources. Many investors frustrated with the impact of contango on returns to futures-based ETFs have turned to these funds to gain exposure to commodity prices.
Van Eck has established itself as the leader in the space; the Gold Miners ETF (NYSEARCA:GDX) has more than $5 billion in assets while the Junior Gold Miners ETF (NYSEARCA:GDXJ) has taken in more than $800 million since its launch just four months ago. The SPDR S&P Metals and Mining (NYSEARCA:XME) ETF has also accumulated nearly $1 billion in assets. Emerging Global Advisors offered a metals and mining fund focusing on companies in emerging markets (NYSEARCA:EMT) last year.
While these more diversified funds include companies engaged in mining of copper and platinum, PLTM and CU are the first ETFs to focus exclusively on these metals. Global X recently filed for approval on four mining ETFs, including gold, silver, platinum, and copper.
Disclosure: No positions at time of writing.