General Electric (NYSE:GE) posted a strong year in 2013, with the stock rising 38% through the year, after adjustment for dividend. GE's performance compared well against the broader market too, with the very relative SPDR Dow Jones Industrials (NYSEARCA:DIA) up by an adjusted 29.6%. Yet, for the year-to-date through January 8, GE is down 2.9% versus the DIA decline of 0.7%. I believe I know why GE is under pressure now, and why it probably will continue to be that way for a bit longer.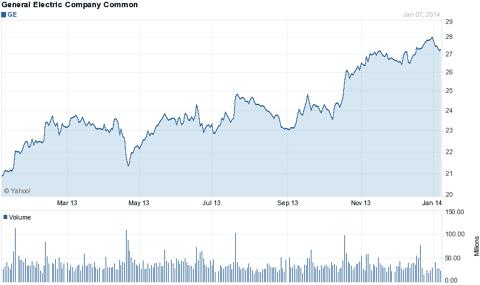 The 2013 stock chart tells a wonderful story for GE shareholders. The stock's amazing performance was a special treat for the long-term investors who normally hold this stock for a much lighter expected rate of growth and its reliable 3.2% dividend yield (at last check).
Last year, GE continued to benefit from its impressive global presence in important industries and its very strategic new investment strategy. The company is clearly not going to be left behind by the new age as it actively seeks out and makes use of new technology to revolutionize industry. The stock's 2013 performance also reflects GE's cyclical nature as illustrated by its beta coefficient of 1.18. The economy really started to find traction through the year, and GE benefited as a result, along with other industrials like Boeing (NYSE:BA) for instance, which was up by an adjusted 85%.
However, I expect the stock is straying now from the company's progressive operational trend-line for several also important reasons. A stock and company do not always match up. Sometimes a great stock does not seem to accurately represent a company's point in progress, like say for instance in the case of Twitter (NYSE:TWTR), where I believe the art of investing matters more today. Likewise, sometimes a great company does not make for a great stock over the short-term. That's what I see momentarily for General Electric, but it's a common problem shared by many this January.
Stocks broadly rose in 2013, gaining significantly and across a wide swath of names and industries. That is evidenced by the fact that just 38 stocks within the S&P 500 declined on the year. It also means capital is likely moving since the turn of the year, as investors take profits now that they held off on in order to delay tax payments. So the broader market is lower and stocks that outperformed like GE are backtracking, while issues like gold are rising.
As far as valuation is concerned, perhaps GE has reached territory where critical investors have reason for concern. If valid, I think that any reason for valuation concern in GE must also exist for the broader market. GE trades at a P/E ratio of 15.9X the analysts' consensus earnings per share estimate for 2014 (+$1.71). Yet analysts only see growth of 4.3% for the year, plus the 3.2% dividend yield, for an expected total return of 7.5% in 2014. More importantly, analysts see 9.0% growth over the next five years for GE, which presents a potential average annual total return of 12.2% for the stock. In this case, the PEG-KYA or KPEG would be 1.3X, which reflects some excess. But that excess may not be any larger than what exists for the broader market today. Furthermore, the trailing 12-month P/E ratio of the DIA is 15X, versus GE's trailing P/E of 20.4X. Now, of course, the DIA should grow at a slower pace than GE over the long-term while also offering a smaller dividend yield of 2.1%, so the difference in valuation is appropriate. However, both may be somewhat expensive in comparison to their intrinsic value.
So considering that stocks and GE came a long way in 2013 and that significant paper profits were likely tied up in them at the turn of the year, we can see why selling in stocks and in GE seems to be the trend to start 2014. This will not last forever, and maybe not even through January, but it is the case today in my view. Therefore, it may make sense for nimble traders to take profit now in GE.
However, it's definitely not a name on the long-term downslide today, and should be revisited once this short-term capital flow trend has settled. Also, selling the stock is probably not going to fit the profile of a group of older American shareholders mostly concerned with reliable dividend income and who might be willing to bear dips over a long-term holding period. Fund managers, however, are obligated in my view to act on every important factor over significant periods, where costs of trading do not wipe out arbitrage opportunity. Most will not view this as an arbitrage opportunity, but if one could see clearly the factors behind price action, they might see more arbitrage opportunity than others.
In conclusion, I want to make sure that I make my point that I believe GE is today a progressive company that stands to benefit significantly over the long-term from its market presence in an importantly growing global environment. So, while I suggest short-term sales of the stock for those who seek to maximize capital opportunity, I also point to the opportunity price decline will open for later new entry in GE shares.
Disclosure: I have no positions in any stocks mentioned, and no plans to initiate any positions within the next 72 hours. I wrote this article myself, and it expresses my own opinions. I am not receiving compensation for it (other than from Seeking Alpha). I have no business relationship with any company whose stock is mentioned in this article.