Many drug manufacturers are going through difficult times in the face of their expiring patents and as generic versions enter the market eyeing their well established market share. The constant struggle to come up with breakthrough drugs is what keeps them busy all year round. A leading pharmaceutical player in this industry is Merck (NYSE:MRK) which aims to provide innovative products for the worldwide audience.
The New Candidate In Row
The company has recently received a positive opinion from the European Committee for Medicinal Products for Veterinary Use "CVMP" for its veterinary drug, BRAVECTO. The chewable tablet has been claimed by the company to be an effective treatment for flea and tick infestations in dogs. The company is quite optimistic about the approval of its medicine following the announcement.
Prevalence of the disease
Dogs have always been subject to tick and flea infestations and the problem has become more widespread in recent years. This poses a real threat to not only the pets but humans as well. Particularly in Europe, the increase in pet travel plus climatic changes is probably raising a concern for this emerging threat. Ticks are endemic throughout almost all of Europe, and there are more than 12 different species, with varying biology and geographical distribution. In fact, Rhipicephalus sanguineus is primarily a tick of southern Europe.
Also, tick infestation is a highly seasonal disease. In the UK and central Europe there are typically two peak times, firstly, in March to June and secondly, in August to November. In more southern climates, tick species such as R. sanguineus and others are expected to occur during spring and summer.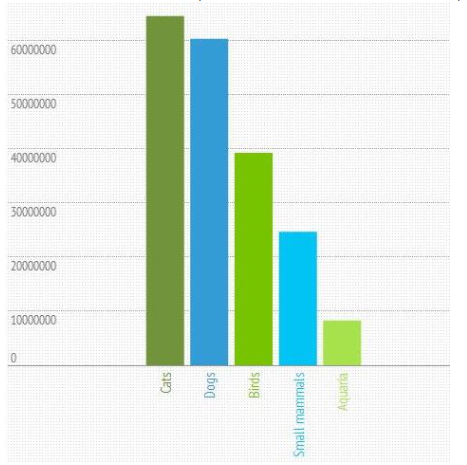 Source: FEDIAF Facts and Figures
According to the data published by IFAH, approximately 60 million dogs are kept as pets in Europe. This is quite a huge number to target and capture for Merck.
What is there in it for Merck?
The efficiency of the company's drug, i.e. immediate flea and tick killing for 3 months (2 months for Rhipicephalus sanguineus) compared to one month protection provided by Merck's previously launched ACTIVYL Tick Plus, and the ease of usage, i.e. chewable tablets, is likely to make this veterinary drug quite popular in Europe. Also, the company has targeted the right market where the dogs are kept as pets in large number and therefore, there is active spending on the treatment of the disease.
The effective launch of this drug is likely to provide a boost to the company's top line in the near future. Since Merck is a well established name in the drug market with a considerable market share of 15%, this will prove easier for the company to sell its upcoming drug once it reaches the drug stores' shelves. Staying conservative and assuming the same price as the less efficient ACTIVYL Tick Plus of $93, the total market revenue is likely to be $11.16 billion based on 60 million pet dogs and twice a year usage. Furthermore if things remain the way they are, Merck will be able to capture 15% of the total revenue i.e. $1,674 million. Based on the net profit margin "ttm" of 10.46%, an addition of $175 million is expected in the company's earnings or $0.06 on a per share basis.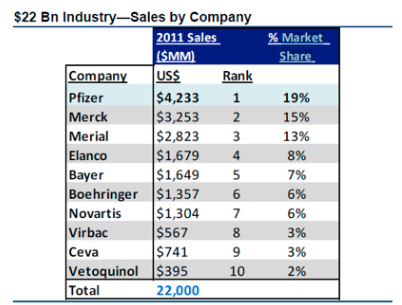 Source: Company data, Credit Suisse estimates
Last year, the company also launched ACTIVYL and ACTIVYL Tick Plus in Europe. The drug was the first of its kind to use metabolic activation to treat fleas in cats and dogs. According to Merck Animal Health, ACTIVYL Tick Plus is highly efficacious and has shown effective killing of more than 90% of tick species including those known to carry such diseases as Babesiosis, Ehrlichiosis and Lyme disease.
Competitive Landscape
Revolution is a drug that is currently available in the European market for the treatment of such parasites. It comes in liquid form and has to be rubbed over the animal. Merck is likely to face active competition from this medicine.
Current Active Threat
An active threat that Merck's animal segment is currently facing is that users may see their confidence shatter in the company's drug if its current trial of cattle muscle-building drug, Zilmax, is proved against the company. The largest US meat processor, Tyson, saw its animals being destroyed following the intake of Zilmax. Currently, many leading meatpackers are following Tyson in discontinuing to give Zilmax to their cattle. This may have an adverse impact on Merck's existing animal segment and may hinder the sales of its upcoming drugs. Also, the regulatory authority is likely to heavily scrutinize the company's submissions before finally approving them in the future in case the company is proven guilty.
Zilmax had collected $160 million in annual sales in the United States and Canada in the fiscal year 2012, and was contributing a stable cash flow to Merck's animal health business, which contributes approximately $3.3 billion in global sales of the company on an annual basis. Losing the trial could plop down the animal health segment's contribution by almost 5% on year-on-year basis. Applying the net profit margin "ttm" of 10.46%, this could dent the company's net earnings by approximately $16.74 million or $0.01 on a per share basis.
Active Collaborations
Merck continues to pursue opportunities for establishing external alliances to complement its substantial internal research capabilities, including research collaborations. Recently, the company has joined hands with GlaxoSmithKline (NYSE:GSK) to come up with an efficient and effective treatment for advanced renal cell carcinoma "RCC", the most common type of kidney cancer. On average, 273,000 new cases of kidney cancer are diagnosed per annum on a worldwide basis and approximately 90% of the patients are expected to have RCC. Patients inflicted with advanced RCC have 5-year survival rates of nearly 11-12%. Although products are currently available on the market to treat RCC, the growing market size indicates that a breakthrough drug launch is likely to be able to capture a decent market share.
Fundamentals
Over the last five years, the company was able to deliver a superior net profit margin of 17.98% while at the same time, the pharmaceutical industry continued to offer 12.09% to the investors. In the light of the company's continuous efforts and a rich product pipeline, it is likely to sustain the positive active return gap.
Conclusion
Despite the uncertainty that prevails regarding Zilmax's future, the company seems to have bright future prospects based on the expected net positive earnings impact of $0.05 per share. Also, I still believe it is an advisable stock for funds that look forward to a stable and regular income from their investment as Merck is offering a dividend yield of 3.52% in an industry where 1.82% is the norm.
Disclosure: I have no positions in any stocks mentioned, and no plans to initiate any positions within the next 72 hours. I wrote this article myself, and it expresses my own opinions. I am not receiving compensation for it (other than from Seeking Alpha). I have no business relationship with any company whose stock is mentioned in this article.