In the comment section on my last article "Building A Portfolio Part 3: Due Diligence" where I demonstrated my 12-Step process of investigation, I was asked to take a closer look at Costco (NASDAQ:COST). Since the last time I looked at Costco was a while ago, the technicals are quite possibly lining up for a good opportunity to buy, and I am very interested myself, I got right on it. I have skipped an explanation of what I am looking at and why, but you will find that back in the article linked above.
The other articles in the series are:
Building A Portfolio Part 1: Not Just Buying Stocks
Building A Portfolio Part 2: Choosing A Stock
and it really begins with, "What A Difference A Year Makes"
Now, on to examining Costco.
1. Stockcharts.com
What does the chart for Costco tell me?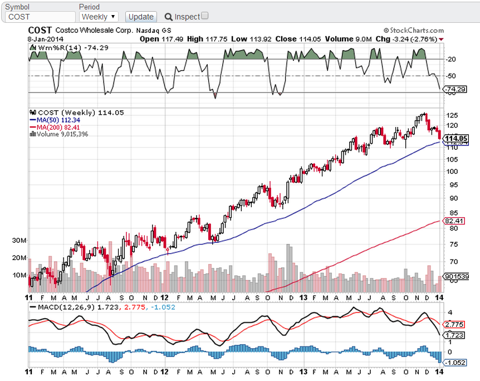 First off, this is my favorite kind of weekly chart. Steady up and to the right. Notice how straight the blue and red lines are, which average the price over the time period. You can imagine the happy shareholders already. If I had bought Costco, a place I have regularly shopped for 14 years, as one of my first stocks in February 2011 and held onto it (would not have happened anyway as I was swing-trading) I would have a 50% capital gain, plus dividends. I do not currently own Costco, but may by the time this article is published as I am seriously considering a purchase of this stock.
Next, I notice that only a few times has the share price touched or come close to the 52 week moving average and best of all, is approaching it again. This is what has investors buzzing about Costco again. The moving average sits at $112.34. Chances are very good that price will provide support to the share price, that it will dip down to it and bounce back up again. This would be positive and a great time to buy in. However, if the trading action falls through this support line, it could be quite negative, though with this chart there are numerous areas of support (where the price has previously stopped falling), the next one being around 110; so there is not a lot of risk here in the very near-term.
The top-line indicator, in this case the Wm%R, shows we are reaching the oversold territory, marked by the -80 on the graph. Many traders will buy and sell based on this indicator alone, buying at -80 and selling at -20 repeatedly. In no way am I recommending this, as I have deliberately moved away from swing trading as my articles explain. It's just an indicator I am used to using.
The lower indicator, the MACD is clearly heading downward with not a hint of reversing yet, even in the bars below it. The point at which the black line turns up and crosses over the red line is a very positive signal, but I tend not to wait that long to buy (for better or worse)
You should focus on the charts that reflect your investing horizon, the time period you want to hold. As a long-term investor I should focus on the weekly chart, but it is helpful to peek in on the shorter term chart too. Many of the same principles apply.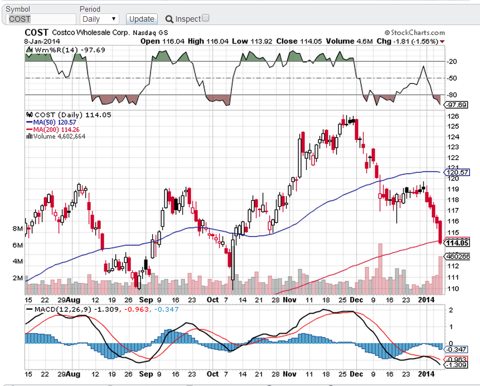 The daily chart of the last six months shows a little different story. Do not get scared by the volatility. It represents your opportunity. The red gash of the most recent price action is not unusual and is often caused by automatic stops people set. I would recommend not using automatic sell orders, called stops, unless you have something you actually want to sell, as the market has an uncanny way of triggering stops at awkward times. Many people learned that lesson on the May 6, 2010 "Flash Crash".
Once again all the indicators are pointing down and the stock is overbought. If you take a ruler and draw a support line joining the bottoms of the white candles from August 30th and October 10th, and extend it to the current price, it is just under $113. It is a little hard to see with the volume flag in the way. That is another possible bottom in price.
As you can see there is a lot of ways to interpret data in technical investing, and most things are only possibilities. Often they are self-fulfilling prophesies. Technical analysis is very interesting to know and note, but the fundamentals are far more certain. Mr. Market, as David Van Knapp so aptly writes about, is certifiably crazy.
Stockcharts has great teaching tools as well as charts and analysis tools and I have added some links for you. Investopedia.com is a great place to look up any terminology I have not made clear.
2. Google Finance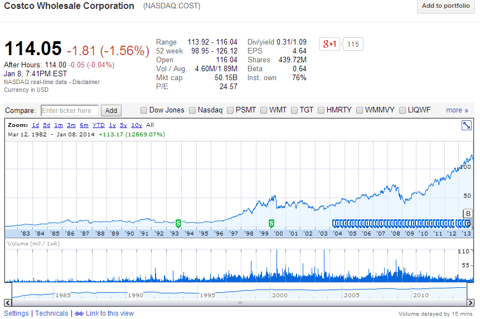 This is the longest term chart for Costco and this small screenshot tells a lot about the stock and company history. I was still in Junior High (or Intermediate School) when this chart starts and as a pre-internet farm girl was more interested in playing with the goats and rabbits than markets. But if my grandparents had bought me 10 Costco shares for my birthday for $10, they would be worth $129,680 now. Wal-Mart would have earned twice as much. Do not fuss if you can not afford a large number of shares of any security. Start with what you can now.
Looking at the one day chart I am struck by the higher volume at the end of the day, which may mean that institutional investors are getting back in. It would not surprise me if tomorrow is the big up day that starts off lower as we saw in September and October. However, it also would surprise me if it continued lower as we have only reached the one support point, the 200 day moving average. But, a quality, desirable company that has shown it does not often touch the moving averages, is not likely to stay down long.
3. FAST Graphs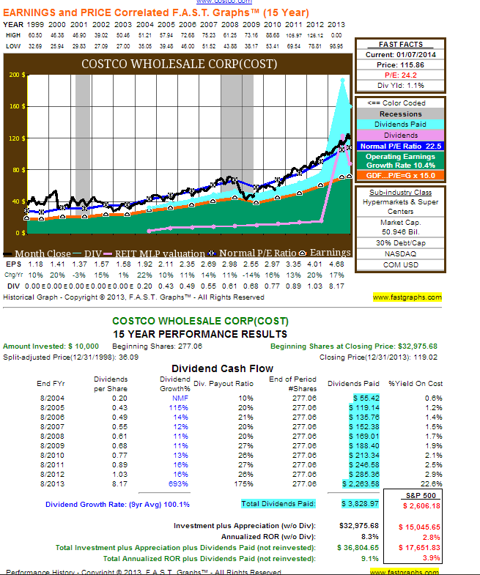 The first thing to address is the outrageous dividend growth last year. This was a special dividend paid by COST last December when there were huge fears of dividend tax increase. Amazingly, the share price did not drop substantially on that move of the company. The rest of the dividend growth is very attractive, but the current yield is quite low leaving me, as well as many others, conflicted. The board rewarded last year's shareholders, but is not as interested in attracting me as a new shareholder. The five year dividend-growth, without either outlier, meets the chowder number by itself.
A P/E of 24.2 is not particularly attractive. This steady chart shows Costco is overvalued, even more than normally and with all the correction talk that is happening, it may correct substantially when there is a correction. This is definitely not a risk-free opportunity.
I am not opposed to paying up for growth and holding small yielding companies. That is not the case for all investors. You absolutely must consider how this holding fits into your goals, time horizon and ideal metrics. I will discuss that more as we go along. As my article progression suggests, we need to consider not just buying quality stocks but how it fits within your parameters and portfolio. I currently hold Canadian National Railway (NYSE:CNI), Visa (NYSE:V), and WisdomTree (NASDAQ:WETF) under a growth banner. Costco however, is only growing at a 10.4% earnings growth rate, compared to CNI's 17.7%, V's 26.3% and WETF's whopping 236.4%.
Already, I know that if I bought COST it would not be a core holding, or a long-term holding and I would be rather twitchy about it. However, Costco has put up many new locations this year that will begin to affect the growth of the company in future years, so I see better prospects ahead.
Lack of earnings growth percent does not mean I might not buy it for other purposes though. COST could serve more purposes than just growth in my portfolio! I have some Canadian dollars that I want to be in US stocks, but have been waiting for it to be deployed. As our dollar is dramatically tumbling, maybe I should buy Costco to covert the funds and wait for a quick gain while deciding what long term holding it should be in. (Once I make a USD buy, the funds stay in USD, even when I sell). It is quite likely it will be back to its high in short order, for a 10% swing-trade. As the ex-dividend date is near the end of this month, the swing will likely contain a dividend as well. There's that trader in me, rearing its ugly head.
4. Reports
The S&P Capital IQ Stock Report rates Costco a low-risk, A rated, 3 Star 'hold' with a12 month target price of $124 and a fair value of $104.20. Like General Mills (NYSE:GIS) it is rated 99% for investability. Mutual funds love Costco with an institutional ownership of 76%.
"We expect COST to increase its market share over time, as we see it pricing aggressively to maintain a strong value proposition and upscale product mix that appeals to a more affluent customer base. We think the company is well positioned to generate long-term earnings growth better than its peers due to global store expansion, but we see slower near-term growth as the benefit from the early 2012 membership fee increase dissipates."
The S&P report indicates it has never missed earnings, but my TD website conflicts with that showing that Q1 2014 had an estimate of $1.02 and reported $0.96.
The Thomson Reuters Report from January 8, 2014 rates Costco with a score of 2 out of 10. This is broken out six categories. COST scores a 1 on Earnings (Ouch), 6 for Fundamentals (hmmm), 3 for Relative Valuation (great time to buy!), 10 for Risk (YEAH!) and 1 for Price Momentum (really?). There are a lot of low really low scores there.
Vickers Insider Trading: One of the directors sold 1/4 of his holdings at the end of the year, but, of course, we have no idea as to why. The regular large amount of insider buys has been noticeably absent the past quarter.
I like the pictorial analyst spread:

5. Company Website
I will not spend too much time here on this since if you are seriously considering this stock a look through the fact sheet, (they call it Financial Tear Sheet) annual report, and presentations is, in my opinion, mandatory, unless you just plan to trade it. Here's a link to the website.
Costco has many more locations than I expect. There are currently 646 warehouses worldwide. 460 in the US, 86 in Canada, 25 in the UK, 33 in Mexico, 18 in Japan, 10 in Taiwan, 9 in Korea and 5 in Austrailia; there is still much room for growth. I wish I could paste the Taiwan photo here for you, but that presentation has been removed. It was truly amazing.
The 90% renewal rate in the US and Canada mean that they are keeping their customers happy and returning.
Another statistic of interest is that the dividend has increased on average 12% every year since it began in 2004.
6. News
I will let you look around, but missing earnings last quarter was a major faux pas.
7. Seeking Alpha
Again, I will let you look around, but I found it very interesting that commentors were pretty bullishly attached to this company and the stock when a negative article was written. It's a well-loved company, for good reasons.
8. Is it Best of Breed?
No. Wal-Mart (NYSE:WMT) is securely in the position of best of breed and I already own a small position of it, as well as Walgreen (WAG) in my portfolio. Costo is no slouch in the industry either. However, since I have already decided that Costco will not be a long-term hold, it does not really have to fit within my portfolio, but it is nice to know it will not make me overvalued in the sector.
9. Story
Costco's story is about quality in bulk at a better price without any extras. They carry premium brands, but at the same price that other retailers offer the discount brands. They have their own house brand - Kirkland. They are well-known as an excellent employer and their employees are happy with the work and the pay. Whenever I visit they always seem busy, pleasant and helpful.
Consumers are thrilled with Costco and it has a cultish following, very much like Tim Horton's (THI) in Canada. That is not to be dismissed as unimportant. The average Costco shopper has an income of over $100,000 and has ample free cash flow to be lured into seemingly great deals they were not planning. Despite shoppers continuously complaining they regularly overspend at Costco, they always come back for more.
We all seem to have favorite products that make it worth the membership fees, which are pure profit for the company. When we lived in Hawaii, buying a jug of milk every other week was all it took to pay for an annual membership and I knew very few Honolulu residents without a card. Soon, even my cooking revolved around the products Costco sold. I do not find the produce attractive price-wise, but I find the non-food household products (love the Ecos laundry soap) like paper products and electronics are very attractively priced. They offer quite a variety of packaged healthful alternatives and I always get chia seeds, real bacon bits, and coconut oil at substantial discounts to other retailers.
The new location near to us has an enormous parking lot always filled with cars, but the store is so immense that I have never notice it feeling crowded, though it is always busy.
10. Does it have an Economic Moat and Margin of Safety?
Competition is fierce in this space but Costco's loyal following of members gives it some kind of an economic moat. I do not feel there is a margin of safety in the current share price, but the risk of devastating losses with this company is very low.
11. Is earnings growth consistent or cyclical?
Costco has consistent earnings and a strong balance sheet. Nothing to worry about here.
12. What is wrong with this company? What challenges does it face? What would make you sell?
The S&P report discussed the risks to Costco as the slow down in economy (not likely) and competition (very likely). I think I have answered the other questions throughout the article.
Summary
As attractive as the idea of exchanging my dollars and getting in on a swing-trade is, I don't think I will buy Costco this time around. I took a pass on it last time that I did my due diligence and will again. My notes from last time say "It's a definite Maybe but not for now. Analysts-No. Earnings-No. Company-Yes". I see my recent purchase of GIS as a far better buy and its share price is going down as well. (I am not unhappy about that as I saved about 5% on exchange, buying it when I did).
I am trying to get away from holdings that require more than a buy and monitor mentality. My schedule from now until May in particular will not allow me to baby-sit stocks. I must keep my goals and strategies foremost and my trading urges in check.
Also, another of my favorite holdings, Crescent Point Energy (OTCPK:CSCTF) which I definitely do not own enough of, is approaching an technical opportunity. I am very interested in more of that stock, which I know fits beautifully into my portfolio and has an attractive, reliable 6.91% monthly dividend. A far better choice for me.
Now I must run. I'm off to Costco. Seriously, I'm not kidding. My daughter has an eye appointment there and I have shopping to do.
Disclosure: I am long GIS, WAG, WMT, V, CNI, WETF, CSCTF, . I wrote this article myself, and it expresses my own opinions. I am not receiving compensation for it (other than from Seeking Alpha). I have no business relationship with any company whose stock is mentioned in this article.