My prior article on YRC Worldwide's (NASDAQ:YRCW) debt restructuring transactions focused on their large debt obligations and their extremely high interest rates (relative to other truckers) and the de minimis impact of the exchange of convertible debt to equity. A trucking company is only as good as its people and its equipment; there is some magic in logistics, but YRCW left that arena years ago. If, and when a debt rollover or restructuring of YRCW's balance sheet occurs, the bankers will be scratching their heads a bit more this time relative to 2010. The balance sheet has negative equity of $665 million, and so any new debt must be equally lined up with assets, or collateralized carefully. So, if and when trouble returns in the next economic dip or down cycle, every dollar of "secured" debt can be lined up with a dollar of assets. Sounds easy, right? Well, some balance sheets are harder to figure out than others, and YRCW is no exception.
Clearly when looking at valuation of a trucking company its assets consist of mainly four (4) items: (1) The tractor fleet, (2) the trailer fleet, (3) the buildings/terminals/land, and (4) the customers or contracts. The first three items are all hard assets and equipment. The fourth one is an intangible, yet represents value in today's world of competing revenues.
YRCW has $1.2 billion of revenues per quarter, so clearly there is some value to the customer list, which in prior years has come under severe attack from competitors. Keep in mind, this company used to do $9 billion a year in revenues in the hey-day of 2006/2007 and would spend $400 million annually on capex for equipment replacements. Now their revenues are $1.2 billion a quarter and capex is a mere morsel of $50MM per year or less on revenue equipment. The old fleet is getting older, every month that ticks by.
With YRCW, a serious concern is their tractor fleet condition, as the company itself has mentioned the "aging fleet" issue more than once in its risk factors section of its public filings. YRC has all but halted capex purchases for new equipment since 2009 when the stock went off the rails and the 1st major restructuring occurred. The turnaround story began in the dark days of 2010. Every effort was made to conserve cash, cut waste, and pull back on spending. A major decision was made to halt capex spending and keep cash in reserve to cover wages and operating costs such as fuel, tires, claims, and other critical expenses. NO NEW tractors or trailers were purchased in the last five years. So what is the result of that action? Looking at other trucking companies one will notice how often they are constantly purchasing new trucks and trailers…these rigs are subjected to heavy pounding, running 24/7 at some firms. Industry data shows some heavy use truck companies can easily put 100,000 miles on a rig every year, and some even higher with multiple driver teams and round the clock operations.
We decided to dig a bit deeper. Just how old is the YRCW fleet and what is the distribution? Trucks are bought and sold daily, and the market for used trucks is filled with websites and dealer lots for any and all types of trucks you could ever want. We went to the best source of information we could find to nail down the YRCW tractor and trailer fleet: its annual 10-K. Every year for the past 13 years the YRCW, or Yellow or Roadway or New Penn or Holland 10-K lists the total number of trucks and trailers they own and they lease. We went back each year and tabulated the quantities from the 10-K and then threw some fancy Excel analytics at the data. The method is quite straightforward. Our goal was two-fold: (1) track the amount of "NEW" trucks purchased in each calendar year based on the capex spent on revenue equipment and (2) track the bucket of 2001 and older trucks over the past 12 years. For example, the year 2000 10-K states the company had 11,700 tractors. So, right there, in the 2000 10-K, you know that 100% of that equipment is 2001 or older (we assumed 2000 capex dollars went and purchased 2001 model year equipment). So each year we tracked the added new model year tractors and subtracted the older equipment, again assuming any time the company got rid of tractors they were older than 2001 vintage; they clearly are not going to scrap new equipment unless it is due to a crash or fire.
Here is a sample Calculation from the 2007 Year end period….
Equipment that is Model Year 2001 or older

17,468

FYE 2006

Tractor Count Dec 2006

23,771

"+" New Model Year 2008 bought via Capex

1188

Minus Equipment Scrapped/Sold

-1212

End Tractor Count Dec 2007

23,747

Equipment that is Model Year 2001 or older

16,256

FYE 2007
The important component is tracking that bucket of 2001 or older equipment, so each year that group declines by the amount of tractors scrapped. Below is a summary of the assumptions that created the matrix of tractor fleet age.
All tractor numbers taken from 10-Ks, years 1999 to 2012, owned equipment only (no leases)
We assumed in years 2002-2009 that capex used for revenue equipment purchased tractors with 40% of the dollars and trailers with 60% of the dollars, consistent with their prior purchase periods
Assumed YRC paid 15% off of MSRP in a given model year for Volvo VNM 430 Single Axle, 23,000 lb rear axle cabs. A majority of their equipment are Volvo tractors.
Assumed in the merger years (2003 and 2005) they took on New Penn, Holland, Reimer equipment that had a younger fleet age distribution.
Assumed that all equipment scrapped or sold each year was model year 2001 or older.
Retail and wholesale prices shown below from TruckBlueBook Tables, years 1999 to 2009, and verified with multiple website listings of tractors and trailers, and discussions with dealers
Trailer analysis assumed prices using 48' and 53' Wabash standard dry van trailers. No discount applied for "Pup" or 28' foot trailers, which are in the YRCW fleet in high numbers. Re-sale values for 2002 or older pup trailers are $3000 each or lower based on condition of brakes. If Pup trailers are accounted for, total trailer asset values drop more.
So, going year by year, methodically tabulating all the additions and subtractions, we arrive at the following distribution. At first the results were somewhat surprising, but on visiting some of the trucking terminals, talking to drivers and mechanics, and examining the capex details we strongly believe the distribution is as below or slightly worse. Astonishing, close to 50% or half of their entire tractor fleet is vintage model 2002 or older.
| | | |
| --- | --- | --- |
| YRCW | | |
| OWNED | | |
| TRACTOR | | |
| MODEL | | |
| YEAR | QUANTITY | % FLEET |
| 2012 | 0 | 0.0% |
| 2011 | 0 | 0.0% |
| 2010 | 0 | 0.0% |
| 2009 | 322 | 2.2% |
| 2008 | 1230 | 8.4% |
| 2007 | 1262 | 8.7% |
| 2006 | 1365 | 10.1% |
| 2005 | 1069 | 8.1% |
| 2004 | 769 | 6.2% |
| 2003 | 943 | 6.5% |
| 2002 | 937 | 6.1% |
| < 2001 | 5504 | 43.6% |
| | 13,401 | 99.9% |
So their trucks and tractors are a bit older and slower and less fuel efficient? Well, relative to other truck operators, it seems par for the course is to replace 7-10% of your fleet each year with new equipment purchases. There are more stringent DOT requirements now for safety, more logistics operations that track where cabs are with GPS receivers, more fuel efficient engines and more aerodynamic bodies and newer axles. Remember diesel fuel is still $3.50 to $4.00 per gallon, and every penny of fuel saved is critical in a large company such as this. For comparison, below is a table from SWIFT Transportation, they reveal the entire tractor fleet in their 10-K and its distribution.
SWIFT TRANSPORTATION TRACTORS- 2012 10-K

Model Year

QTY

2013

2650

23.5%

2012

2196

19.5%

2011

861

7.6%

2010

737

6.5%

2009

2689

23.8%

2008

1344

11.9%

2007

124

1.1%

2006

153

1.4%

2005

210

1.9%

2004

88

0.8%

2003

69

0.6%

2002

154

1.4%

11275
Wow, even more astonishing. At first I thought I was reading the table backwards. Their distribution is front end loaded with ALL newer equipment. Less than 2% of the SWIFT fleet is 2002 or older!
Why are older tractors such a problem for YRCW? Fuel and Safety. Tractors and trailers need constant maintenance, and in the best trucking companies "PM" or preventative maintenance. This means more frequent oil changes, tune-ups, re-treading of tires, and servicing of brakes. A typical brake job on a trailer costs $1000 and lasts roughly a year or 75,000 miles. The DOT (Department of Transportation) has minimum inspection requirements, and upon visiting that website we found even more data that reinforced our concern the YRCW fleet is too old. The vehicle inspection failures for YRCW from the DOT-FMCSA (Federal Motor Carrier Safety Administration) website are close to the highest (as a % of inspections) for their tractors and trailers. We thought of looking further into vehicle crash reports and records but that discussion led us a bit off the path. Other trucking peers examined were Arkansas Best (union labor), ConWay, Old Dominion, Swift, and Marten. The trend seems clear, older equipment, more breakdowns, longer downtimes, higher maintenance costs, frustrated customers, lower efficiency across the network. Again, a company is only as good as its people and its equipment, there is no "special sauce" in trucking, so to speak.
DATA From FMCSA Trucking Inspection and Accident Reports
| | | | | | | |
| --- | --- | --- | --- | --- | --- | --- |
| | YRC Worldwide | Arkansas Best | Con-Way | Old Dominion | Marten | UPS Ground |
| | | | | | | |
| (A) Drivers: | 14,635 | 6,730 | 14,103 | 7,787 | 2,546 | 10,946 |
| | | | | | | |
| Power Units: | 11,922 | 3,186 | 9,104 | 6,822 | 2,508 | 6,888 |
| | | | | | | |
| Total Mileage: | 705,305,789 | 324,317,951 | 607,544,655 | 487,716,004 | 269,457,292 | 570,327,545 |
| | | | | | | |
| (B) Mileage Per Driver: | 48193 | 48190 | 43079 | 62632 | 105836 | 52104 |
| | | | | | | |
| Mileage Per Power Unit: | 59160 | 101795 | 66734 | 71492 | 107439 | 82800 |
| | | | | | | |
| *Vehicle Inspections: | 6870 | 1787 | 3621 | 2923 | 4313 | 4253 |
| | | | | | | |
| *Vehicles Out of Service: | 1094 | 186 | 292 | 338 | 425 | 528 |
| | | | | | | |
| *Out of Service % | 15.9% | 10.4% | 8.1% | 11.6% | 9.8% | 12.4% |
| | | | | | | |
| **Fatal: | 22 | 5 | 14 | 10 | 7 | 15 |
| | | | | | | |
| **Total Crashes: | 654 | 241 | 487 | 447 | 270 | 488 |
Source:
Footnotes:
a: Based on 2012 Data from source above
b: Self calculated
Okay, so the safety risks are higher with an older fleet, you are spending more on fuel, and you are looking at more mechanical breakdowns and repair time… Management's solution: Let's go to more purchased transportation. YRC management is fighting with the union and going after more "purchased transportation," taking union jobs away, not because it's more cost effective, but we believe because their equipment is breaking down more often. You cannot risk a customer's shipments and delivery schedules if your equipment breaks down. Their recent conference calls mentioned a shortage of drivers. Another interesting comment, but again we suspect this is not a driver issue but more of an equipment issue. We are curious as to what the margins or profit numbers look like for "purchased transportation" transactions. That outsourcing method can only work in limited circumstances.
Trucks, Trailers, and Terminals: Asset Values: Why Things Don't Add Up ?...
Our end goal is to ensure that their fixed assets, other assets & intangibles stated on the balance sheet foot to the $1.274 billion they claim (net of depreciation) in the latest 10-Q. So if we add up the estimated fair market value or re-sale value of their four largest components, do we come close to $1.30 Billion? Well, the tractor fleet is at best worth $191 million, plus or minus 5%. Old equipment is , well, old and does not fetch high prices from buyers. These older tractors have been driving up to and beyond their useful lives already. Interestingly enough, YRCW uses a depreciation schedule for their revenue equipment of 10-20 years!.. Other truckers we looked at all use 5-7 years for tractors, and some 7-15 years for trailers. But nowhere did we find any depreciation schedules of 10-20 years.
YRCW Tractor Fleet Asset Values - Wholesale BlueBook Estimates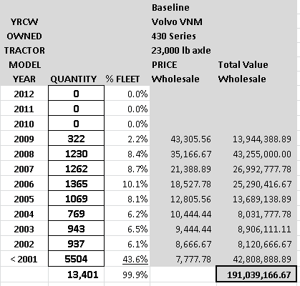 YRCW Trailer Fleet Asset Values - Wholesale BlueBook Estimates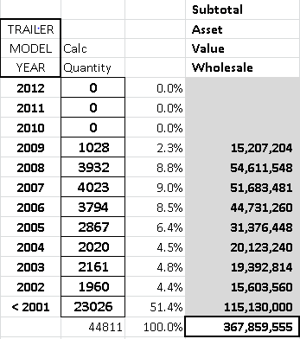 And the trailers? A larger dollar amount of assets on their balance sheet for sure. Performing the same analysis for their trailer fleet, we come up with a value of roughly $367MM in total for the trailers. Again, note how large the 2002 and 2001 buckets are. Nearly 50% of their tractor/trailer combined fleet is year 2002 or older. Simply amazing. Most of the mechanics we spoke with "routinely" see YRC vehicles come in to the shop with more than 850,000 miles on them, some over 1 million miles, usually model years 2001 to 2005. I cannot imagine the miles on a 1999 tractor. The company announced they were spending $50 million last year to re-engine some tractors, (at a cost of $15,000 a pop) and refurbish their trailers. The trailer refurbishments are puzzling, it seems new equipment purchases would be the wiser choice given the expensive cost of refurbishing a trailer (complete rebuild). But adding capex dollars any way you can is the answer in the game of dwindling depreciation. Remember, depreciation feeds the EBITDA number, no depreciation- no EBITDA, no covenants, no funding.
On one positive note, in the summer of 2012 the Kansas City Business Journal announced YRCW was "acquiring" 51 new Freightliner Cascadia tractors and 844 Stoughton trailers, not with cash but through operating leases (most likely at very high rates). Consider how tiny an impact this is. 51 tractors is just 0.38% or less than one half of one percent of their fleet ! Not even a dent in such an elderly fleet as YRC operates. Meanwhile SWIFT and ConWay routinely spend $350-$450 million per year on new equipment. We believe YRCW needs to spend at least $500 million a year on new equipment and very soon, or further maintenance headaches await down the road for sure. YRCW mechanics are the winners here.
So, our "real market" valuation totals now look like the following for YRCW owned equipment on their balance sheet:
YRCW Owned Equipment Using Market Values for Used Tractors/Trailers
| | |
| --- | --- |
| Tractors | 191.0 |
| Trailers | 367.9 |
| Terminals/Land | 275.0 |
| Other-Intangibles | 0 |
| | 833.9 |
Clearly this does not come close to the $1.30 Bn in depreciated assets they list in the 10-K, so what is missing? Could it be the real estate? Is this another Sears or JCPenny with valuable real estate on its enterprise at depressed book values? How much is a truck terminal really worth? Location, location, right? Well, there is only one customer to buy a truck terminal, another trucking company. A warehouse with 64 doors is really only useful for an active trucking company. We looked at multiple real estate listings for truck terminals, across the U.S., and what we were finding is there are plenty for sale. In fact ABFS announced last month they were closing more terminals to streamline operations, and YRC has been selling its terminals at quite a clip the last few years. In fact the cash raised from sale of terminals has helped greatly in the turnaround effort. Each year cash proceeds from sale of land/buildings has been running between $20-40 million but the selling has stopped. One large auction sale of 60 terminals in 2012 generated some additional cash for the company, so we examined those sale prices and combined that data with other current active web listings. On average, we were finding that a 64-door facility is worth roughly $850,000 to $1.2 million for real estate. So even if you took all 200 of YRC's owned terminals, and you assumed they could garner $1.5 million on average for each facility, you only reach $300 million for the value of the real estate. Maybe some of the properties are in choice, expensive real estate cities, like L.A., Chicago, or New York?..., maybe those terminals fetch an additional $50 million or so… At best?... We have trouble getting the real estate number above $300 million, or even $350 million, without very lofty assumptions.
We come up short on the fixed asset total. The balance sheet already has negative equity of $665 million, and based on our estimates, the tractors, trailers and terminals are worth at most $800 to $900 million. Any lender will haircut that for sure, issuing bank debt lines at 85-90% of collateral "value." Consider that in the face of $1.4 Bn in existing debt, soon to be $1.15 Bn in debt after the debt for equity exchange. And we forgot to mention the pension is underfunded by $500 million or so as well. It's not clear at all where the value is here on the books and the concern for any lender should be an accurate valuation of the fleet age and the real estate. Maybe there is some additional value in capitalized leases, which are currently tagged to liabilities of $300 million, but the residual values on those assets have to be very small. It's possible the fleet assets are simply over marked from the prior mergers and the resultant "merger accounting." In any case, when the writedown occurs, the equity will suffer, if not be extinguished. We do not see how the operating business with negative cash flows currently can have any tangible book value, why the equity trades at any premium is a mystery. The turnaround so far has kept the company going in a stripped down austere environment, but management sacrificed the truck fleet condition to do it. Clearly there is breakup value in YRC customer accounts, but shipping customers come and go, and the trucking industry competitive landscape is as difficult as ever. YRCW's competitors will be watching closely the next move by management. ABFS seems a natural fit to grab more customers, a company with a newer fleet and almost no debt to speak of, with numerous options to deploy when the next "event" occurs.
Disclosure: I have no positions in any stocks mentioned, and no plans to initiate any positions within the next 72 hours. I wrote this article myself, and it expresses my own opinions. I am not receiving compensation for it (other than from Seeking Alpha). I have no business relationship with any company whose stock is mentioned in this article.
Additional disclosure: Focus ticker YRCW