Oncothyreon Inc. (ONTY) is a biotechnology corporation that dedicates its available resources to treatments for cancer. I have most recently taken a look at it in a June 20th, 2013 article. Since that time, company fundamentals have been positive; however, cash burn and the risk of pipeline failure are persistent concerns that will not disappear unless something unpredictable happens. As such, it can make sense to write call options while holding the equity in order to enjoy compensation.
January 2014 options expire after Friday the 17th. Consequently, it is appropriate to re-scrutinize the company. For reference, Implied Volatility ("IV") remains high in comparison to most stocks, but not ONTY itself:

Currently, a call at a $2 strike price that expires in February can be written for approximately $10, and a $2 May call would bring in $25 to $30. While the share price has consistently been close to $2 for some time, the reason a trader can obtain 13.67% ($25 / $183) within five months is because the stock can easily bolt higher or lower, as suggested by the orange line above that denotes IV. Provided shares are not called away next Friday, or their price does not depreciate drastically, a pressing question is whether or not to hang onto them and rewrite calls.
Let's direct our attention to the underlying company and the potential products that determine its valuation. A graphical depiction of Oncothyreon's pipeline shows fairly robust activity, and perhaps indicates a decent chance that one compound out of several will become an approved product.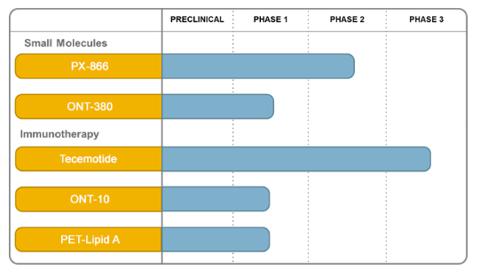 However, two firms that cover the stock only assign a dollar value to two product candidates shown above: tecemotide (formerly Stimuvax, or L-BLP25), and ONT-380. Each is being developed through a partnership. Merck Serono (OTCPK:MKGAY), of Germany, is developing the former, and Array Biopharma Inc. (NASDAQ:ARRY) shares rights and costs regarding the latter.
Wedbush has a team of three analysts, all Ph.Ds, following the equity and they assign it an Outperform rating and a 12 month Price Target of $5.
…Based off of a 15x multiple of our 2018 estimated tecemotide royalties discounted 30% annually and ONT-380 at $2/share, based on 6x multiple of ONTY's 50% of ($40 of $80 million) ONT-380 sales in 2018 (discounted 30% annually) in a possible metastatic breast cancer indication, adding cash/share of approximately $1.
My own impression is that the odds are against ONT-380 being approved. Though all materials reviewed indicate that the compound has great potential, it also has the majority of clinical trials ahead. Wedbush does not explicitly risk adjust in its note.
Yet, for shareholders, ONT-380 is perhaps the company's most exciting candidate and better information may clarify the situation in the future. There is competition:
ONT-380 is an inhibitor of the receptor tyrosine kinase HER2, also known as ErbB2. There are multiple marketed products which target HER2, including the antibodies trastuzumab (Herceptin ) and pertuzumab (Perjeta ) and the antibody toxin conjugate T-DM1 (Kadcyla ), all from Roche/Genentech. In addition, GlaxoSmithKline markets the dual HER1/HER2 oral kinase inhibitor lapatinib (Tykerb ) for the treatment of metastatic breast cancer, and Puma Biotechnology is developing the HER1/HER2/HER4 inhibitor neratinib in Phase 3 (Source: Form 10-Q).
Oncothyreon has multiple trials scheduled to be initiated for ONT-380, data is not expected until the second half of 2014.
Cowen & Company has bought ONTY stock through an ATM agreement, and further dilution to investors in the future is a possibility. However, its Outperform rating and $5.66 valuation are similar to Wedbush's and appear cogent. There is a sensible emphasis on modeling Phase 3 tecemotide, and I have no issue with an assigned 67% probability of success (Wedbush seems to model it as if already approved, and cites failure as a concern).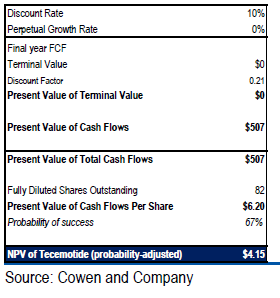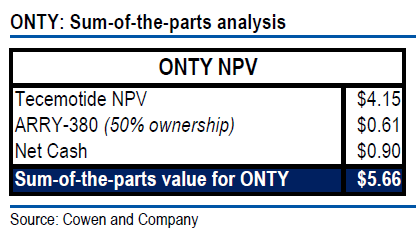 Oncothyreon's most recent Form 10-Q gives an overview:
Merck KGaA is entirely responsible for the development, manufacture and worldwide commercialization of tecemotide…In September 2013, Merck…announced that it has decided to continue clinical development of tecemotide, and that it will conduct a new Phase 3 trial called START2 based on the outcome of the prior START trial. START2 will be a Phase 3, multicenter, randomized, double-blind, placebo-controlled clinical trial designed to assess the efficacy, safety and tolerability of tecemotide in 1,000 patients with unresectable, locally advanced (Stage IIIA or IIIB) NSCLC who have had a response or stable disease after at least two cycles of platinum-based concurrent chemoradiotherapy. In addition, the ongoing clinical program of tecemotide that includes studies in the Asia Pacific region is continuing…To date, the FDA has approved for commercial sale in the United States only one active vaccine designed to stimulate an immune response against cancer.
According to Cowen, initiation of START2 is anticipated in "Early 2014." The earliest data, from a Phase 2 trial in Japan, is not expected until "Late in 2014." Therefore, there is no obvious reason for the share price to change drastically because of the candidate in the near future.
It is remarkable that no value is being assigned by either firm for Phase 2 PX-866. Oncothyreon is actively researching the compound, however. Two trials are listed as enrolling on the company's web site. Per Cowen's report, near term data is also expected (bold added):
Data from four more trials of PX-866 are still anticipated: 1) docetaxel (Taxotere) +/- PX-866 in SCCHN, expected by YE13; 2) cetuximab (Erbitux) +/- PX-866 in SCCHN, also expected by YE13; 3) PX-866 + vemurafenib (Zelboraf) in BRAF-mutant cancer, primarily malignant melanoma, dose-escalation data expected 2013; and 4) the second part of the PX-866 monotherapy trial in CRPC (patients with disease progression on abiraterone), currently with half of the targeted 25 patients enrolled.
Per the Form 10-Q, competition is formidable:
PX-866 is an inhibitor of PI-3-kinase. We are aware of numerous companies that have entered clinical trials with competing compounds targeting the same protein…Among these competitors are Novartis (Phase 3), Roche/Genentech (Phase 2), Bayer (Phase 1), Sanofi-Aventis (Phase 2), Chugai (Phase 1) and GlaxoSmithKline (Phase 1/2). There are also several approved targeted therapies for cancer and in development against which PX-866 might compete.
With no value assigned to the compound, the pending announcements need to be considered as a downside risk only.
Turning to another Immunotherapy product, Oncothyreon has exclusive rights to ONT-10. Cowen makes a plausible case that it could lead to the biotech company being an acquisition target:
We believe that it makes a lot of sense for Merck KGaA to acquire Oncothyreon, especially given its currently depressed valuation, and the high probability, in our view, that tecemotide succeeds in the START2 Phase III trial, when it reads out in a number of years. The fact that Oncothyreon, in addition to the tecemotide royalty that it would be owed, owns 100% rights to this follow-on vaccine, that it could license to another big pharma that could go head-to-head with Merck KGaA, makes an acquisition a likely scenario, in our view (Source: Sept. 25th Flash Note).
There does seem to be reasoning for Merck KGaA to purchase Oncothyreon. However, the potential is at least as speculative as the stock itself, which has dashed hopes and destroyed wealth in the past. It probably should not be treated as something to bank on.
If an investor buys at $1.80, writes a $2 call(s) that expire(s) in May for $25 per each 100 shares, and the company in fact gets bought out, profits would be capped at [ ($2 - $1.80 - $0.25) * 100 ] = $45 before commissions and fees. Even if limited to a [ $45 / $180 = ] 25% gain, in months, it would be quite a haul! Contrastingly, if the stock price remains under $2, or drops, an investor would keep $25.
Neither Cowen or Wedbush says anything about the final candidate in the pipeline graphic, Phase 1 PET Lipid-A. Per the Form 10-Q, "The Phase 1 trial of ONT-10 is also the first-in-man trial for our novel vaccine adjuvant PET-Lipid A, a fully-synthetic toll-like receptor 4 agonist." No other information is available.
The corporation is not financially self-sustaining and continuously needs money. Here is a summary view of YoY financial information:
 

Q3, November 2013

Q2,

August 2013

Q1,

March

2013

Q4, December 2012

Q3, September 2012

Cash

12,774**

7,492

12,649

22,266*

10,684

Total Current Assets

64,091

51,871

66,686

82,417

80,655

Total Current Liabilities

4,121

4,428

3,575

3,017

3,992

Source: 10-Qs and 10-K, In $US 1,000s

*Attributable to $50.3M April 2012 public stock offering

**19,686 from issuance of common stock; 5.7 million shares to Cowen through ATM
Oncothyreon's fiscal condition is not particularly importunate at this time. If a pattern is followed, the company might be expected to get through Q4 without further dilution. Per Wedbush, it burns through about $28 to $30 million a year, though only $15.5 is modeled for 2014 ($10.1 in R&D, and $5.5 in SG&A). Cowen projects $33.4 million in 2014 operating expenses ($24.4 in R&D and $9 in SG&A).
Here is a graphic from YCharts that indirectly shows its main source of financing and does not include outstanding warrants and options: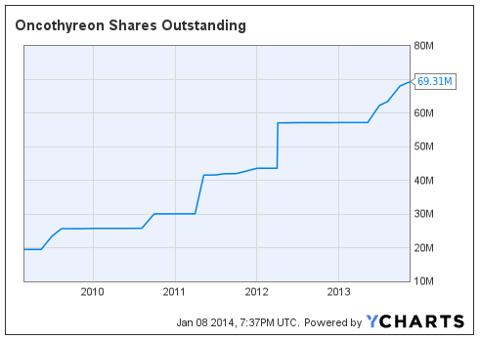 To summarize, Oncothyreon has at least two products in its pipeline that can render it a viable commercial enterprise. However, PX-866 is questionable, and faces stiff competition, while data should be imminent. The choice of whether or not to continue owning equity, and perhaps write options against it, involves considerations. For the near term, as the company should remain okay financially, it could be prudent.
Disclosure: I am long ONTY. I wrote this article myself, and it expresses my own opinions. I am not receiving compensation for it (other than from Seeking Alpha). I have no business relationship with any company whose stock is mentioned in this article.
Additional disclosure: All currently owned shares have $2 call options written against them that expire this month.