Arena Pharmaceuticals (NASDAQ:ARNA) is marching upward, as scripts gain traction with the new year. This dynamic has been unfolding for a few weeks, and I have covered it both here and on my website. What changed that shifted Arena from an equity treading water to an equity with bullish moves?
The simple explanation is that the holidays are over, and we are entering a time of the year where weight loss products, regardless of type, see their best sales results. On top of that, we have the recent news that the FTC is cracking down on deceptive weight loss advertising. This combination can be quite powerful for legitimate products and service that are in the sector.
As good as it is to see traction, we are not out of the proverbial woods quite yet. In my opinion this move is a combination of speculation about what 2014 will bring as well as technical. What we need to remember is that results need to demonstrate that we indeed have traction that points to hitting targets. I am not trying to be bearish here. I am simply pointing out what would be expected by the street to maintain bullishness. The results from New Years week are a very encouraging start.
Sales results for the past week were a pleasant surprise when considering that the sales week included New Years. Sales were up about 31% vs. the sales presented the week before which included Christmas. This dynamic is another demonstration of traction with Belviq.
What we have to look forward to is the possibility of television ads hitting the airwaves in the coming weeks. This would support the dynamic that the first half of the year is a good time for sales of weight loss products.
I have long stated that there is a lot on the line for Arena in 2014. Sales need to show enough traction to be considered impressive between now and the end of the quarter. While the 31% week over week gain we saw this week is impressive, it is not a number we should expect moving forward. In my opinion (speaking about Q1 only) weekly gains of 5% will be considered neutral to positive and weekly gains of 10% will be considered as a pure positive. I want to be clear that these percentage gains are dealing with the next several weeks and not in perpetuity.
In looking at sales this week, the prescriptions sold came in just below 4,900 according to Symphony Health. Applying the 31% pop to IMS numbers, the IMS sales, its number would be just under 4,000. As stated above, with the holidays, a lower number should have been anticipated. With the number we saw, it demonstrates why we are seeing bullish tendencies.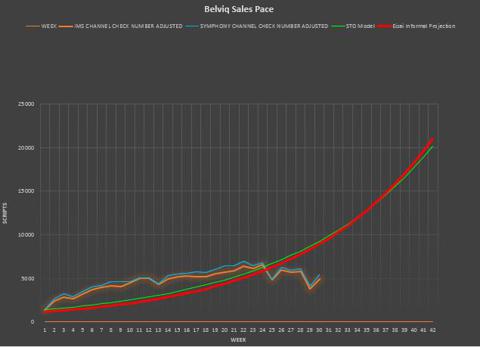 In tracking a desire to see $32 million in sales in the current quarter ($60 million since launch), we are starting off modestly with the real potential beginning to show through in the next several weeks. My year to date gross sales stand at just under $1,000,000 which includes 4 days in 2013. My cumulative sales since launch stand at just over $28 million.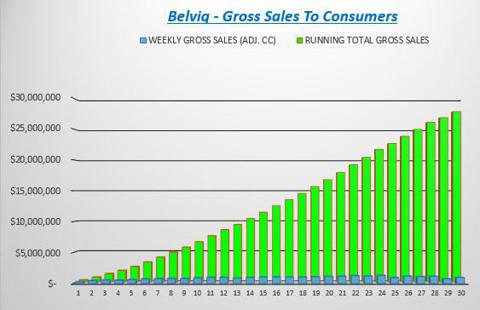 The bottom line here is that 2014 is starting off well and that is being translated into the stock price. Meaning traction should commence with the sales report next week, and as long as signs in the sales point toward reaching sales goals, the street will show its appreciation. Stay Tuned!
Disclosure: I am long ARNA, . I wrote this article myself, and it expresses my own opinions. I am not receiving compensation for it (other than from Seeking Alpha). I have no business relationship with any company whose stock is mentioned in this article.