By Carla Fried
It was barely a decade or so ago that dividends were shunned as old-school. In 2002 just 351 of the companies in the S&P 500 paid a dividend, a steep come-down from the 425-450+ that was the norm from the '80s through the Internet 1.0 boom and bust. Fast forward through a couple of bear markets and the Federal Reserve's rate repression that has flattened interest income for retirees and nervous Baby Boomers, and dividends are back in vogue. Way back. The number of S&P 500 companies paying a dividend is now at 418, compared to 363 in 2009. Moreover, nearly 85% of the S&P 500 members either raised or initiated a dividend this year.
Having delivered an average of one-third of stock returns since, (it was more than 50% in the '70s and 14% for the '90s) the case for dividends is clear. But there is no free lunch here. In periods of economic and market growth, dividend payers typically trail the performance of non-payers. Like now. According to S&P Dow Jones Indices, for the 12 months through November dividend payers in the S&P 500 delivered a 39.6% total return. No need to apologize for that. But the non-dividend payers clocked in with a 46.4% total return.
Ranking the entire S&P 500 by 12-month price gains, seven of the top 10 are dividend holdouts, led by Netflix (NASDAQ:NFLX) which has quadrupled in price this year. The others: Micron Technology (NASDAQ:MU), E*TRADE (NASDAQ:ETFC). Genworth Financial (NYSE:GNW), Yahoo! Inc. (YHOO), Celgene (NASDAQ:CELG) and Boston Scientific (NYSE:BSX), all of which have at least doubled in price over the past 12 months.
From a valuation standpoint, Genworth Financial and Boston Scientific are the only high fliers to have a reasonable trailing 12 month PE ratios. But unlike Netflix (PE ratio over 300), which has operationally been firing on all cylinders, their price jumps of late are bounces from less-bad news. Boston Scientific has ceded heart-device leadership to Medtronic (NYSE:MDT) and Genworth Financial is a still-mending casualty of the financial crisis. While the S&P 500 has moved well past level it enjoyed heading into the heart of the financial crisis, both stocks have not: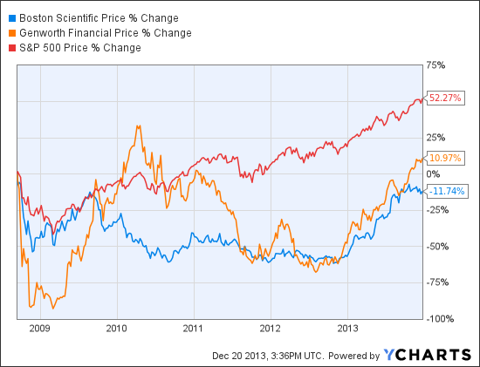 BSX data by YCharts
But dig a little deeper with financial advisor tools and it's easy to find compelling S&P 500 constituents that eschew dividends and aren't trading at Netflix or Amazon (NASDAQ:AMZN) levels.
Starting with two of the most defiant dividend holdouts: Google (NASDAQ:GOOG) and Berkshire Hathaway (NYSE:BRK.B). We know they have the capacity to pay a dividend if they desired. Their cash and short-term investments are larger than the market cap of more than 400 of the stocks in the S&P 500.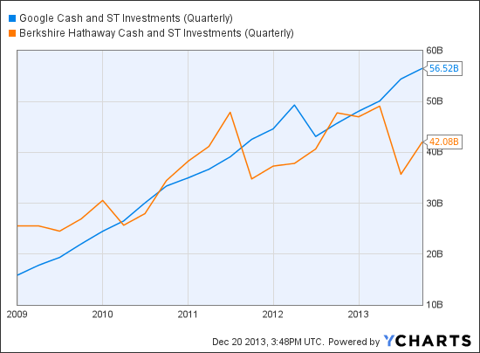 GOOG Cash and ST Investments (Quarterly) data by YCharts
While they are wildly different operations, it's interesting to note that both Google and Berkshire Hathaway land among the 10 most popular stocks held by Morningstar's roster of Ultimate Stock Pickers. The other eight all pay a dividend, including Microsoft (NASDAQ:MSFT), Wells Fargo (NYSE:WFC), Johnson & Johnson (NYSE:JNJ) and Procter & Gamble (NYSE:PG).
With a trailing PE ratio of 29, Google isn't exactly cheap on an absolute level (though it's a hell of a lot easier to swallow than Facebook's (NASDAQ:FB) 135 PE). But Google's trailing 12 month PE is still well below its norm over the past five years, a stretch during which earnings-per-share nearly tripled.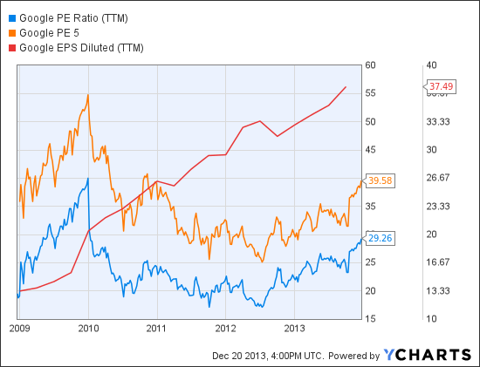 GOOG PE Ratio (TTM) data by YCharts
Google's share price is up more than 50% over the past 12 months.
Berkshire Hathaway stock is up "only" 30% over the past 12 months. That's not lights out, but in line with the total return (dividends reinvested) for the S&P 500. While chairman Warren Buffett opened the door to stock repurchases -- at the right price -- there's little chance the greatest capital allocator of the past 50 years would ever agree to a dividend. (Though clearly Buffett loves dividend stocks as an investor.)
Berkshire Hathaway's price-to-book value has moved up over the past year, eliminating the prospect of buybacks. Though at 1.3x, the current book value is now just in line with its longer-term norm. Moreover, the sixth largest stock in the S&P 500 trades at around half the price-to-book for the S&P 500, and well below the levels of the five largest stocks in the index: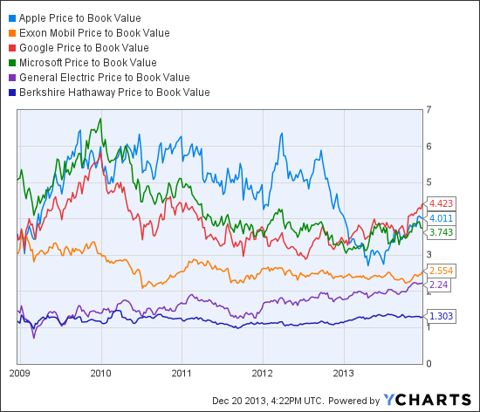 AAPL Price to Book Value data by YCharts
Sure, Berkshire Hathaway is a quasi financial firm, and those trade at lower book values than stocks in other sectors. But its 1.3 price/book is currently lower than the 1.6 for Wells Fargo, which happens to be Berkshire's largest portfolio holding.
Other dividend holdouts in the S&P 500 that aren't trading at nose-bleed levels include Gilead Sciences (NASDAQ:GILD), Bed Bath & Beyond (NASDAQ:BBBY) and AutoZone (NYSE:AZO).
Carla Fried, a senior contributing editor at ycharts.com, has covered investing for more than 25 years. Her work appears in The New York Times, Bloomberg.com and Money Magazine.
Disclosure: None