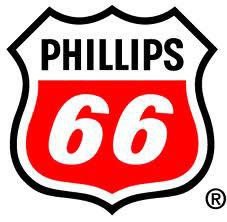 Phillips 66 (NYSE:PSX) had a blockbuster 2013 and is up 52% over the past year. The company's refining business has been capitalizing on the spread between Brent and WTI and exporting refined products to international markets. So it came as a surprise that PSX would publicly support crude oil exports. Exports would likely reduce the Brent/WTI spread and crimp profits. I have my theories as to why the company is supporting exports. Regardless, the fact that it is doing so shows the confidence Phillips 66 has in competing with anyone in the refining space, exports or no exports. This is another bullish indicator going forward. Despite its nice run in 2013, PSX has another 20% left on the table for 2014.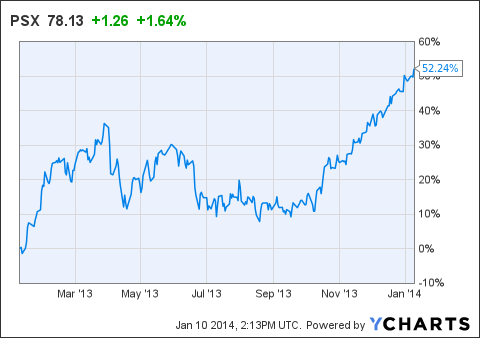 A recent Reuters article quotes a PSX spokesperson on Tuesday: exports of crude oil "are good for our country and contribute to a strong balance of trade." This follows Phillips 66's CEO Greg Garland's comments last month at a New York luncheon:
When you think about what is good for U.S. economy, what drives job growth... all of these are reasons why we support crude oil exports. If we're allowed to export refined products I think others should be allowed to export the crude they produce.
It is very interesting that a company profiting off the Brent/WTI spread supports a policy change which would quite likely reduce that spread. After all, on Tuesday the nation's largest independent refiner, Valero Energy (NYSE:VLO), became the first public company to come out (somewhat predictably) against crude oil exports. Valero spokesman Bill Day said:
Valero buys raw material - crude oil - and turns it into high-value products like gasoline or diesel. It makes more sense to keep the raw material here in the U.S., where we're using American labor and American equipment to make the higher-value product.
Of course oil producers like ConocoPhillips (NYSE:COP) and Exxon Mobil (XOM) want to export crude because they would be able to get higher prices for their oil on the international market. Last November, ConocoPhillips' CEO Ryan Lance called for a removal of the crude oil export ban:
The refineries are tooled up for sour crudes, with only so much capacity for light sweet crudes. Either you are going to shut down production, or you get wide differentials to try to incentivize capital investment in more facilities. The world needs the crude and there are places where we could export that crude into existing refineries.
Could it be that Phillips 66's position on the crude oil export question goes back to its relationship to the mother ship - ConocoPhillips? After all, since the spin-off many COP executives and employees likely hold stock in PSX, and vice-versa. But I think it goes deeper than that. Phillips 66 has done a masterful job in logistics when it comes to sourcing what it refers to as "advantaged crude" for its refineries. It was one of the first refiners to employ a substantial rail fleet to transport discounted crude to its refineries - whether WCS from the oil sands or discounted Bakken from North Dakota. I am not sure if it is still the case, but at one point PSX said it was the largest importer of oil sands based crude. So of all the refiners, Phillips 66 might be the best positioned from a diversified discounted feedstock perspective (67% in Q3):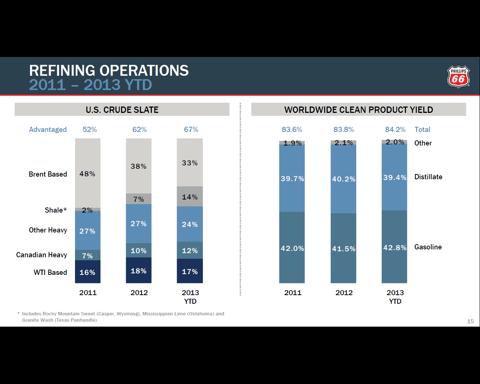 It is a "you scratch my back, I'll scratch yours" scenario. COP produces over 130,000 boe/day of high quality light-sweet crude in the Eagle Ford - very close to PSX's Texas refineries. By the end of 2014 domestic shale oil should approach 20% of COP's total production. Even though the companies are now separate publicly traded entities, you know that COP and PSX management talk turkey quite often. So I wonder what PSX might get from COP in return for publicly supporting crude exports? First dibs on Eagle Ford production at a favorable rate? Discounts on natural gas feedstock for its refinery and chemical operations? Discounts on WCS from COP's top-tier position in the Canadian oil sands? The point is this - by working in tandem, there is certainly room for COP and PSX to optimize the overall returns for both companies.
Evidence that I am on to something here is that Marathon Petroleum (NYSE:MPC) also came out in favor of crude oil exports. Remember, MPC had a similar origin as did PSX - a spinoff from its mother ship Marathon Oil (NYSE:MRO). A very similar symbiotic relationship there. Valero? Not so much.
Also, it is important to realize that PSX is the most diversified of all of the independent refiners. As I reported after its Q3 earnings report, PSX was able to post over half billion dollars in earnings despite a $2 million dollar loss in its refining segment:
click to enlarge)
So while many analysts soured on the company as a result of that Q3 report, I very much felt it showed PSX's strength of diversification. The stock is up over $14 since that article.
Consensus earnings estimates for full year 2013 are $5.65/share. Estimates for next year are $6.89. If the company hits that full year estimate and holds its current PE (13.6), the stock could reach $93/share in 2014 - a 20% gain.
Summary And Conclusion
Phillips 66 has unpredictably come public in support of crude oil exports. While an easing of the crude oil export ban will likely reduce the Brent/WTI spread and thus crimp profits in the company's refining sector, I take it as a very bullish and almost cocky indicator of the confidence PSX management has in its future - exports or no exports. I also believe COP and PSX will work closely together to maximize the benefits to both companies should the ban on crude oil exports be lifted or substantially eased - something I see as very likely. Regardless, PSX is currently trading at a substantial discount to the current S&P 500 PE multiple (19.4) while yielding 2.0%. PSX's diversified refining, midstream,and chemicals businesses should ride a growing and stronger 2014 economy to a 20% gain. The company will likely enact more dividend increases in 2014 as it executes a pipeline dropdown to its Phillips 66 Partners (NYSE:PSXP) MLP. As I have said for quite some time now, PSX is quite likely the Best Play on Shale USA. PSX is a buy.
Disclosure: I am long PSX, XOM, COP. I wrote this article myself, and it expresses my own opinions. I am not receiving compensation for it (other than from Seeking Alpha). I have no business relationship with any company whose stock is mentioned in this article.
Additional disclosure: I am an engineer, not a CFA. The information and data presented in this article was obtained from company documents and/or sources believed to be reliable, but has not been independently verified. Therefore, the author cannot guarantee its accuracy. Please do your own research and contact a qualified investment advisor. I am not responsible for investment decisions you make. Thanks for reading and good luck!