By Carla Fried
It stands to reason that if you're known for shelling out hefty dividend payouts you've got all the reason to make sure those dividends keep growing. To reverse course is to run the high risk of annoying shareholders.
And right now the 10 biggest dividend payers in the S&P 500 offer some intriguing investment ideas for further financial research as most are delivering big dividends while trading at compelling valuations.
Exxon Mobil (NYSE:XOM) and Apple (NASDAQ:AAPL) top the list of dividend payers in terms of actual cash payouts for common and preferred stock; both returned more than $10 billion to shareholders over the 12 months through September according to FactSet. Respective competitors Chevron (NYSE:CVX) and Microsoft (NASDAQ:MSFT) are also among the 10 largest dividend payers.
All four clock in with PE ratios below the market norm.
Apple is the dividend newbie of the group, but it has committed to keeping the dividend growing. The three others all have a long track record of dividend growth and with payout ratios below 35% have plenty of balance sheet leeway to keep the hikes coming: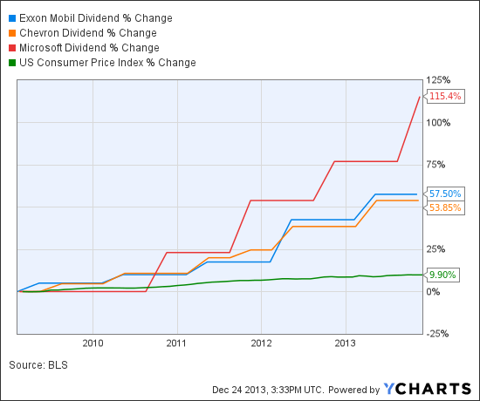 XOM Dividend data by YCharts
Johnson & Johnson (NYSE:JNJ) and Pfizer (NYSE:PFE) are also in the top 10. YCharts contributor David Phillips has been all over the operational challenges facing Pfizer.
With a sub-10 PE Pfizer looks like a potentially compelling value play to research. By comparison, Johnson & Johnson is near 20x. And Pfizer's 3.4% current dividend yield is practically bond-like. Just keep in mind that Pfizer has a checkered history in dividend payouts, choosing to slice its dividend during the financial crisis.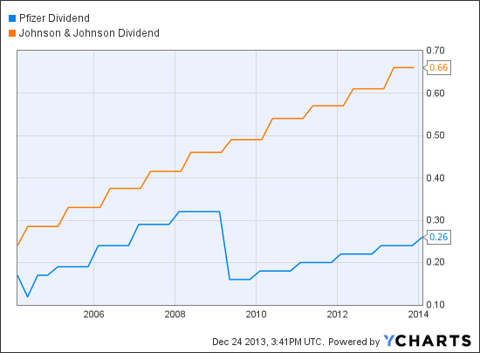 PFE Dividend data by YCharts
Two other big dividend payers, General Electric (NYSE:GE) and Wells Fargo (NYSE:WFC), also cut their dividends during the financial crisis. Of the two, Wells Fargo is the more interesting opportunity. Its sub-30% payout ratio is about half that of General Electric. Moreover, the street continues to discount the value of straightforward old fashioned banking compared to the more, um, esoteric approaches: despite a one year return over 30%, Wells Fargo still sports the lowest valuation among the big four banks:
The last two of the big dividend payers are AT&T (NYSE:T) and Procter & Gamble (NYSE:PG). AT&T looks compelling if you're focused on yield; a 5%-plus yield is better than the payout on many junk bonds these days. But dividend growth has barely kept pace with inflation over the past five years - a stretch during which inflation has been extremely low. Meanwhile AT&T's trailing 12 month PE ratio is still hovering near 25.
Procter & Gamble's near 3% dividend yield is nearly a point ahead of the overall S&P 500 index, but the consumer staple juggernaut continues to search for a way to drive demand of its often-pricier fare among more budget-conscious consumers post crisis. Over the past five years Procter & Gamble's total return is less than half that of the S&P 500, but its trailing 12-month PE is nonetheless an above average 20x, and merely in line with its five-year PE average. That's not exactly a screaming value for a 3% current yield.
At the risk of an apples-to-oranges observation, Microsoft's current yield is also at 3% and its valuation is a whole lot more interesting at this juncture.
Disclosure: None.