In a recent Seeking Alpha article we suggested a way to sort through the investment info noise chaff to focus on those candidates having prices now likely to rise the most, soonest, and with greatest assurance. It involved screening descriptive inputs for several buy candidates to answer these questions:
How big a price rise is possible?
How likely is it to happen?
How soon can it happen?
What can go wrong that can't be avoided?
Our daily analysis of the hedging behavior of market-makers [MMs] as they protect their firm capital (required to be put at-risk in order to help big-money fund clients adjust their portfolio holdings), provides many of the inputs being called for.
Using the same process outlined in that article, the following leveraged-long ETFs rose to the top of our attention, along with norms for the group, and for the equity market as a whole:

Out of 43 such buy candidates, we chose to screen them based on prior experiences from at least the last 3 years having the same outlook for possible near-future prices in that time as they have now. The Range Index [RI] tells what percentage of their forecast price range lies below the Price Now.
Those experiences resulted from a simple strategy requiring buys at the forecast time to be sold at the date of reaching the range-top sell targets or 3 months after the buy, whichever came first. Sizes of percent payoffs, market days held, and Annualized returns average the sample number of such experiences out of the total available forecast days in the last 5 years. Win odds are a percentage of the sample producing a profit of any size.
We screened population of 43 to exclude any with quality of performance less than that offered by the equity market average ETF, the S&P 500 index SPDR (NYSEARCA:SPY). Two such ratios are in the right-most columns. The Credibility Ratio compares past percent payoff size to present Sell Target Potential, and the Reward~Risk Ratio matches up that same upside Target Potential to the average Worst-Case Drawdowns of each of the prior experiences.
Normally we would exclude any candidate having a small number of prior experiences to be compared, so as to avoid small-sample-size credibility questions. But here we have two ETFs that offer only one such experience, the Direxion Daily Real Estate Bull 3x Shares (NYSEARCA:DRN), and the ProShares Ultra Financials (NYSEARCA:UYG), a 2x levered ETF. They have not been excluded simply because the experiences were inexplicably infrequent, but just the opposite, the extremity of their price forecasts puts them at the outer tail ends of their entire forecast histories. Just where few experiences are to be expected.
Here is a two-year history of daily forecasts (at weekly intervals) for DRN, with its Range Index frequency distribution shown at the bottom: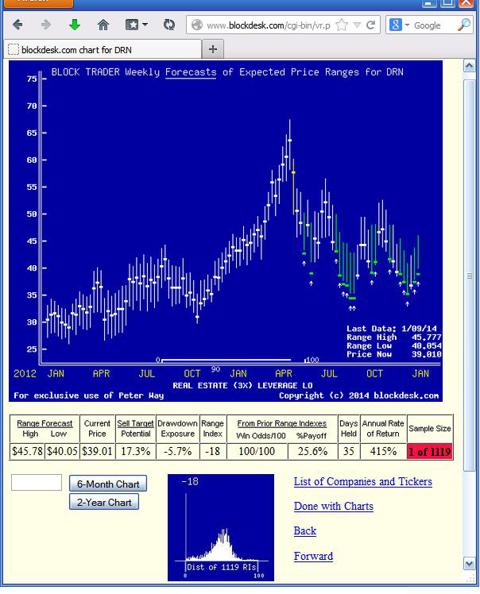 (used with permission)
The vertical lines of this forecast history should not be confused with backward-in-time actual daily price ranges experienced, as represented in typical high-low-close stock charts. Instead, these are forward-looking estimates of possible future price ranges, indicated by real-money bets made at the dates shown, in protection against such events.
The blue-background thumbnail picture of the RI distribution at the page bottom makes clear the extreme condition of the present forecast. In the larger picture above, the last entry to the right shows an increasing gap between the current-day-price heavy dot and the bottom end of the forecast range. Other low-RI forecasts are highlighted in green.

An earlier warning by a high RI value was given by a yellow color.
"Good value" illustrations of this type are easy for most bargain-hunting investors to visualize. Less easy is the potential at the opposite extreme of RI values, in the UYG example pictured here: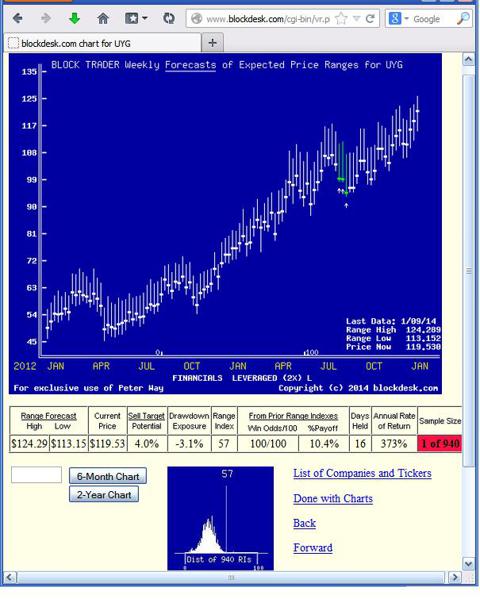 Again, the thumbnail at bottom makes clear this extreme. But now the prevailing trend of forecasts pictured above weekly in the past two years deserves attention. Unless one believes that Ms. Yellin will surprise everyone in her new post at the head of the Fed, that trend seems likely to continue.
Now please go back to the previously described investment strategy used to provide scores between investment candidates. The top of each forecast vertical line in the history pictured above provides a quick visual check on when prior market price heavy dot buys for that forecast would likely get closed out by a subsequent higher market price.
With a situation like UYG has had, this is what makes trend-followers "growth investors" excited. In such cases they frequently are appropriately rewarded, as they may well be here. Hence our willingness to include these two among the "best" selections.
The others include more thematic opportunities - emerging markets, energy, and industrial activity recovery - along with the Real Estate and other Financials out at the perception extremes of their situations as noted above.
The Direxion Daily Emerging Markets Bull 3x Shares (NYSEARCA:EDC) are an optimistic play on recovery in markets that have been in decline recently, but are now down near where they bottomed in the second quarter of last year. MM price expectations are still in gradual decline, but have built up to ambitious upside targets because actual prices on the ETF have declined faster than future price expectations. This one now might be early, but the payoffs even at prior levels of +18%+ are pretty attractive, compared to alternatives, and 9 out of 10 odds or better are compelling.
ProShares Ultra Industrials (NYSEARCA:UXI) looks like a bet on continuing industrial recovery valuations, despite a price double in 2012. Its rampage has surpassed forecast range tops time and again, to the point where every one of the 29 former forecasts like today's - a Range Index of 68, with more than twice as much downside as up - produced gains in periods of only 13 market days, on average. If it does that again, another +5.3% gain will extend the +180% annual rate scored by the 29. An exciting "growth" ETF.
Direxion's Daily Energy Bull 3X Shares (NYSEARCA:ERX) is another optimistic outlook, but it has a substantial history of 200+ instances of forecasts with twice as much upside as downside, like today's. Their previous % payoffs are well under the +18% size seen now, but even at their earlier double-digit level they generated triple-digit annual return rates. It is the highest-risk-exposure candidate in the list, but compared to the many that could not adequately compete to be here, the payoffs look to be worth the exposure for many but the most timid investors.
Comparing the whole set of 43 leveraged long ETFs for which we have qualified data to the "market average" ETF of SPY, it is evident that this group is a much more promising place for risk-tolerant, wealth-building investors. Its roughly twice as large upside forecast vs. SPY's carries a double on the drawdown exposures, but also on the group's average annual rates of return. That makes this set one of continuing interest to wealth-builders.
The best opportunities from the group totally dominate the market outlook as it is represented in the SPY data.
Disclosure: I have no positions in any stocks mentioned, and no plans to initiate any positions within the next 72 hours. I wrote this article myself, and it expresses my own opinions. I am not receiving compensation for it (other than from Seeking Alpha). I have no business relationship with any company whose stock is mentioned in this article.