Hold Onto Your Shorts
How I love Apple (NASDAQ:AAPL) - let me count the ways. Monster profits, great margins - with even better margins on their way - superior products, great management.
Who has the stones to short a juggernaut like Apple? One notorious short is my good buddy Michael Blair, who generally is a great trader through and through. I've found myself on the opposite side of trades as MB before, where he usually turns out to be the winner (most recently, LULU). You can read Mike's short thesis here.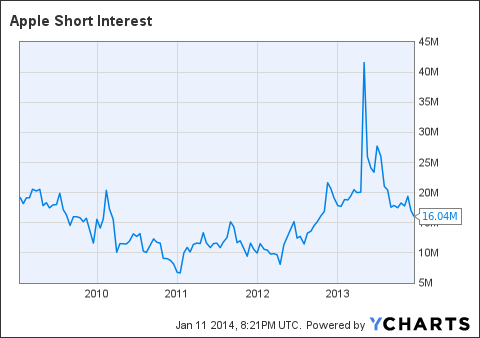 AAPL Short Interest data by YCharts
Although I like Mike, he's been on the Apple short thesis, according to his article history since April of 2013. Similar to me with Herbalife (NYSE:HLF), his short has likely been carried out a couple of times unless he's been covering on the dips, but he's sticking to his guns: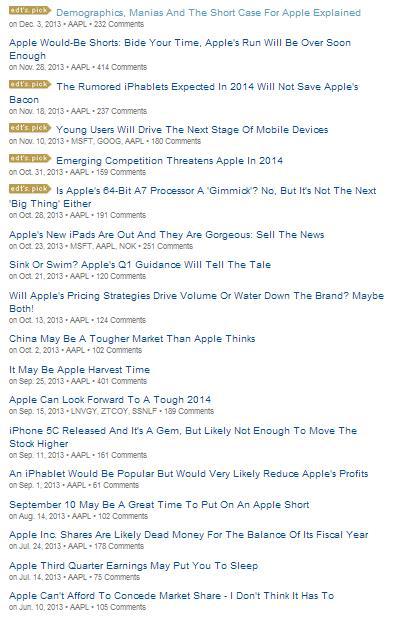 And, here's how the stock has performed since Mike has started with his short case: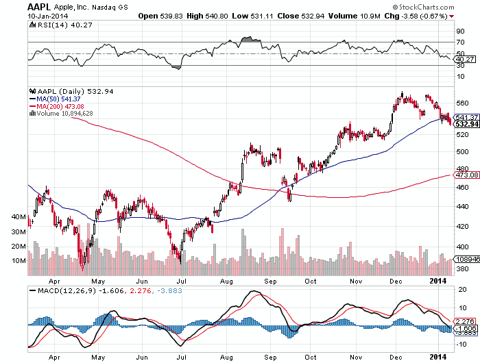 Because I have a ton of respect for Michael and his analysis, I've carried out, in my head, several arguments as to whether or not there was something that I was missing with the short thesis. I don't want to believe that someone like Mike can have a trade so wrong - especially because of his great track record - but the more I look, the more I think he's just simply wrong on this one.
Since April, Apple's up over 20% - even though for the last 12 months, the stock has really only traded up a couple of percent since falling from its highs in the $700's. The last three months have shown some momentum for Apple - it's been up around 8%. Apple is in the midst of a buyback and yields a modest 2.3% annual dividend for its investors, as well.
Apple has investors looking forward to earnings that are upcoming on January 27th. Is it me, or do I feel like Apple earnings report 20 times a year? I can't believe it's time again. The big focus is going to be on profit margins - a metric that I predict a beat on based on better sales of the iPhone 5S and the wicked margins on the new iPad Air. Margins have been the concern over the past few quarters, but they're still extremely impressive at around 37%. I'm guess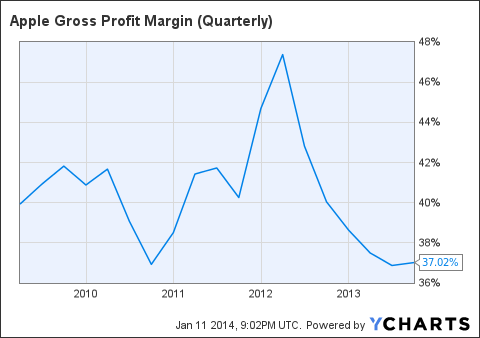 AAPL Gross Profit Margin (Quarterly) data by YCharts
Apple Isn't Overvalued Within Its Sector
One of my favorite metrics is P/E comps from the sector. Look at this archaic chart I made using Excel, graciously provided to me by the fine folks at the Microsoft (NASDAQ:MSFT) corporation: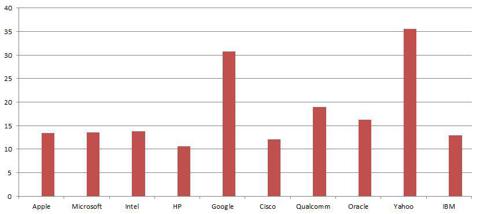 Apple's growth within its sector continues to stay extremely modest when compared to companies like Google (NASDAQ:GOOG), Qualcomm (NASDAQ:QCOM) and Yahoo (YHOO). Apple's growth is commensurate with other sector-mates, like IBM (NYSE:IBM) and Microsoft.
Apple Isn't Overvalued in the Broad Market
Furthermore, Apple isn't overvalued or overperforming against tech indexes and the broad market itself for 2013. The notion that Apple is a good short because its outperformed through 2013 isn't a cogent argument by any means.
Mac & Ecosystem Are Being Overlooked
Part of Michael Blair's short thesis is as follows:
Apple is losing market share worldwide. Apple's markets are maturing quickly and competition exists. The bulls suggest Apple can counter those trends through "innovation."
Mike's argument is based on short-term phone and tablet trends. He fails to talk about revenues derived from Apple's ecosystem (iTunes, etc.) and the continued growth of Mac.
The reality is that these numbers will stabilize, and that the PC market seems to have bottomed, according to International Business Times UK:
Worldwide PC shipments fell by 10% during 2013, marking the worst yearly decline in the market's history - but there could be a light at the end of the tunnel, as analysts claim the drop has "bottomed out," with the maket soon to stablise.

Shipments fell by 6.9% to 82.6 million units in the fourth quarter of 2013, but analyst firm Gartner, which has been tracking the industry since the 1980s, believes the worst could well be behind it.

"Although PC shipments continued to decline in the worldwide market in the fourth quarter, we increasingly believe markets, such as the US, have bottomed out as the adjustment to the installed base slows," said Mikako Kitagawa, principal analyst at Gartner.
And, the fact is that Mac is often overlooked. So much emphasis is placed on Apple moving phones and tablets, meanwhile, the "ecosystem" effect has people that were PC users and buying iPhones going out and picking Apple for their next home PC.
As reported by macrumors.com:
Apple saw its U.S. PC marketshare rise from 9.9 percent to 13.7 percent in the holiday quarter year-over-year, according to data just released from Gartner. The 28.5 percent rise shows a substantial increase in Mac sales, largely at the expense of HP and Toshiba.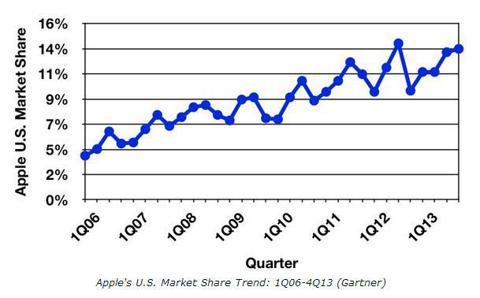 Apple Is a Bad Hedge
Apple isn't even a good hedge for those that are simply looking for macro market pullbacks. With a beta that continues to be on its way down, there's no guarantee that Apple is going to move the way of the markets, should they dip. Much like J&J (NYSE:JNJ) - Apple could be turning into a somewhat recession proof technology stock - for the time being at least.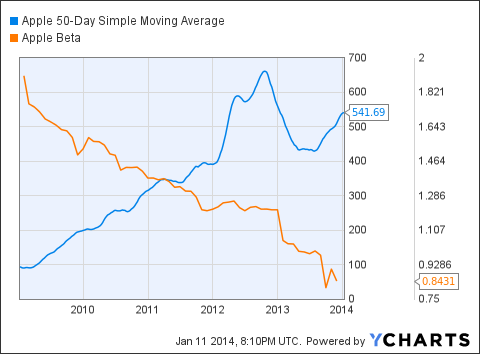 AAPL 50-Day Simple Moving Average data by YCharts
Apple Is a Buy for 2014
When analyzing how I was going to position myself for 2014, going long on Apple through owning the stock and leveraging with options was one of the first things I thought of. after reading through the bearish and the bullish arguments that have been trading points back and forth so far this year, I'm convinced I made the right decision.
The continued monster fundamentals, a respectable dividend, impressive PC sales in a market that is underperforming, and improved margins through its new products are all reasons for investors to consider buying Apple at these levels. Apple remains an extremely safe long-term investment vehicle.
Best of luck to all investors.
Disclosure: I am long AAPL, . I wrote this article myself, and it expresses my own opinions. I am not receiving compensation for it (other than from Seeking Alpha). I have no business relationship with any company whose stock is mentioned in this article.