APR Energy (OTCPK:APRYY) (OTC:APRYF) acquired General Electric's (NYSE:GE) power rental business in October 2013 and started a strategic partnership with them. The fundamentals of APR Energy are shaky, but APR Energy may grow 25% to 100%.
APR Energy is a power rental company that delivers turnkey power at short notice anywhere in the world. APR Energy does everything from transporting, installation, operations to maintenance.
Although APR Energy is listed on the London Stock Exchange it is actually a US Company headquartered in Jacksonville, Florida. This article gives a good background on the origins and activities of APR Energy.
The sale of GE Power Rental was partly in cash, but most was in stock. GE is now the main shareholder with 16.50% of the shares. GE also gets a board observer to attend board meetings.
There is a big market out there for APR Energy. The global power rental market will grow to $17B in a few years and APR Energy aims to be market leader. However a lot of business is done in countries where prompt payment of bills is culturally not the norm. This is a risk.
images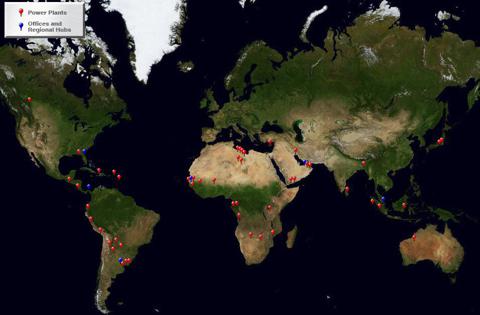 Everybody who has been in Africa knows the frequent power outages, even in the more developed parts. African GDP is growing and increasing oil and mining revenue is coming in.
Apart from developing countries there will always be calamities such as natural disasters or accidents at power stations. The APR Energy case study gallery is worth looking at.
All financial data used is published by APR Energy.
| | | |
| --- | --- | --- |
| | 2012 | 2011 |
| Revenue | $265,734 | $164,617 |
| Net income | -$14,934 | -$42,654 |
| EBIT | $42,772 | $26,528 |
| EBIT% | 16.10% | 16.11% |
| ROA | -1.06% | -3.58% |
| ROCE | 3.16% | 2.35% |
| ROE | -1.37% | -3.81% |
(x 1000)
The fundamentals are not good, but it is a starting company and results are improving. However, this is why APR Energy has upward potential:
General Electric is the main shareholder and is a board observer who can attend board meetings. The strategy of GE is to outsource rental through APR Energy and APR Energy can use the network and sales machine of GE;
APR Energy has good relations with Alstom Energy (OTCPK:ALSMY), which is part of the CAC40 index on the Paris Stock Exchange. After all APR Energy used to be Alstom Rental. Being a large French company Alstom has a strong network in Africa;
Other major shareholders are Soros Fund Management (from George Soros) who has a stake of almost 12% and about 11% is held by ACM Energy Holdings;
The founders and other management are reducing their shares. Usually this is not a good sign, but it might be a condition on the GE sale to reduce management influence and prepare for future growth.
The large shareholders can be divided in long-term shareholders and a number of speculative shareholders (mostly banks). Management shares are listed under Unknown.
It is worth noting that none of the large long-term shareholders have reduced their positions during the decline in December 2013.
The position of the banks is more speculative. In the past 12 months some banks have held long and short-positions simultaneously.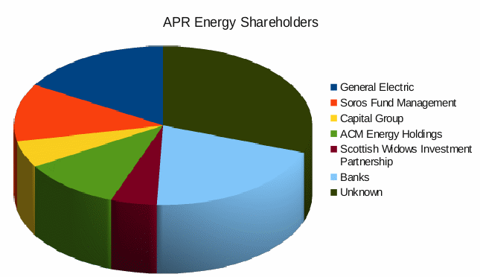 Analysts are mixed on APR Energy. Half of the analysts give a sell-advice and the other half give a buy and a few say hold. For a small-cap there is certainly a lot of interest.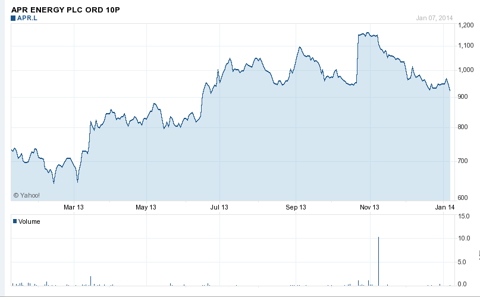 Overall APR Energy has potential. The stock price surged after the sale of GE Power Rental and declined when management were reducing stock.
For the short term is at least potential to return to the last high at $18.83 in October 2013, which is a rise of 25%. On the longer term APR Energy's stock price might double (or triple) the coming years, especially when General Electric's power kicks in.
Disclosure: I have no positions in any stocks mentioned, and no plans to initiate any positions within the next 72 hours. I wrote this article myself, and it expresses my own opinions. I am not receiving compensation for it (other than from Seeking Alpha). I have no business relationship with any company whose stock is mentioned in this article.