Oracle and Sun Microsystems Combined
The 33rd America's Cup Match is not the only sailing that Larry Ellison and his Oracle (NYSE:ORCL) team partake in. With the recent closing on January 27 of the acquisition of Sun Microsystems, the Oracle ship hopes it's sailing into the "Sun" rise and not the "Sun" set. Soon the world will learn how brightly "Sun" will shine on Oracle's future.
Oracle expects numerous accretive synergies to bloom from the Oracle/Sun Microsystems combination. More importantly, it expects to provide significant benefits to the customers of both enterprises. Hardware by Sun combined with software by Oracle into one seamlessly integrated system promises several advantages to customers.
Oracle plans to accelerate its R&D spending to the tune of $4.3 billion in order to optimize technologies across the technology stack. They argue that true innovation is best delivered by a company that provides full stack hardware and software solutions. The combined Oracle and Sun Microsystems intends to be that company.
The following ad from Oracle to Sun's existing customers nicely summarizes Oracle's plans: (Click to enlarge)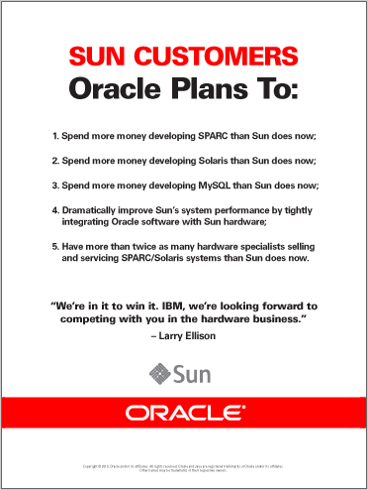 If successful, and we see no reason to believe they won't be, Oracle expects to deliver significant customer benefits primarily by reducing the complexity of buying, implementing and managing systems. This should reduce integration and management costs while simultaneously improving performance and security. In order to protect industry leading margins, Oracle intends to only compete in high-end custom designed and built systems.
For many years Oracle has denied naysayers who predicted an end to their growth. Looking at Oracle through the lens of the EDMP, Inc. F.A.S.T. Graphs illustrates how well managed they have been. Figure 1 below plots Oracle's earnings growth since 1996.
Figure 1. 15yr Earnings Growth (click to enlarge)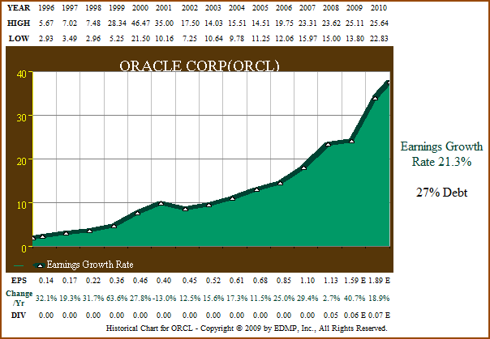 With Figure 2, we overlay monthly closing stock prices (black line) to earnings (green line with white triangles). It's interesting to see how closely stock price followed earnings, with two notable exceptions. First, the irrational exuberant period that started in 1999, peaked in August of 2000 before brutally and swiftly reverting to the mean by May of 2002 is stunning (blue circle). Second, the severe fear driven price drop in 2008 even though earnings remained strong depicts irrational investor behavior to the opposite extreme (red circle). Both examples represent how irrational short-term price movements can be.
Figure 2. 15yr EPS Growth correlated to Price (click to enlarge)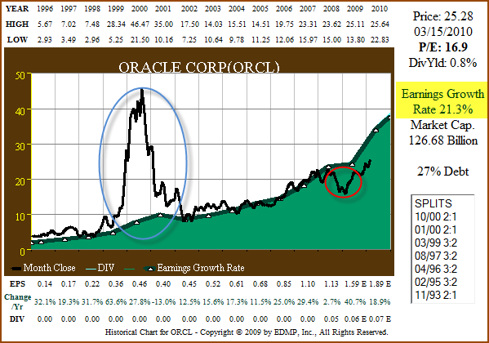 Figure 3 below shows the performance that Oracle shareholders would have received since 1/31/1996 relative to owners of the general stock market (S&P 500). Strong operating results rewarded long-term holders even though Oracle's stock price remains historically undervalued.
Figure 3. 15yr Price Performance (click to enlarge)


When examining a company's historical record, we find it useful to look at its long-term record and then review more recent performance. This enables us to evaluate how persistent a company's growth rate is. Therefore, with Figure 4 below we shorten the time frame from 15 years plus (since 1996) to a more recent five plus years (since 2005). Remarkably, Oracle has grown earnings at the same high rate in excess of 20% for the past five years as it has the past 15 years (see yellow highlights to the right of Figures 2 & 4). Also, notice the correlation of price to earnings once again.
Figure 4. 6yr EPS Growth correlated to Price (click to enlarge)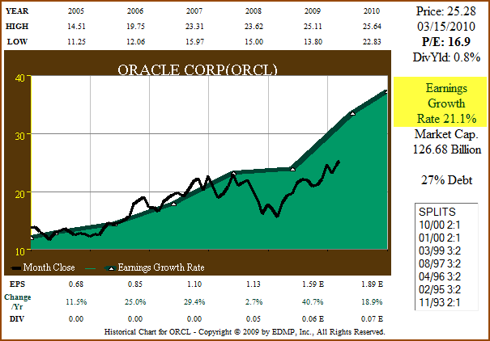 Oracle Research
The following excerpt is provided from the current Zack's Investment Research Analyst Report:
OVERVIEW

Redwood City, California-based Oracle Corporation is the second largest database and enterprise software company (behind Microsoft Corporation (NASDAQ:MSFT)) with a presence in more than 145 countries. The company develops, manufactures, markets, distributes and services database (core product) and middleware software, as well as applications software worldwide. According to IDC, the company leads the database market with its relational database management systems (RDBMS) and has over 40% share of the relevant market.

The company sells its products and services primarily through subsidiary sales and service organizations, as well as through indirect channels such as original equipment manufacturers (OEMs), distributors, large account resellers (LARs), value added resellers (VARs), system integrators/implementers, consultants, education providers, online Internet service providers, network integrators and independent software vendors. The company s customer base includes large businesses, government agencies, educational institutions and resellers. No single customer accounted for more than 10% of the revenues in fiscal 2009.

Oracle operates in the Americas (approximately 50.5% of 2009 revenue), Europe, the Middle East and Africa (EMEA, 35.5%) and the Asia-Pacific (14%). The company reports revenue under two heads, software and services, which are further divided into five operating segments. The software segment is subdivided into two segments New Software Licenses and Software License Updates and Product Support. The services business comprises three operating segments Consulting, On Demand and Education.

The New Software Licenses segment revenues include fees earned from granting customers licenses to use Oracle s software products. The company offers licensing for the database and middleware software platform (72% of total new license revenue) to mid-sized businesses and large global enterprises and can be operated on both single server and clustered server configurations. Database access is a key element to EAI (enterprise application integration) and helps a large number of enabling technologies to process information. The Database-oriented middleware is an interface to an application and provides access to any number of databases. Oracle also supports operating systems such as Linux, Windows and UNIX.

The product lines included here are database management software, such as Oracle Databases (Oracle Exadata, Oracle Enterprise Manager and Oracle Audit Vault). It also includes Oracle Fusion Middleware, such as application servers and application grids, business intelligence, identity and access management, content management, portal and user interaction, service-oriented architecture suite and business process management, data integration and development tools. The company also offers application software, such as enterprise information for customer relationship management, financials, human resources, maintenance management, manufacturing, marketing, order fulfillment, product lifecycle management, enterprise project portfolio management, procurement, sales, services, enterprise resource planning and supply chain management.

The Software License Updates and Products Support segment offers unspecified software product upgrades and maintenance releases as well as Internet access to technical content and Internet and telephone access to technical support personnel. The segment also offers proactive and personalized support services including Lifetime Support policy, product enhancements and upgrades.

The On Demand segment includes Oracle's On Demand and Advanced Customer Services offerings under which the company offers software and hardware management and maintenance services for its software products and lifecycle management services, database and application management services, industry-specific solution support centers and remote and on-site expert services.

The Consulting segment provides services in the areas of business strategy and analysis, business process simplification, solutions integration, product implementation and the enhancement and upgrade of software products. The Education segment provides instructor-led, media-based and Internet-based training in the use of its software products.
Thesis for Growth
Building on their Exadata offering, the Sun Microsystems purchase expands on Oracle's goal of offering high-end and also high-margin differentiated integrated systems. Although the Sun Microsystems' acquisition provides Oracle several avenues for growth, they have not stopped there. Since the Sun transaction, Oracle has announced several additional purchases. In addition to more acquisitions, Oracle, with over $20 billion of cash on hand and the continued ability to generate more, has many options to reward shareholders though continued growth, dividends, and share buy-backs.
Conclusion
On March 25th, Oracle is set to report fiscal 3rd quarter 2010 earnings. According to guidance from their previous conference call, they expect a good second quarter. At under 17 times earnings, and with growth forecast to be between 15% and 20% going forward, Oracle appears attractively valued.
Disclosure: Long ORCL at time of writing.
The opinions in this document are for informational and educational purposes only and should not be construed as a recommendation to buy or sell the stocks mentioned or to solicit transactions or clients. Past performance of the companies discussed may not continue and the companies may not achieve the earnings growth as predicted. The information in this document is believed to be accurate, but under no circumstances should a person act upon the information contained within. We do not recommend that anyone act upon any investment information without first consulting an investment advisor as to the suitability of such investments for his specific situation.