The Vanguard Total Stock Market ETF (NYSEARCA:VTI) offers investors a low-cost way to outperform the S&P 500 and Dow Jones Industrial Average over the long-term. VTI is a broad representation of the total stock market which includes small, medium, and large cap stocks. The small and medium cap stocks in the fund have more room for growth than the large caps and therefore contribute to VTI's outperformance of the S&P 500 and Dow Jones average. The low cost of the fund (expense ratio of 0.05%) ensures investors that they won't be coughing up too much of their gains.
I was always an advocate of dollar cost averaging to increase investors' odds of success over the long-term. The automatic dollar-cost averaging that takes place within 401K investment plans can also be used similarly in investors' after-tax portfolios. VTI offers an easy way for investors to dollar cost average into a diverse fund that represents the entire stock market. With stocks being the best asset class over the long-term, VTI provides an effective place to invest money regularly and grow wealth over time. The fund reduces individual company risk with its broad representation of the entire stock market.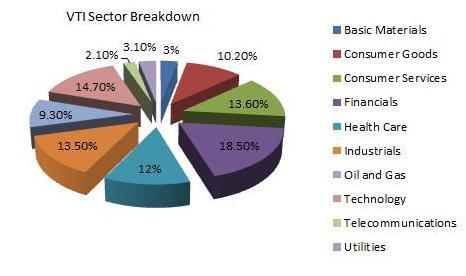 We can see from the chart that VTI offers a broad representation of the various sectors in the overall stock market. The fund contains a total of 3,613 stocks, so investors are definitely diversified among many companies. VTI's total net assets are $296.4 billion. It's currently selling right about at its NAV price.
VTI has financials as its highest sector concentration, while SPY is 18.47% concentrated in information technology, followed by 16.42% in financials. DIA, as the name implies, has its highest concentration in industrials at 19.87%, followed by information technology at 19.21%. Having financials as the highest concentration is likely to be bullish for VTI going forward as the financials have a lower valuation as shown in the Financial Select Sector SPDR (NYSEARCA:XLF) with a PE of 12. SPY and DIA are valued much higher with PEs of 18.6% and 16.8% respectively. VTI's PE ratio is about 17.
Here are the top 10 holdings in the Vanguard fund with their weightings:
| | |
| --- | --- |
| Apple (NASDAQ:AAPL) | 2.52% |
| ExxonMobil (NYSE:XOM) | 2.05% |
| Google (NASDAQ:GOOG) | 1.45% |
| Microsoft (NASDAQ:MSFT) | 1.43% |
| General Electric (NYSE:GE) | 1.36% |
| Johnson & Johnson (NYSE:JNJ) | 1.33% |
| Chevron (NYSE:CVX) | 1.18% |
| Wells Fargo (NYSE:WFC) | 1.17% |
| Procter & Gamble (NYSE:PG) | 1.15% |
| JP Morgan (NYSE:JPM) | 1.08% |
The top ten holdings in SPY are the exact same companies as contained in VTI, with slightly different weightings. DIA shares XOM, CVX, and JNJ in its top ten holdings. However, DIA has higher weightings, since it only consists of 30 stocks. For example, DIA's top holding is Visa (NYSE:V), which comprises 8.67% of the fund.
The ETF seeks to track the performance of the CRSP US Total Stock Market index. By owning VTI, investors have more diversification than if they owned the SPDR S&P 500 (NYSEARCA:SPY) or SPDR Dow Jones Industrial ETF (NYSEARCA:DIA). VTI has outperformed SPY and DIA over the long-term. The reason for this is because VTI contains many small and medium cap stocks which have above average earnings, and thus more price appreciation than many of the large caps that dominate SPY and DIA.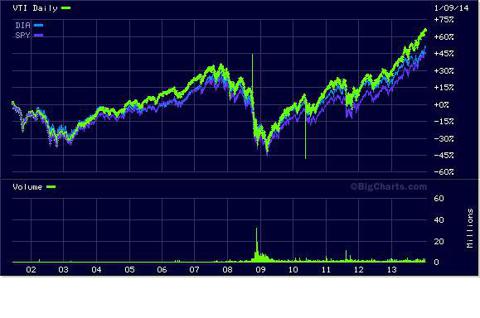 Here's how the funds have performed over specific time periods:
| | | | | |
| --- | --- | --- | --- | --- |
| Fund | 1 Yr. | 3 Yrs. | 5 Yrs. | 10 Yrs. |
| VTI | 33.48% | 16.22% | 18.84% | 8.13% |
| SPY | 32.1% | 15.95% | 17.82% | 7.33% |
| DIA | 29.3% | 15.44% | 16.51% | 7.27% |
The VTI ETF pays a dividend of 1.8%, which is about the same as SPY's yield. DIA has a slightly larger yield of 2.08%. The SPDR S&P 500 fund has a low expense ratio of 0.09%, but this is still higher than VTI's expense ratio of 0.05%. The SPDR Dow Jones Industrial Average has a higher expense ratio of 0.17%. Although DIA has a 28 basis point dividend advantage over VTI, the 10-year performance shows that VTI has an 86 basis point advantage over DIA in the form of price appreciation.
The Vanguard Total Stock Market ETF is a great way for investors to own a highly diverse mix of stocks under one ticker. The fund's outperformance of the S&P 500 and Dow Jones Industrial Average allow investors to beat the popular averages without too much effort. Dollar cost averaging into VTI, can be a great strategy for building wealth over the long-term.
Disclosure: I am long VTI. I wrote this article myself, and it expresses my own opinions. I am not receiving compensation for it (other than from Seeking Alpha). I have no business relationship with any company whose stock is mentioned in this article.