by Dee Gill
Investors who chase high-yielding dividends, like those 5% to 13% yields offered now by struggling telecoms and low-growth utilities, live with the fear that a dividend cut or suspension will devastate their investments. It's a reasonable concern, considering dividend cuts can easily wipe out gains from pretty payouts by sparking sell-offs in the shares. With the share price eviscerated and the new yield low or non-existent, the shareholder finds his once lucrative investment suddenly has no marketable feature.
But if the investment research has been thorough, shareholders can prosper even when the big income flow gets suddenly interrupted. Consider the case of Pitney Bowes (NYSE:PBI), a company that cut its dividend in half in April. Investors who bought those shares since 2009 collected outsized income from them and could now demand at least modest profits on the sale of them.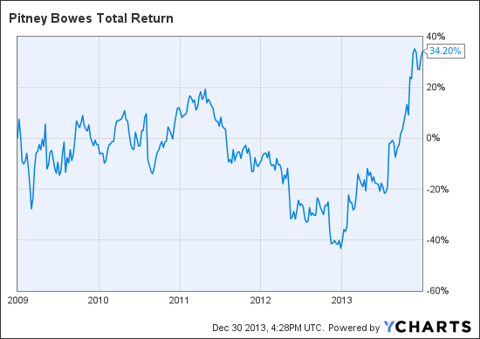 PBI Total Return Price data by YCharts
Pitney, a postal meter company whose sales have declined with the crumbling of the U.S. Postal Service and the rise of email, paid a rising dividend for three decades before the cut this spring. Since 2009, its dividend yield has ranged from about 6% to 14%.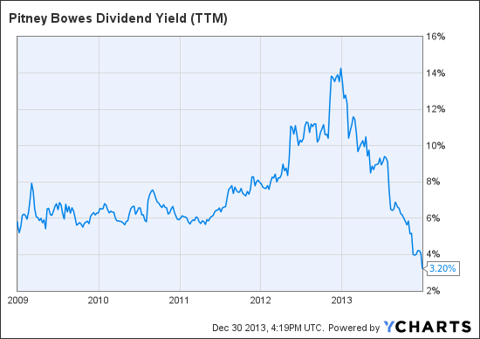 PBI Dividend Yield (TTM) data by YCharts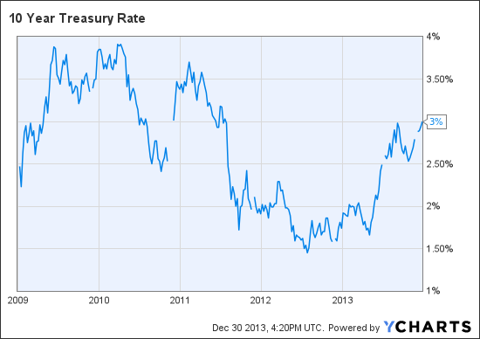 10 Year Treasury Rate data by YCharts
The dividend cut caused a roughly 16% share price fall initially, but the stock quickly rallied to near a 5-year high. Pitney's share price rose some 120% in 2013.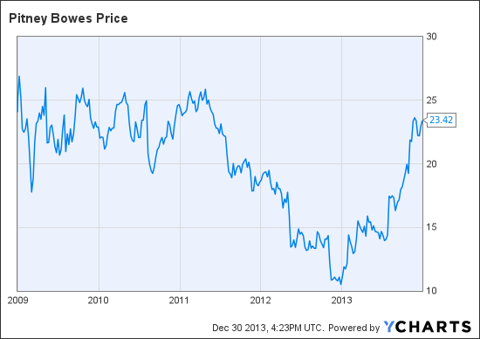 PBI data by YCharts
Meanwhile, the new yield of 3.2% still slightly beats 10-year Treasuries.
Pitney shareholders were saved because the market, rightly or not, believes the money the company saves on dividends will be spent in ways that will increase the share price (and eventually, rebuild their dividend payments.) Pitney is developing and acquiring software and technology businesses, like one that added global geocoding to Facebook (NASDAQ:FB) pages, to replace declining postal products sales.
Chances that Pitney can build up new businesses before declines in the traditional operation create a cash crisis - a key worry for many big dividend companies -- are improved by Pitney's strong cash flow. Its low cash dividend payout ratio, even through its days of very high dividend yields, helps reassure investors that the company can pay its bills and its shareholders even if income growth is slow for awhile.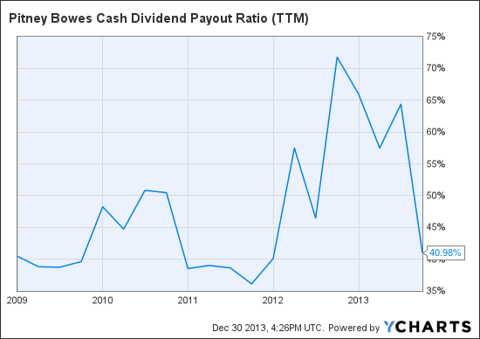 PBI Cash Dividend Payout Ratio (TTM) data by YCharts
Buying shares in big-dividend-yield companies with less convincing turnaround strategies is more risky because a dividend cut takes away the only reason many investors hold them. Consider nuclear power company Exelon (NYSE:EXC), whose yield has dropped from 7% late last year to about 4.5% following a dividend cut announced in February. Low natural gas prices and worries about nuclear safety have made its nuclear plants seem less attractive. Exelon wants to invest in renewable power sources to ensure future growth, but investors apparently aren't sold on this strategy. It's easy to see why. Exelon's obligations still exceed its cash flow by a wide margin, leaving it little wiggle room for investing in growth.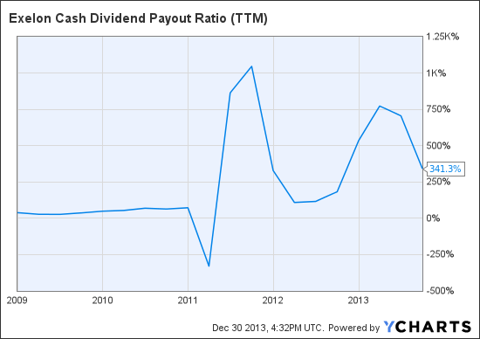 EXC Cash Dividend Payout Ratio (TTM) data by YCharts
Although Exelon shares rallied immediately after the dividend cut announcement - the actual cut was less than feared - the share price remains lower than it was in November 2012, when the company first started warning that a cut was possible.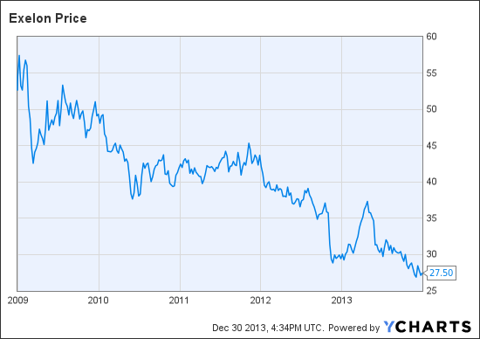 EXC data by YCharts
Calculating the potential fallout from a dividend cut is a good exercise for any investor considering a big dividend stock. If the long-term growth strategy is sound and the cash flow strong, the pain of a cut could be quickly forgotten as an operational turnaround takes hold. If the dividend is the company's only nice feature, living in fear of a dividend cut is completely understandable.
YCharts in recent days has profiled companies with unusually high dividend yields, including an 8.5% dividend yield from Frontier Communications (NYSE:FTR), above-5% dividend yields at healthcare REITs, the 12.5% dividend yield at Windstream (NASDAQ:WIN) and on tobacco stocks like Altria (NYSE:MO) and Philip Morris (NYSE:PM). Each of these situations may intrigue income-focused investors and, if so, they should unleash financial advisor tools on the shares.
Disclosure: No positions
Editor's note: Article was originally published on1/2/14.
January 02, 2014