In what should have been widely expected, dry shipping stocks have seen a dramatic plunge in price since my last article Dump These Dry Shipping Stocks Before They Dump You. Now, dry shipping stocks are dumping on you. In the last two weeks, DryShips (NASDAQ:DRYS) has collapsed 17.5%, Navios Maritime Partners (NYSE:NMM) has fallen 3.3%, Diana Shipping (NYSE:DSX) has plunged 9.6%, Star Bulk Carriers (NASDAQ:SBLK) slipped 2.1%, and Safe Bulkers (NYSE:SB) dove 8.2%.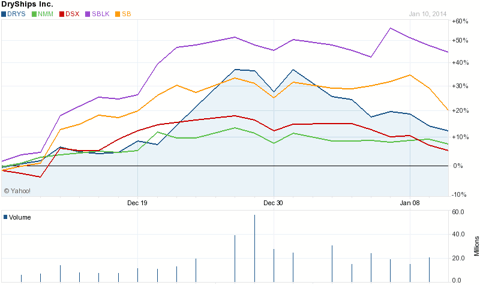 The culprit is the fall in rates. Two weeks ago Capesize rates were at $38,999. As of this writing, the Capesize rates that have seen an all-out implosion, now down to $17,452, down 55% in a mere two weeks. While the Panamax and Supramax rates have been as well, they haven't been nearly as dramatic as the fall in rates for the Capesize ships. On Friday alone, Capesize rates plunged by the biggest one-day amount I have seen since I started covering dry ships.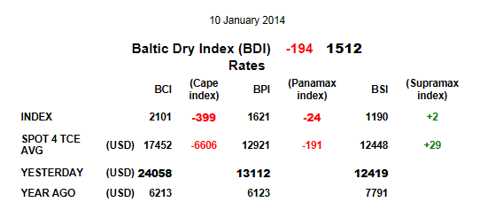 Dry Shipping stocks could still have a long way to fall as well as the rates. As I warned in my previous article:
Dry shipping rates for at least the last four years crash in January or February of the new year. Part of this is due to the Chinese New Year's slowing effect on demand. With more than ever of the worldwide demand coming from China, what's causing positive pressure could and should cause negative pressure next year. Also there tends to be more bad weather patterns in the first quarter of the year that have a negative effect on rates. If you look at the chart below, you can see these spikes and falls plus during any time period you'll notice every single dramatic spike in Capesize prices was followed by an equally dramatic dip in Capesize prices as well, anywhere from within two weeks to two months
SA contributor Quoth the Raven made a fantastic call on December 30 against dry shipping stocks and specifically DryShips when he advised investors to take half off the table. He cited similar short-term seasonal concerns as I have as well as technical concerns with the chart.
Despite the already huge sell off in the stocks and dip in the rates, I believe there may still be much downside to go as the bearish call by CEOs from various dry shipping companies and seasonal concerns is for the first quarter of this year, not just the first two weeks. Although it can be quite tempting to try to catch a falling knife, I believe this falling knife may still have further to go, possibly much further. Investors wanting to avoid bloody fingers may want to wait out this down cycle until at least February when dry shipping companies start to report again and give their outlooks on the year.
Disclosure: I have no positions in any stocks mentioned, and no plans to initiate any positions within the next 72 hours. I wrote this article myself, and it expresses my own opinions. I am not receiving compensation for it (other than from Seeking Alpha). I have no business relationship with any company whose stock is mentioned in this article.