When any stock has a large percentage of its float sold short, it is a sign that something is wrong. Either the market thinks the company is going out of business, or the market is simply betting that the price of the stock is going much lower. Either way, a large short interest is not a good sign, for the market is usually right.
In the past I have recommended investigating short interest, for it is a good piece of forensic evidence that investors should always look at, because it gives them additional evidence of what the market thinks of the stock. Because even if they think otherwise, the market is usually right and it's not wise to go against the market.
As for myself, I usually abide by this rule, and whenever I go against it, I do so reluctantly. BlackBerry has been one of those cases and it turned out the market was right and I was wrong. While I have never adopted the idea that BlackBerry was going out of business, I should have been more suspicious of the short term trend with short interest so high.
At the peak (several months ago) there were about 184 million BlackBerry (BBRY) shares sold short, or about 35% of total shares outstanding. But since BlackBerry has investors with very big blocks -- for example Fairfax has about 10% of the total outstanding shares -- the actual percentage of the total float sold short (counting Fairfax's stake as stationary) was much more.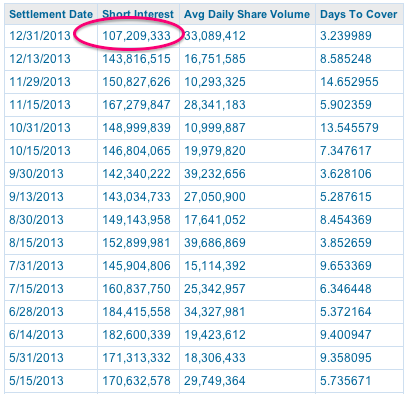 However as of 12/31/2013, the most recent Nasdaq data shows that short interest in BlackBerry common shares is now 107 million shares, or about 20% of total shares outstanding. While that is a big improvement, 20% of the total share count is still a big number. I am assuming that on the next Nasdaq report the number will be even lower, however let's talk about what this nosedive in short interest means for now.
For me it is a sign that things are returning to normal for the company and the stock. The normal short interest for most stocks is between 1% and 5% of the float. Anything above 5% means the market is telling us something. Anything below that does not mean much, because a 5% short interest can happen in any stock for any reason that may not have to do with the stock itself.
For example Apple's (NASDAQ:AAPL) short interest is only 1.7% of the float, while the short interest in Cisco (NASDAQ:CSCO) is about 1.2%, with IBM (NYSE:IBM) at 2.5%, Google (NASDAQ:GOOG) at 1.9% and Intel's (NASDAQ:INTC) short interest is 4.5% of the float.
While I think that short interest in BlackBerry shares will continue to fall, a sign that normality is returning to the stock (meaning the risk the market perceives in the stock) will be when we see the number below 5%. I do not know when and if this will actually happen, but if it happens, it is probably safe to say that the current stock price will be much higher than current levels if it does.
Finally, it is probably safe to say that part of the current rally in the stock has a lot to do with short covering. Also, since 20% of the float is still a big number, to the extent that short interest in BlackBerry shares continues to fall, investors can expect the stock to move higher, or at the very least act as support under the stock, in case we see a general market correction.
Disclosure: I have no positions in any stocks mentioned, and no plans to initiate any positions within the next 72 hours. I wrote this article myself, and it expresses my own opinions. I am not receiving compensation for it (other than from Seeking Alpha). I have no business relationship with any company whose stock is mentioned in this article.