In last week's year-end summary of COMEX gold inventories we gave an overview of market moves over the last year. We finish the first full week of 2014 in a similar fashion - a large decline in registered gold inventories that brings them to a new all-time low, and for the first time in a while a decline in total COMEX gold inventories.
Keeping track of COMEX inventories is something that is recommended for all serious investors who own physical gold and the gold ETFs (SPDR Gold Shares (NYSEARCA:GLD), PHYS, and CEF) because any abnormal inventory declines may signify extraordinary events behind the scenes that would ultimately affect the gold price.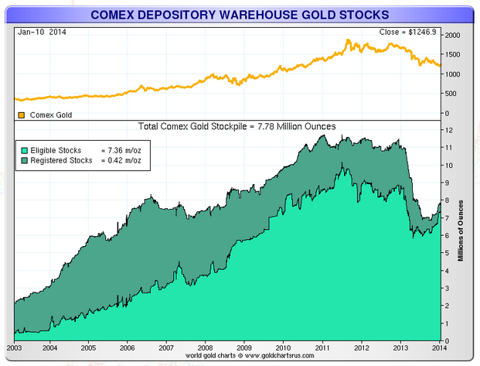 Source: ShareLynx
We will take a closer look at these numbers but let us first explain the COMEX a little more for investors who are unfamiliar with it.
Introduction to COMEX Warehousing
COMEX is an exchange that offers metal warehousing and storage options for its clients. The list of their silver warehouses can be found here and their gold warehouses can be found here. In the case of silver and gold, the metal is stored at these official warehouses on behalf of banks and their clients and can be used to settle futures contracts, transferred between clients, or withdrawn from the warehouse. This offers large holders of precious metals a convenient way to store their metal with minimal storage fees - very convenient indeed if you hold large amounts of gold or silver and you don't want to store them in your basement.
Silver and gold stored in these warehouses can fall into two categories: Eligible and Registered.
Eligible metals are those that conform to the exchange's requirements of size (1000 ounce bars for silver and 100 ounce bars for gold), purity, and refined by an exchange approved refiner. Eligible metals are stored at COMEX warehouses on behalf of banks or private parties, but are not available for delivery for a futures contract.
Registered metals are similar to eligible metals except that these metals are also available for delivery to settle a futures contract. COMEX issues a daily report on gold, silver, copper, platinum, and palladium stocks, which lists all the metal that is currently stored in COMEX warehouses and how much eligible and registered metal is present.
This information allows investors insight into how much metal is currently backing COMEX futures contracts, what large gold and silver owners are doing with their metals, and how many clients are requesting delivery of their metals. There is a lot more to glean from this information but for the purpose of this article we will focus on the gold drawdown.
This Week's Changes: Slight Large Drop in Registered Inventories and Total Gold Stocks
Let us now take a deeper look at the gold draw-downs being seen in the COMEX warehouses.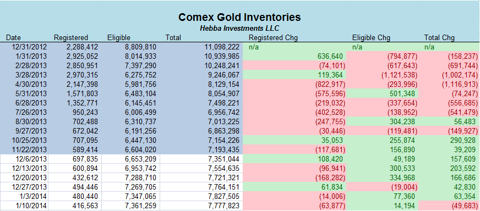 As investors can see, last week brought us to a new all-time low in registered gold stocks as stocks ended the week at 416,563 total registered gold ounces, with almost all of it out of the Scotia Mocatta warehouse. We did see a slight gain in eligible gold, but this was the first week in quite some time that we saw a large drop in total gold stocks. The pattern over the last few months has been declining registered stocks even as total gold stocks increase, we'll see if 2014 brings a change to this behavior.
COMEX Gold Open Interest and Registered Gold Owners per Ounce
We've discussed this in-depth in a previous article so please refer to that article for details, but in a nutshell it is the amount of investors owning a claim to each registered gold ounce (i.e. owners per registered gold ounce).
Source: Sharelynx
As investors can see, last week saw a surge in owners-per-registered-ounce from around 80 last week, to 94 owners per registered ounce this week. Open interest also increased 38.4 million ounces to 39.2 million ounces on the week - so the increase in owners per ounce was due to a combination of lower registered gold stocks and increased COMEX interest.
Conclusion for Gold Investors
If the gold price starts rising, what we are keeping our eyes on is this owners-per-registered-ounce ratio. If COMEX interest rises, then we would expect that we would start seeing more registered stocks added to the warehouses, if we don't then that could confirm that the parabolic rise that we've seen in owners-per-registered-ounce is a serious phenomenon that is showing a tightness in the physical stocks.
Yes it can be argued that extremely high owners-per-registered-ounce ratios are the new normal in COMEX gold trading - that the market is simply leveraging gold at a higher rate than it did previously. But that would be a very dangerous thing, and it would be similar to when banks have very high loans-to-reserves ratios, but this time we're talking trades rather than loans. Those stories usually end in some sort of financial panic or crisis as high leverage ratios give very little buffer to the leveraged parties when circumstance or behavior changes.
If these high leverage ratios of owners-per-registered-ounce is going to be the new normal for COMEX trading, we fear the same thing in the gold market if circumstance or behavior changes. If the gold price rises (or falls) by a large amount due to some external factor (think Euro Crisis, volatile stock or bond prices, Middle-East war, etc), the physical gold to satisfy higher delivery requirements is simply not there in registered form.
So we will happily keep our position and we think even though the gold price has risen around 5% in the first two weeks of 2014, it is still an excellent time to accumulate more physical gold and the gold ETFs (SPDR Gold Shares , PHYS, CEF). For investors looking for higher leverage to the gold price, they may want to consider miners such as Goldcorp (NYSE:GG), Agnico-Eagle (NYSE:AEM), Newmont (NYSE:NEM), or even some of the explorers and silver miners such as First Majestic (NYSE:AG).
As famous precious metals fund manager Rick Rule says, "Investors in precious metals have been through the pain; why not stick around for the gain?" We think he's absolutely right, and we think there will be gains for gold and silver in 2014, and the higher quality precious metals miners and explorers could do much better than that.
Disclosure: I am long SGOL, AG, GG. I wrote this article myself, and it expresses my own opinions. I am not receiving compensation for it (other than from Seeking Alpha). I have no business relationship with any company whose stock is mentioned in this article.