by Carla Fried
In tech-land, Apple (NASDAQ:AAPL) earned the ignominious label of 2013's big laggard. While the likes of Facebook (NASDAQ:FB) and LinkedIn (LNKD) nearly doubled in share price last year and Google (NASDAQ:GOOG) shareholders pocketed a 55% gain, Apple clocked in with a 2% price gain and a sub 5% total return.
But the calendar year tally completely misses the fact that Apple stock is showing some momentum. (Been a while since you heard that, eh?)
Since mid September when Apple rolled out the iPhone 5S and 5C as well as the big-change iOS7 and the iPad Air, investors seem to have let go of the doomed-growth-to-value-trap narrative for Apple. For starters, the early-2013 spike in short interest has reversed course.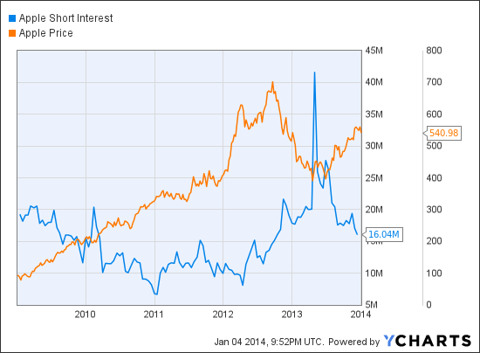 AAPL Short Interest data by YCharts
Obviously, the fact that Apple's stock price over that stretch has more than doubled the strong return for the S&P 500 and the tech stocks within that index has something to do with the short retreat.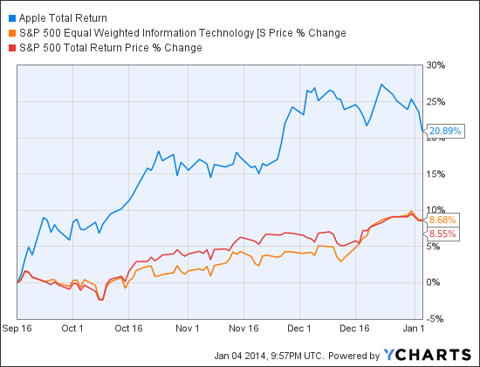 AAPL Total Return Price data by YCharts
We'll get the latest quarterly results at the end of this month, which includes the important Christmas season, but in Apple's fourth quarter of '13 (ending September), the company sold nearly 34 million iPhones, a record for the September quarter and iPad sales were ahead of year-earlier levels. And the new product lineups for phones and iPads were only on sale for less than two weeks of that quarter, so we've yet to see a full quarter's impact for the new devices. Meanwhile, in late December Apple announced a deal with China Mobile (NYSE:CHL) that should help drive international sales, which in the September quarter accounted for 60% of revenue.
And keep in mind, it was way back in April that Apple CEO Tim Cook said it would be the last quarter of 2013 year and into 2014 that we would begin to see "some amazing new hardware, software, and services" emerge from the pipeline. The well-received new iOS7 and glowing reviews for the iPad Air look like a strong down payment on what Cook was alluding to.
While the iPhone 5C ushered in a lower price point for the smartphone, Apple is clearly not signaling a seismic shift to appeal to the masses. The 5C is still far more expensive than many Android models. Moreover, in 2013 Cook hired Burberry CEO Angela Ahrendts to run Apple's retail operations and brought in Yves St. Laurent CEO Paul Deneve as well. That's not exactly raiding Wal-Mart's (NYSE:WMT) C-suite to tap into mass marketing expertise. And as Burberry (OTCPK:BBRYF) and Tiffany (NYSE:TIF) show in a stock chart, it's possible to deliver plenty of shareholder value catering to the deep pocket consumer.
While it's unlikely Apple will ever return to its hyper growth days, its current valuation looks like what you'd expect from a severe basket case, not a company where EBITDA and free cash flow are suffering from plateauing, which should not be confused with cratering.
The tech sector of the S&P 500 traded at an estimated 15.9 PE for 2013. Even after its late 2013 rally, Apple's trailing 12 month PE is still well below the norm, and when you back out its massive cash holdings (by adjusting the price for its per-share cash you get price-to-earnings less cash) Apple's valuation gets even cheaper: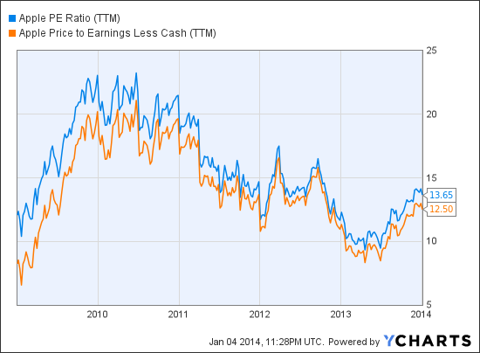 It may not be sexy as the young guns of the Valley, such as Netflix (NASDAQ:NFLX), Facebook and LinkedIn (LNKD) -- to say nothing of high flying Twitter (NYSE:TWTR) that has yet to produce a penny of profit -- but nor does Apple trade at a valuation bound to break your heart at some point. Meanwhile, perhaps Apple is worth unleashing some financial advisor tools on now.
Disclosure: No positions