The purpose of this article is to evaluate the attractiveness of "iShares Dow Jones Select Dividend (NYSEARCA:DVY)" as an investment option. To do so, I will review DVY's performance, current holdings and weightings, key metrics, and macroeconomic trends to attempt to determine where the fund may be headed from here.
Let's start with a little about DVY. The Fund aims to track the price and yield performance of the Dow Jones U.S. Select Dividend Index. The Index is comprised of companies with relatively high dividend yields that have maintained such yields over long periods of time. Because of its diversity and inclusion of only high dividend payers, DVY is representative of the general market as a whole. Currently, DVY trades around $70.3 per share and pays a quarterly dividend of $.54/share, which translates to an annual yield of 3.08%. During 2013, the fund had price gains of 26.2% and an expense ratio of 0.4%. These measures translate to a total return of 28.88% for 2013. Below is a chart of the top 10 holdings of DVY, which account for over 20% of the fund's total weight:
| Top 10 Holdings (20.88% of Total Assets) |   |
| --- | --- |
| Company | Symbol | % Assets |
| --- | --- | --- |
| Lockheed Martin Corporation Com | LMT | 3.37 |
| Chevron Corporation Common Stoc | CVX | 2.39 |
| Philip Morris International Inc | PM | 2.24 |
| Entergy Corporation Common Stoc | ETR | 2.02 |
| HollyFrontier Corporation Commo | HFC | 2.02 |
| McDonald's Corporation Common S | MCD | 1.93 |
| Kimberly-Clark Corporation Comm | KMB | 1.88 |
| Ensco PLC Class A | ESV | 1.73 |
| ConocoPhillips Common Stock | COP | 1.65 |
| Integrys Energy Group, Inc. Com | TEG | 1.65 |
Source: Yahoo Finance
Clearly, DVY has had a solid performance over the last year. On the other hand, DVY along with other dividend paying stocks and ETFs have been recently facing some pressure. This is mainly a result of the Federal Reserve reducing its monthly bond buying program from $85 billion a month, down to $75 billion a month in January, a process commonly known as "tapering". Tapering causes bond yields to raise and therefore it makes them more attractive relative to other investments such as dividend paying stocks and ETFs. The following graph highlights DVY's performance over the last year.
DVY 1-year Graph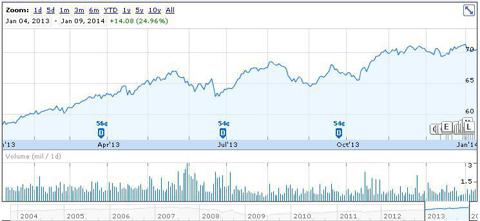 Source: Google Finance
The graph shows how DVY has been practically flat near $70 since the end of October as a result of the Fed's tapering. In my opinion, this represents an attractive entry point and here is why. First, dividend paying stocks and ETFs do compete with bonds among risk averse investors. However, fixed income and dividend payers remain separate categories and most investors are only going to set aside a portion of their assets in cash and fixed income classes, especially as the economy continues to recover. Furthermore, while safety is still important going forward, dividend ETFs such as DVY offer investors stability and consistent income, but also offer the possibility of growth and stock appreciation. Investing in bonds can simply not match these benefits. Therefore, I see the recent decline in performance as an overreaction, and see continued upside in DVY and similar funds in the near and long term as investors focus on gaining exposure to large cap U.S. companies, the best performing asset class in the last few years.
Here are some additional reasons why I am long on DVY. First, the fund appears relatively cheap from a price/earnings perspective. With a PE ratio of 14, DVY appears attractively priced compared to similar funds such as SDY, VIG, and VYM which have PE ratios of 18, 16, and 16 respectively. Second, tapering by the Fed may be a double-edged sword. It has a negative influence on DVY as it makes bonds relatively more attractive, but it is also a signal of economic recovery. Economic recovery is likely to have a positive impact on the companies that comprise the fund and thus represents long-term upside for DVY. Finally, I expect dividends to rise in 2014, providing an important catalyst for the fund. Recently, Bloomberg published an article that highlights the large amounts of cash U.S. companies now hold, and how they are likely to use that cash to raise dividends in 2014.
To conclude, it is important to remember that the performance of DVY depends on the performance of the underlying companies that make up the fund. Also, keep in mind that the pace of the Fed's tapering is likely to have a direct influence on DVY. Aggressive tapering may hurt the fund in the short-term. However, aggressive tapering would be a result of accelerated economic recovery and in that case, I believe the benefits would outweigh the costs.
Disclosure: I have no positions in any stocks mentioned, but may initiate a long position in DVY, over the next 72 hours. I wrote this article myself, and it expresses my own opinions. I am not receiving compensation for it (other than from Seeking Alpha). I have no business relationship with any company whose stock is mentioned in this article.