While recently writing an article for Occidental Petroleum (NYSE:OXY), I came across BP (NYSE:BP)'s vital signs and give them a quick look. On the surface BP appears to be incredibly cheap and a dividend monster - but, I wanted to scratch the surface a bit more.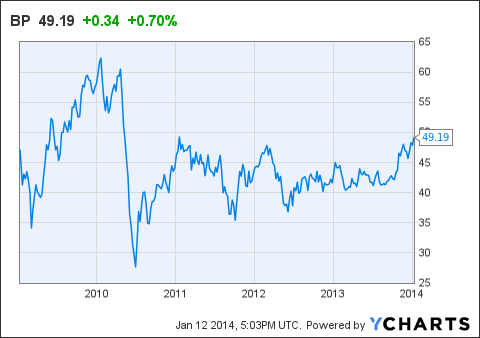 BP has been mired by the oil spill in the gulf years ago, which is still making its way through litigation. In 2010, the stock was crushed. As you can see from the above chart, the stock took a sharp decline down to near $27, before rebounding and now trading at $49.19.
Even now, the company trades at a modest 1.18 price to book value - showing that through traditional fundamental analysis, BP seems to be a no brainer "buy".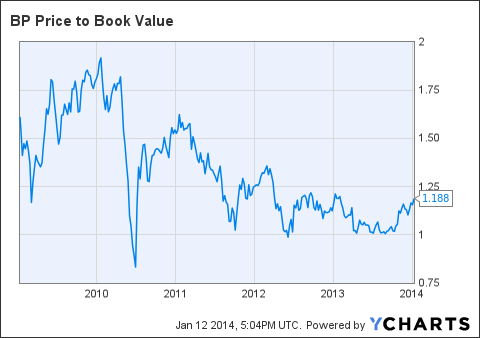 BP Price to Book Value data by YCharts
BP offers the best dividend with the lowest P/E currently amongst its oil & gas peers.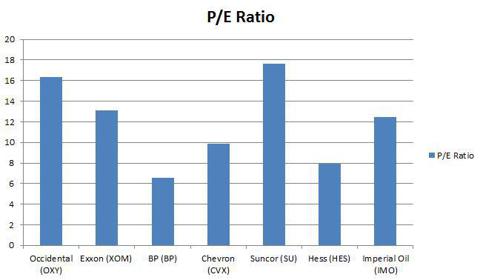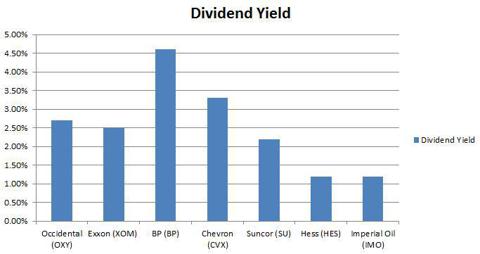 With all this positivism - I have to ask myself, "what's the catch?"
The catch might be that BP is running through its trusts set aside for legal costs relatively quickly. The Specialist argues often that BP's legal woes could big a much bigger problem under the surface than they appear. He/she notes that BP had set aside $7.8 billion to deal with these legal issues and has already cracked $10 billion. BP has been selling off some non-core assets to stash a war chest for legal costs since the spill.
Additionally, it was reported on Friday that despite BP's objections, a federal appeals court upheld a judge's approval of the company's multi-billion dollar settlement.
Whether or not this major caveat holds water, we have yet to see. One thing is for sure, it's definitely the reason that BP looks so attractive with a low P/E and sky high dividends. BP's P/E ratio as is counts several one time gains. It's also worth noting that technically, BP is selling assets to continue to pay its dividend - so it could be at risk.
But, just 4 years from the spill, people are turning on their TV's and seeing BP's new commercials showing them addressing the issue in their rear view mirror with a "learn from mistakes" mentality. The good part is that from a "priced in" perspective, the issue is almost over. The sad part is that the effects of the spill and the chemicals used to clean it could have a significant impact on the environment in that area for years to come.
But, these legal issues seem to just come and go, ebb and flow for companies like BP.
The legal issue isn't unlike the one that Bank of America (NYSE:BAC) is currently going through. The stock is relatively cheap because of the weight of outstanding litigation. In both BAC and BP's case, I don't doubt these companies are going to make it through their legal requirements and come out on the other side stronger.
It's important investors who are buying for the fundamentals know that there is a bit of a wild card under the surface with BP.
QTR's Take: Cautious Buy
As I had stated in my earlier article about Oxy, I'm bullish on the oil & gas sector going forward through 2014 - even though I think crude oil could be one of the "wild cards" for the year.
It's likely I'll nibble on some BP in the coming week with a small position in order to lock up the dividends and potentially cash in on a cheaply valued company and continued growth. Investors must know that there is a major caveat with uncertainty behind the company's legal issues going forward - but, should BP make its way through them, the company could easily return back to, and past, it's former $60 levels.
I'm cautiously bullish on BP to start 2014. Best of luck to all investors.
Disclosure: I have no positions in any stocks mentioned, but may initiate a long position in BP, over the next 72 hours. I wrote this article myself, and it expresses my own opinions. I am not receiving compensation for it (other than from Seeking Alpha). I have no business relationship with any company whose stock is mentioned in this article.