As part of my series to update investors on short interest moves, I'm back today to discuss some important end of 2013 short interest updates. Today, I'll discuss four names who saw some significant short covering as the year ended. As always, all short interest data provided in this article is courtesy of NASDAQ, linked here.
Apple (NASDAQ:AAPL):
Nearly 2 million shares short were covered in the last update of the year for the technology giant. That might not seem like much for a company with around 900 million shares outstanding, but it is rather important. Nearly 1 in 8 short sellers covered during the final few weeks of December, and that's after a million shares were covered in the first two weeks of the month. The chart below shows Apple's short interest going back to early 2012.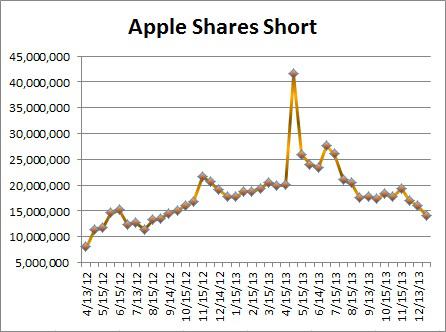 As you can see from the chart, short interest has been coming down for quite some time. Almost 2/3 of shorts have covered since that peak (the spike) in late April 2013. At just over 14.15 million shares, Apple's short interest is at its lowest point since August 2012.
Why are Apple short sellers covering? Well, the company's deal with China Mobile (NYSE:CHL) is probably a good reason for many. Striking a deal with China's largest carrier has sent Apple estimates higher. Despite a few recent ridiculous analyst downgrades, Apple is set up for a strong 2014. With a decent amount of growth, a 2.29% annual dividend yield, and perhaps the greatest buyback program in corporate history, Apple is ready to run. It also helps that the valuation is one of the most reasonable in large cap technology.
Netflix (NASDAQ:NFLX):
Sometimes, short sellers get it wrong. Netflix is a good example of that, which I'll discuss in a minute. First, Netflix ended 2013 with just over 5.56 million shares short. Why is that significant? Well, it is the lowest number of shares short since I started tracking Netflix short interest in March 2012, as you can see in the chart below.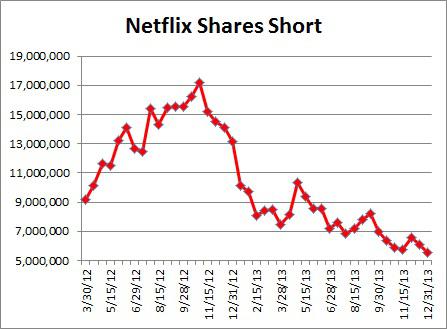 Netflix short interest topped out at 17.2 million shares in October 2012. Since that peak, nearly 68% of shorts have covered. Carl Icahn is a big reason, as the billionaire's investment forced some covering in late 2012 and into 2013. Netflix also had a strong year in terms of both revenues and earnings, and the stock rallied from a 2012 low of about $53 to a 2013 high of $389.16.
However, those that covered towards the end of December between $360 and $384 are probably kicking themselves. Last Tuesday, just hours after I called Netflix a potential short again, the stock was downgraded at Morgan Stanley. That put a dent into the name, as Netflix shares have lost $36, or about 10%, so far in 2014.
Deckers Outdoor (NASDAQ:DECK):
Another favorite momentum stock, and the maker of UGGs, saw its short interest plunge at the end of December. More than 2.5 million shares were covered in the final few weeks of December, the largest short interest drop I've ever seen for Deckers. You can see the dramatic drop in the chart below.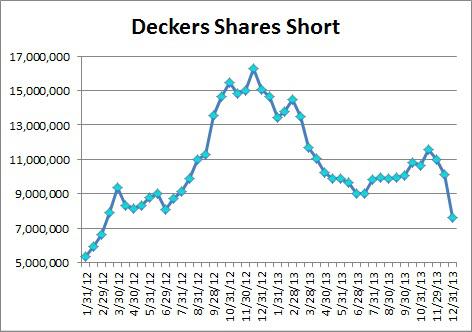 This is the lowest short interest count for Deckers since February 2012. That was also the last time shares were as high as they are now. With a very cold winter, investors are betting that Deckers will turn in a spectacular holiday season, erasing memories of a bad ending to 2011, terrible 2012, and slow start to 2013. While Deckers' earnings still probably won't reach a record in 2014, analysts are estimating $4.65 in 2014 after just $3.45 in 2012. Deckers' record was $5.07 in 2011, but that was also with a much higher share count. The company's buyback has done a great job of lowering the share count. Investor confidence in this name has pushed shares higher, with short interest going much lower.
Dendreon (NASDAQ:DNDN):
The biotech name that brings you the prostate cancer treatment Provenge has also seen a large late December drop in short interest. As you can see from the chart below, nearly 6 million shares short were covered in the final few weeks of December. More than 11.6 million shares have been covered since the peak, with 5 consecutive declines in short interest.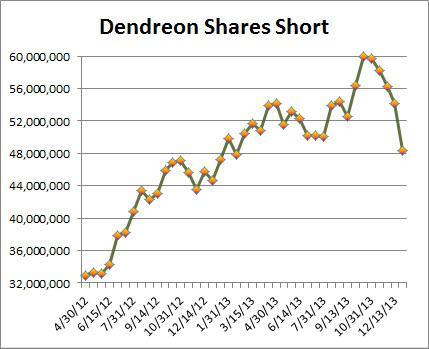 Dendreon is a very volatile stock. Since I covered the name a month ago, the stock has gone from $3.00 to $2.88 to $3.51 to $2.75 and back to $3.00. Dendreon had a very disappointing 2013, with Provenge sales failing to miss estimates in the first three quarters. The company has continued to lose large sums of money and burn through cash. With a debt payment approaching in a couple of months, the company will look to answer questions about its financial flexibility at the next earnings report. Dendreon shorts believe the company will continue to issue disappointing reports and eventually go bankrupt. The bull crowd believes that Provenge sales will eventually turn around, costs will be controlled, and that maybe a buyout even occurs. Sentiment has changed a bit at the end of 2013 with a chunk of those short covering towards the end of the year, but this name still has a lot to prove.
Final thoughts:
These four names have all seen late 2013 drops in their short interest. Apple's short interest declined thanks to the China Mobile deal and what looks to be a great 2014. Netflix shorts continue to cover, but they might have done so a little too early. Those short Deckers are covering as they believe the cold winter will help boost sales of UGGs. Dendreon shorts have covered as investors hope that 2014 will be a turnaround year. I'll continue to update investors on short interest moves as 2014 progresses.
Disclosure: I have no positions in any stocks mentioned, and no plans to initiate any positions within the next 72 hours. I wrote this article myself, and it expresses my own opinions. I am not receiving compensation for it (other than from Seeking Alpha). I have no business relationship with any company whose stock is mentioned in this article.
Additional disclosure: Investors are always reminded that before making any investment, you should do your own proper due diligence on any name directly or indirectly mentioned in this article. Investors should also consider seeking advice from a broker or financial adviser before making any investment decisions. Any material in this article should be considered general information, and not relied on as a formal investment recommendation.