Steady growth anticipated in the war of smartphone operating systems
A lot was said over the release of the Windows mobile OS regarding its survival against the two giant smartphone ecosystems; Google (NASDAQ:GOOG)'s Android, and Apple (NASDAQ:AAPL)'s iOS. It was initially backed by Nokia, Samsung (OTC:SSNLF) and HTC. Now, with two big companies like Sony and ZTE in talks with Microsoft (NASDAQ:MSFT), I can only imagine the growth in smartphone competition, from which we as customers will benefit greatly.
Microsoft earns royalty fees from the sale of every Android smartphone due to the patent settlement. One of the reasons for the high royalty fees enjoyed by Microsoft is Sony (NYSE:SNE). In the last year's third quarter, Sony had a 4.5% market share of worldwide smartphone sales, according to IDC. Given that Sony holds a huge position on the global platform, it will provide a boost to Windows-operating smartphones sales and I expect these positive results to be seen by the end of this year. The reason is that Sony might launch a smartphone with a Windows mobile operating system, by June or July of this year.
On the other hand, Microsoft has offered $1 billion to Samsung to produce more Windows phone operating-based smartphones. I think the move is perfect for both companies at present. The Windows mobile operating system is steadily growing, eating away the market shares of Android and especially iOS. Its market share grew from 2.3% to 3.6% in the third quarter last year, on a year-over-year basis. Although it's not a great rise, it is rather impressive when considering its competition comes from well-established operating systems in the market. Speaking of Samsung, it has the highest market share in the smartphone manufacturing industry at 32.1%. Keeping such a big player on your side will be an appropriate and lucrative decision, if aiming to grow aggressively.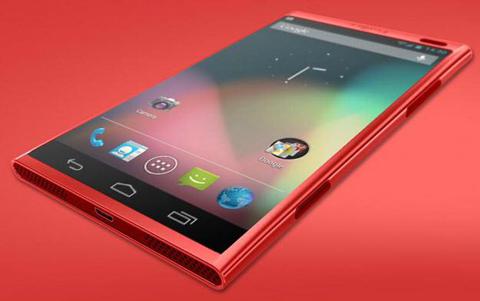 Source: AndroidHeadlines
There are rumors that Microsoft has come up with a totally different strategy to fight back against the ongoing smartphone operating system competition. As per The Information, Microsoft may allow its smartphone buyers to choose between the Android and Windows operating systems. For example, a buyer will first select the handset it wants to purchase, then later choose between the two operating systems to power its smartphone permanently. Overall, any of these strategies will help Microsoft boost its market share in the industry and its profits on a global level.
The console war dampens Microsoft's market share
In the gaming console war, things are not looking too great for Microsoft at present. As per the sales figures in the U.K., Xbox One has been behind Sony's PlayStation 4 by 166,000 units ever since the launch of both the gaming consoles in late 2013. The PlayStation 4 sold 45% faster than the Xbox One in UK last year. Also, at the global level, PlayStation is leading Xbox by over a million units. However, there are few things to be noted before coming to any conclusion. PS4 is presently sold in more than 38 countries around the globe. On the other hand, Xbox One is only in sold 13 countries. Despite having smaller market coverage and priced $100 more than the PS4, Xbox has managed to impress consumers, at least compared to the previous version, which sold around 80 million units from its launch in 2005 until October. The high price has been a major factor for Microsoft's loss of market share in the gaming console industry. Given the rising popularity of PS4, and its affordable price point in comparison to Xbox, an analyst from Wedbush suggests that the PS4 will continue to be the market leader in the video-gaming console industry until 2017. PS4 is projected to generate sales of 37.7 million units by the end of 2016, while Xbox One will most likely only manage to sell 29 million units in the same period.
Despite the drop in market share, Microsoft won't see this negative result on its financial statements this quarter. The reason is that Xbox 360 sales had gone down in the previous quarters, so Microsoft's entertainment and device segment was affected. This decrease wasn't very evident in the grand scheme of things due to the $2 billion in royalty fees that Microsoft earns from Android smartphone sales. These have a 95% net margin, which means Microsoft earns almost the total amount. With the growth in sales of the Xbox series in the present fiscal quarter, and growth in the Windows phone OS market share, I expect to see positive results from this segment in the remaining quarters' results. Also, striking a deal with Sony and ZTE, along with the possibility of a dual OS strategy, I do not see a major headwind scenario for this segment of Microsoft in this fiscal year.
R&D intensity raising concerns
It's really important for tech companies to have an appropriate R&D to sales ratio, in order to boost the total revenue of the company. I have compared the three major mobile operating system giants to pinpoint which of the companies are managing their R&D to effectively boost the total revenue.
Microsoft, Google, and Apple have an R&D to sales ratio of 13.37%, 13.14%, and 2.63% respectively. Each of the three companies have managed their ratios at these similar levels for past three fiscal years. As a result of these ratio distributions, Google and Apple have managed to boost their revenue by nearly 30% every year, while in the same period Microsoft has by no means experienced significant growth in its total revenue (6% - 8%).
This one will stay for the long run
While it struggles in the smartphone and video-gaming console industry, and there is a falling demand for PCs, I do not expect to see much growth in Microsoft's revenue during the 2014 fiscal year. However, the stock of Microsoft was able to impress its investors with over 32% growth in share price last year. Keeping in mind the growth potential for this company, I would suggest having a long-term position of this stock, which means holding for at least a little over three years, to experience great returns. Also, the timely dividend distribution pattern of Microsoft suggests that it will keep on increasing its dividends every year. This will be a treat for income investors, by the end of 2014.
Disclosure: I have no positions in any stocks mentioned, and no plans to initiate any positions within the next 72 hours. I wrote this article myself, and it expresses my own opinions. I am not receiving compensation for it (other than from Seeking Alpha). I have no business relationship with any company whose stock is mentioned in this article.