In my recent piece, "Intel's Merrifield Looks Dead On Arrival" I believe that while I was pretty harsh on Intel's (NASDAQ:INTC) upcoming smartphone chip (I think it'll end up being "too little, too late"), I've been doing some work in trying to figure out if the mid-life kicker, known as Moorefield, could finally be the chip that begins to really turn the tides in the smartphone market for Intel. Now, while I'm not looking for a part that will have everybody dropping their ARMs and going with Intel, I am expecting that Moorefield could do much better in closing the competitive gap with Qualcomm (NASDAQ:QCOM) in phablets/smartphones than Merrifield will.
What Is Moorefield?
Circling back to Intel's most recent Investor Meeting, I'd like you to take a look a the roadmap that Intel's management presented: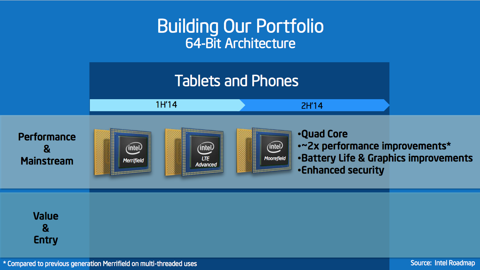 While Merrifield is a dual-core chip likely with a quad-cluster variant of Imagination Technologies' (OTCPK:IGNMF) Series 6 GPU (similar to what Apple is using in its A7 SoC), Moorefield has the potential to be so much more. Right off the bat, it has four Silvermont cores rather than the two found in Merrifield - allowing it to more effectively compete with Qualcomm's Snapdragon 805 (as this will be Qualcomm's top chip out at the time) as far as CPU performance goes.
There's still no word on what GPU this one will pack, although I would assume that Intel would either use the same variant of Rogue as in Merrifield but be more aggressive on the clock speeds or go all-out and stick in the six-cluster G6630. This part will obviously have a much larger die-size than Merrifield (thus, more expensive), but if it can deliver performance as good (or perhaps even better than) what Qualcomm is doing with S805, then it could be a fantastic "phablet" chip. In fact, it is likely that Moorefield is actually going to offer more performance than the company's current "Bay Trail" product aimed at tablets/low cost PCs.
However, this part doesn't have an integrated modem (but neither does Snapdragon 805), and it's unclear what kinds of improvements in imaging performance, video encode/decode support, and other aspects of the SoC not directly related to CPU/GPU performance this part will bring (and, since we don't really know what Intel has included vis-a-vis these features in Merrifield it's pretty hopeless to try to get a read on that).
When Is It Coming Out?
According to the roadmap above, Moorefield is scheduled for a "second half" of 2014 launch. Further, if the rumors are true that the next generation "Cherry Trail" SoC (14 nanometer, based on Airmont) is slated for a Computex unveiling and product availability for the back-to-school season (i.e. September and beyond), then this would tend to suggest that Moorefied - which Prof. Dr. Hermann Eul indicated would be earlier than Cherry Trail which is likely to come one-year after Bay Trail launched (i.e. in September) - would be an early/mid Q3 launch: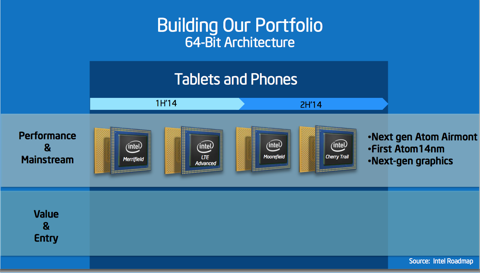 Now, if Moorefield comes out in Q3 2013 (as in, shipping in designs then) paired with the XMM 7260 LTE-Advanced modem, then I could see it winning a few key designs. The one thing that eludes me, however, is what high end flagship designs are typically launched in this time frame. To investigate this, it's worth understanding the "biggies" and their historical launch time-frames:
Samsung Galaxy S (March/April)
Samsung Galaxy Note (September/October)
HTC One (March/April)
LG Optimus G/G Pro (November/May)
Moto X (August)
Now, don't get me wrong - this list is neither exhaustive nor necessarily predictive of future release trends. This is a fast paced market with players constantly trying to outdo each other at any cost. There are also more players being introduced at a pretty steady clip. That being said, it seems like a crap-shoot at this point trying to guess what designs - if any - Moorefield + XMM 7260 could win. It also pays to keep in mind that Qualcomm is a very formidable, established opponent that won't make winning these designs at all easy for Intel.
A Silver Bullet
It seems to me that Moorefield is the pinnacle of what Intel could have done on the 22-nanometer generation, likely to far exceed as a system-on-chip both Merrifield and Bay Trail. It will have solid CPU performance (four Silvermont cores will be plenty powerful even in 2014) and, more importantly, a very competent GPU IP block from Imagination Technologies. From a performance standpoint, I don't see Qualcomm having a meaningful advantage over Intel once Moorefield rolls around (although I don't see Intel sweeping the benchmarks, either).
But what Intel does have is the "64-bit" marketing point that Qualcomm is unlikely to have for its high-end system-on-chip products. While Intel also has this with Merrifield, it also lacks the "Quad Core" marketing point that could arguably be just as important, particularly for winning the popular benchmarks. But with Moorefield that disadvantage goes away.
Further, with Qualcomm's Snapdragon 805 apparently moving the modem out of the system-on-chip, the lack of an integrated modem for the very high end likely won't be a problem. Intel, for the first time, will likely have a part with Moorefield that can at the very least stand up to a contemporary Qualcomm part. That is, of course, assuming Qualcomm doesn't pull a rabbit out of its hat and announce a next-generation 64-bit apps processor built on TSMC's 20-nanometer process for late 2014 (and I wouldn't bet any big money on that not happening).
That said, if Intel can get its product ready on time then it has a chance of potentially winning a flagship design or two. Again, betting on that would be highly speculative, but it seems that the odds are infinitely better that Moorefield can win something important than the odds that Merrifield can.
Conclusion
While it would have been nice to see Merrifield storming the market last year and Moorefield kicking off the year with a very competitive high end chip, it's better late than never. I'm not expecting a ton of big design wins with either Merrifield or Moorefield, but I do expect Moorefield has - at the very least - a fighting chance of winning some designs that investors can immediately recognize (like a Moto X or a Lenovo Vibe-Z successor). Time will tell how this all plays out, and - unlike the mistake I made last year - I'm not going to keep my hopes super high for any of the product launches this year, but I am open to being pleasantly surprised - and the bar should be low enough that such a surprise, at least to me, is plausible.
Disclosure: I am long INTC, IGNMF. I wrote this article myself, and it expresses my own opinions. I am not receiving compensation for it (other than from Seeking Alpha). I have no business relationship with any company whose stock is mentioned in this article.