Being a value oriented investor, price-to-earnings is one of the first things I look for when first analyzing a company. It is difficult for me to look past a forward P/E of, say, 17.5 and really look into the underlying fundamentals with any real appetite. But I recently did, and found a compelling case for investment in BlackRock (NYSE:BLK). Even with its relatively high multiple.
A brief introduction to BLK; it is an asset management company worth over $50Bln. The almost $4Tln in assets under management it has gathered makes it the biggest asset manager in the world. It serves as fiduciary agent to clients, managing funds and segregated portfolios on their behalf, it does not hold a securities inventory or trade on its own account.
I stumbled across the company's investor day presentations, surprisingly its first such coming out event even though its IPO dates back to 1999. The thing that got my attention is the 26% CAGR it has delivered to shareholders since going public. This was achieved over a period of market underperformance. So I did some reading, went over transcripts of earnings and management presentations and concluded the company has several characteristics that make it unique. I believe it has at least two distinct "moat" elements and two promising growth components as well. On top of that, its jack-of-all-trades approach subjects it to substantially less risk than its peers.
The two moat-creating qualities, reputation & scale:
In all business, but especially in asset management, reputation is everything. BLK solidified its reputation five years ago, during the financial crisis. In the immediate aftermath of the crisis, the US Government and many incoming bank CEOs had a similar problem: how to dispose of complex credit portfolios that had become almost completely illiquid. Most of them, Government included, turned to BLK. It was seen as less conflicted for the task (holding no investments for its own account) and it also proved to have especially keen understanding of the securities involved. It surely delivered, as the firm continues to win advisory business in its BlackRock Solutions FMA unit, a sort of financial SWAT team created to deal with special client needs. In 2012 it helped governments and banks successfully dispose of $74Bln of assets during stressed credit conditions and regulatory changes in Europe.
Its reputation has continued being of great value, especially as some of its traditional competitors, the large banks or "wire houses", continue to suffer from a negative image. Think LIBOR rigging, stress tests, litigation over mortgage practices, etc. Goldman Sachs, a pre-crisis standout in the reputational front, has struggled to grow its asset management business; a unit its CEO has said is one that receives a lot of focus from him personally. GS has assets under supervision of $715Bln for 2012 and $763Bln the third quarter of 2013, compared to $3.4Tln and $3.8Tln for BlackRock.
Intuitively, size is also important in this business. It provides significant leverage with asset custody, brokerage, and other services providers required to run the portfolios and trusts it manages. scale also helps with the distribution channel and the fees associated with brokerage sales. Finally, in asset management, size also creates a "gravitational pull" effect. For example, if there is more than one fund tracking the same market index, one would normally feel safer investing in the largest of the group.
The two growth engines, risk management and retail:
Systems based risk management is a core competency for the firm. It has been able to differentiate itself by putting its main risk management tool "Aladdin" available to clients. Aladdin is a software platform that allows investment managers to consolidate their positions in one system, to trade multiple portfolios simultaneously and streamline middle and back office operations.
But Aladdin is, more than anything else, a risk management and analytical tool. It has been so successful that more than $14 Trillion in assets have migrated to the platform, where more than 100 million Monte Carlo simulations are run each day.
BlackRock Solutions, or BRS, revenue is on track to reach $600 million in 2013 on the strength of Aladdin (it contributes more than 70% to BRS, the other revenue stream comes from the advisory business FMA). This revenue growth is encouraging for two reasons. First, there is very low marginal cost related to the incremental revenue and second, it is recurring (once on the platform, back office and other processes adjust to it, making a second change more unlikely).
Additional growth potential exists from higher penetration of ishares and retail segments. About one third of assets under management come from retail clients, the rest, from institutional investors. Management has made it clear it will go after retail assets much more aggressively. Base fees in retail products are about double the level of fees earned from institutional clients. There is room to grow, ishares its flagship ETF brand has enjoyed the well established trend of massive flows towards indexing products (or Beta products). BlackRock is also advertising in key markets to retail clients and delivering targeted messages to increase awareness (despite being the largest manager in the world, many people have never heard of the firm). There is evidence this strategy is working. An illustrative quote from the CFO on the latest earnings release:
"We've raised approximately $124 billion of long-term net new business over the past 12 months, representing a 4% organic growth rate. Because 86% of these net flows were generated by our retail and iShares channels, our organic revenue growth exceeded asset growth as these channels have higher effective fee rates compared to the firm's overall fee rate, the same dynamic held true in the third quarter"
Looking at other aspects of the firm I believe there is unusually low level of risk to the earnings being generated by BLK. Its business model is light on risk: there is little collection risk, no inventory risk, very low capital expenditures and highly scalable cost structure. All of this is combined with a low level of net debt (cash almost equals balance of long term debt).
There is some regulatory risk due to its size. However the firm is doing a good job, it seems, convincing regulators that despite its size it is should not be regarded as systemically important because, BLK argues, it does not actually own the assets it invests and as a result it does not book losses from market fluctuations.
BLK is also extremely diversified. It does not specialize in equity, fixed income or alternative products, it offers all of them. It has both index funds and actively managed funds; it offers mutual funds and exchange traded funds to geographically diversified client base.
This level of diversification means that trends from alpha (passive or index) to beta (active) strategies or vice versa, which can be cyclical and damage a specialized manager would be neutral to the firm. A rotation out of fixed income and into equity, for example, would also be neutral or slightly positive (due to the higher fees usually associates with equity products), but would hurt a specialized competitor like PIMCO.
An often cited analyst concern is that ETF products (ishares at BLK) are becoming commoditized. There is certainly a large number of competitors, but there is little evidence of this. The clearest sign of a commoditized product is declining operating margins. There is no sign of this happening at BLK, as can be observed in the graph below (from Q3 earnings supplement).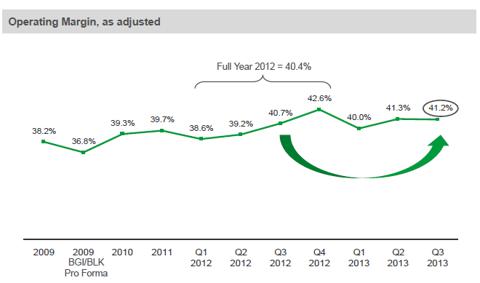 The main risk, in my opinion, is an erosion of its reputational status described at the beginning. Management appears to be very conscious of this as illustrated by the sudden cancellation of the analyst survey conducted by the firm. This was a practice it acquired with the purchase of the asset management business "scientific equities" from Barclays five years ago. The survey was being studied by regulators concerned it was attempting to obtain nonpublic information from analysts (by asking questions designed to guess the direction of the next earnings revision, for example). Rather than let the regulatory process take its course, BLK decided to immediately end the practice, to protect any potential damage to its image.
Although nothing is perfect, I believe all of these factors, which yield a growing earnings stream that is itself is subject to below average risk (discount rate), is the result of a very well designed and executed business model, which justifies the higher valuation on BLK.
Disclosure: I am long BLK, . I wrote this article myself, and it expresses my own opinions. I am not receiving compensation for it (other than from Seeking Alpha). I have no business relationship with any company whose stock is mentioned in this article.