Introduction: Gazit Globe (NYSE:GZT) is one of the largest owners and operators of supermarket-anchored shopping centers in the world and an active player in the healthcare real estate sector in North America. It owns and operates assets valued at more than US$21 billion, representing a gross leasable area of approximately 6.7 million square meters and a gross annualized income of approximately US$1.9 billion.
Gazit Globe is based in Israel (hence figures is NIS but the valuation conclusions apply to US-traded stock as well) and trades on the US, Canadian and Israel stock exchanges.
Management: Gazit Globe's chairman of the board is Mr. Chaim Katzman, who personally built the company after having started in the real estate industry in 1980. From the year 2000, the company provided an average 17.5% total annual return to its shareholders. This performance heftily exceeds that of S&P 500. The company president (Roni Soffer) and CFO (Gil Kotler) have each been with Gazit for over 15 years. If a track record is at all indicative of continued performance, I like the current management.
Gazit has high-quality, safe assets: Gazit's management believes that their assets are recession-resilient and necessity-driven, and continues acquisition, development and management of supermarket-anchored shopping centers in growing, high-density urban markets in North America, Europe, Israel and Brazil. Their healthcare-related activity is presently confined to North America.
Per management, Gazit pays attention to political and economic stability, as well as credit ratings, of the countries in which it invests. The company also places importance of understanding the culture of the locale in which it pursues or plans to pursue business activities. In addition, the company focuses on locations that are difficult to replicate due to their geographic characteristics.
The company is well-diversified geographically and its properties are located predominantly in countries with excellent credit rating (Latest quarterly report, Q3 2013, page 3):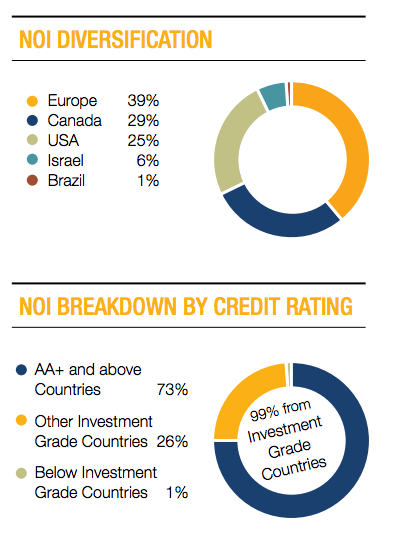 The company is currently trading just below NAV: Gazit is a holding company, making it somewhat difficult to analyze. From the company presentation, it owns the following proportions of the following businesses: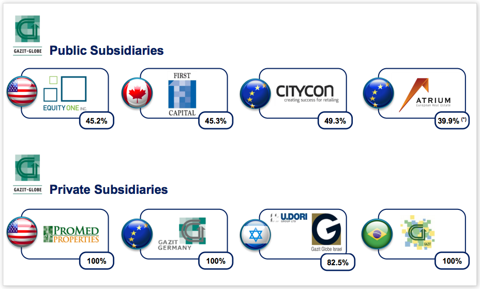 This is a little bit confusing, so let's dig deeper in the company's latest quarterly report: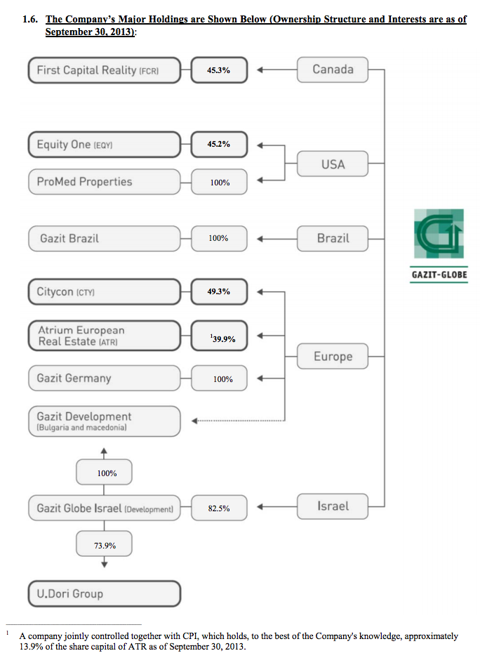 Now that we know what the company owns, it would help to know what these assets are worth. The company explains further in their latest quarterly report: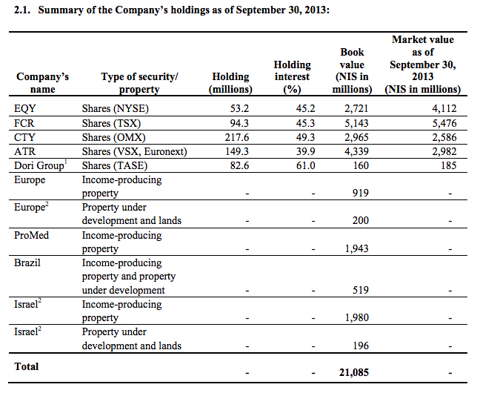 So the book value of the entire company is just over 21B NIS. Net liabilities are about 12.9B NIS, again in the most recent quarterly report: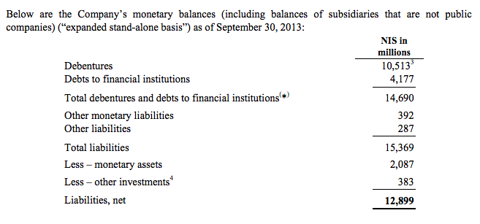 so NAV is about 8.1B NIS. Currently, there are about 176 million outstanding shares, and at about 45 NIS a share, the market capital is about 7.9 billion NIS. The company, therefore, is trading at just under its net asset value.
The current FFO yield is attractive. Again from the latest quarterly report: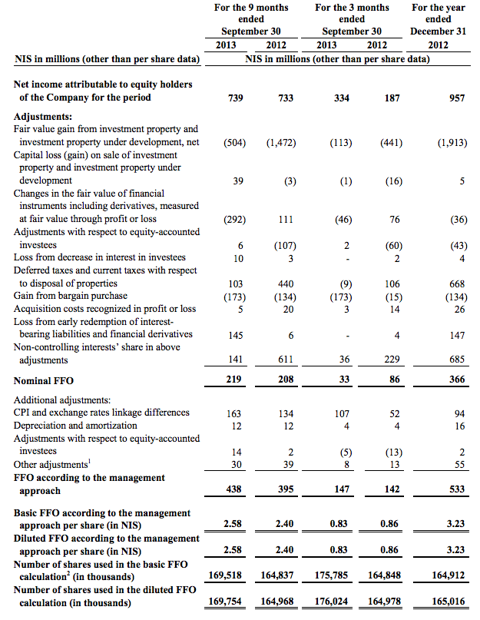 Notice that the management adds back the unfavorable currency exchange effect in its FFO calculation. I don't mind it so much, because constant currency figures are more representative of the performance of local businesses within their respective locales. Additionally, currency fluctuations can go either way and may well reverse. So it looks like in 2013, FFO according to management will be about 3.4 NIS per share.
Given the current stock price of about 45 NIS, this corresponds to the FFO yield of about 7.5% - not amazing but not bad.
The dividend history is strong and the dividend policy is sustainable. Let's take another look in the most recent quarterly report: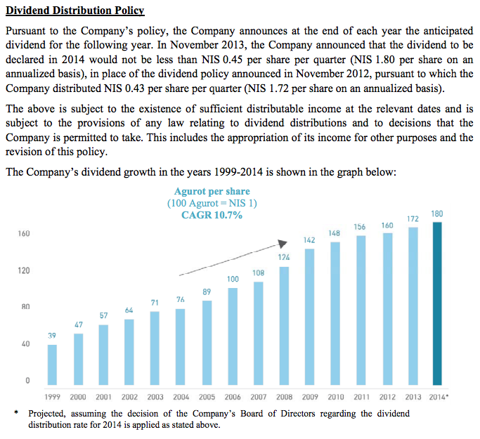 In 2013, the dividend payout ratio is about 50%, which is very sustainable. The company projects an increase in 2014 dividend, which is also very sustainable. The dividend growth rate in recent years has been very impressive, although the projected 2014 dividend increase is not very large at just under 5%.
The company has been deleveraging. Perhaps in anticipation of higher interest rates, Gazit has lowered net debt to total assets from 58% in 2011 to 55.2% in 2013. See Page 4 of the latest quarterly report.
The company has been recycling capital. To me, this means the company is not resting on their laurels and is selling fully valued/overvalued properties and buying undervalued assets. This is significant because recycling capital reduces the need to borrow and issue new shares. Gazit is also active in selectively developing and redeveloping its properties. From the most recent quarterly report: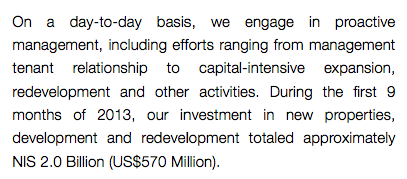 And

Conclusion: Gazit Globe is an attractively valued income-generating investment with sustainable dividend that is poised to grow. It provides currency diversification and recession-resilient necessity-based asset exposure, as well as competent management with an excellent track record.
Disclosure: I am long GZT. I wrote this article myself, and it expresses my own opinions. I am not receiving compensation for it (other than from Seeking Alpha). I have no business relationship with any company whose stock is mentioned in this article.