Most silver investors will be grateful to have 2013 over and done with. Here is to a fresh start in 2014, and our first monthly update on silver analyst price targets for primary silver mining companies in the new year. As in previous installments we are summarizing our observations of analysts' price targets as published on Yahoo.com. In the present edition comparisons will be made to the data summarized roughly a month ago in our December summary.
Most companies considered for this article are covered by more analysts than reported in our data since this article only considers analyst reports available through Yahoo.com . Unfortunately not every analyst is sharing his targets on this platform.
As in previous reports we included the following silver miners in alphabetical order: Bear Creek Mining (OTCPK:BCEKF), Coeur Mining (NYSE:CDE), Endeavour Silver (NYSE:EXK), First Majestic Silver (NYSE:AG), Great Panther Silver (NYSEMKT:GPL), Fortuna Silver Mines (NYSE:FSM), Hecla Mining (NYSE:HL), Pan American Silver (NASDAQ:PAAS), Silver Standard (NASDAQ:SSRI), Silvercorp Metals (NYSE:SVM) and SilverCrest Mines (NYSEMKT:SVLC).
The table below summarizes our data. The first three columns list the company names, ticker symbols and share prices at the time of writing. Price targets (low, median and high) are listed in the following three columns. These targets are followed by a column giving the numbers of analysts providing data to Yahoo.com and the mean recommendations given by these analysts ranging from 1.0 (strong buy) to 5.0 (sell). This concludes the data sourced directly from Yahoo.com.
The following columns are colored in light green and contain data derived from our source data. These data points are given in percentages related to the share price at the time of writing. The column titled "median-price" gives the differences between the share price and the median target prices. The column titled "high-low" gives the differences between the high and the low targets. The last four columns titled "target change" document the changes in price targets since the December report with the last column giving the average change over the low, median and high price targets.

N.B. Data for Great Panther Silver and Bear Creek Mining was provided in Canadian Dollars and converted to US Dollars for the purpose of this article using a conversion rate of C$1.0 = US$0.92
Shares trading significantly below the median price target can be viewed as having a greater potential than shares trading close to this target and values in column "median-price" can give some indication on the potential of a stock. A diagram visualizing this difference between the medium price target and the current share price is given below.
We would like to caution that this way of thinking does not apply for companies that have had significant events moving the share price in recent times since analysts will take their time to update their data accordingly.
According to analysts Bear Creek Mining continues to have the greatest potential of the companies included in this review. Shares of this company are trading more than 100% below the median price target. This company is still an explorer so the risk profile differs from producing companies in our watch list. Fortuna Silver Mines also currently trades more than 70% below the median price target.
Unchanged from last month is PanAmerican Silver bringing up the rear and trading with very little upside as far as analyst targets are concerned.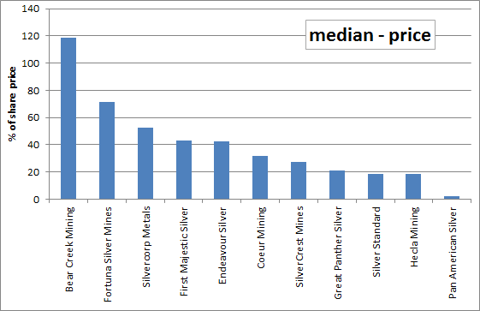 The difference between the high and the low targets represents a measure for the divergence in analyst opinions. Column "high-low" documents this difference and the diagram below visualizes it.
This divergence in analyst targets is still greatest for Coeur Mining and remarkably small for Great Panther Silver and Silvercrest Mines.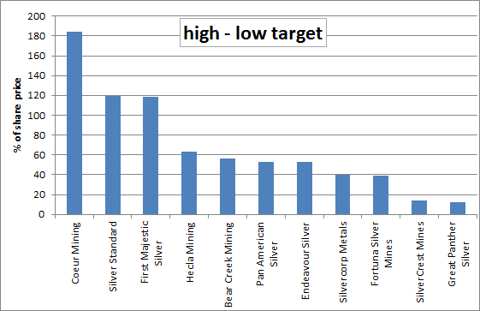 Column "target change average" lists the average change in price targets during the past month and the diagram below illustrates them.
Targets for all companies were cut during the past month, with the notable exceptions of PanAmerican Silver and Silver Standard. On average targets were lowered by -4.1% with Silvercorp Metals and SilverCrest hit the hardest.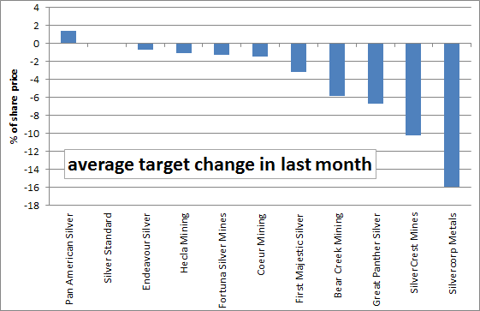 The final diagram illustrates column "Recommendation" from the table above. The little red bars in this diagram indicate changes in analysts' recommendation from last month.
Fortuna Silver and joined First Majestic Silver still lead the charge in this ranking; and PanAmerican Silver has joined Coeur Mining and Silvercorp Metals in jointly bringing up the rear.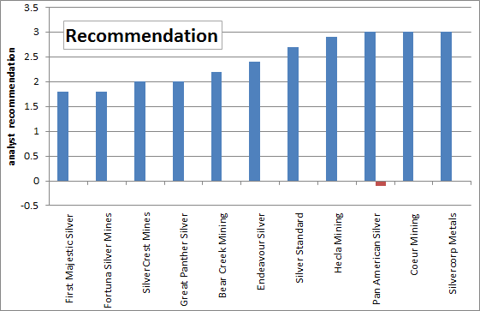 Passing Shot
We would like to wish all silver investors a prosperous new year 2014. Thank you for dropping by, and if you have enjoyed this review you might also be interested in a similar article on gold miners that can be found here.
Disclosure: I am long AG, EXK, SVLC, HL. I wrote this article myself, and it expresses my own opinions. I am not receiving compensation for it (other than from Seeking Alpha). I have no business relationship with any company whose stock is mentioned in this article.