Reevaluating where my money was going heading into 2014, it was the first time I considered Intel (NASDAQ:INTC) as an investment. As a former (and somewhat still) Apple (NASDAQ:AAPL) cultist, Intel was always viewed by me as the enemy in the 90's and 2000's due to their exclusivity for PC's that ran Microsoft's (NASDAQ:MSFT) operating systems.
Then, something changed. Apple started using Intel processors years ago and slowly, the disassociation between the two companies started to dissipate. As someone that's always quick to point out Apple as an investment, it's funny that I've never really looked at Intel before. It's only since I've noticed a few respected SA contributors are constantly bullish on it that I took a look a few weeks ago.
While it's technically up 16% in the last 12 months, Intel is somewhat of a quagmire - bouncing up and down between $19 and $27 for the better part of three years now. Over the last six months, however, investors have fared a bit better - yielding about 13%. Intel's P/E of 13ish puts it roughly in line with other hardware makers like Micron (NASDAQ:MU), Cisco (NASDAQ:CSCO) and Qualcomm (NASDAQ:QCOM).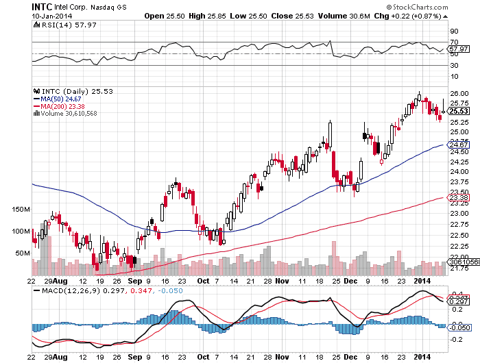 Today, I'm long Intel - and here's the 5 reasons that I took the position.
1. Intel Has Staying Power
With $8.4 billion cash on hand to do its business with and $51 billion in shareholder's equity, Intel is a company that isn't going anywhere. The company has a price/book ratio of 2.29 and has posted profits of $33 billion in the last twelve months. The company has increased its debt position over the last three years, but is more than capable of handling the $33 billion in liabilities on the books.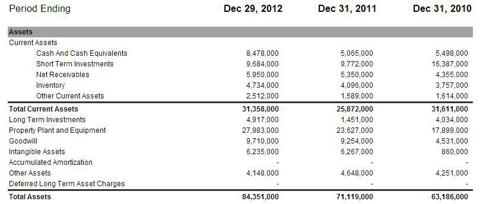 2. Intel Pays a Decent Dividend
Despite the stock not moving a ton, Intel continue to raise its dividend, thereby increasing its dividend yield. Right now, Intel pays a handsome 3.52% dividend in the form of $0.22/share.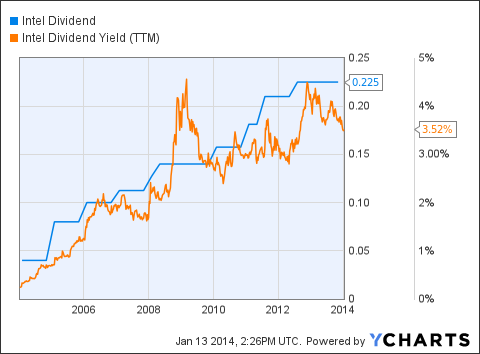 INTC Dividend data by YCharts
3. Intel Trades at a Nice Multiple
Intel has consistently traded near a P/E of around 13 for the past few years. Unlike many other companies that have inflated P/E ratios due to the macro market bullishness, Intel remains a stock that investors keep "roped in", and is no way too expensive from a fundamental standpoint.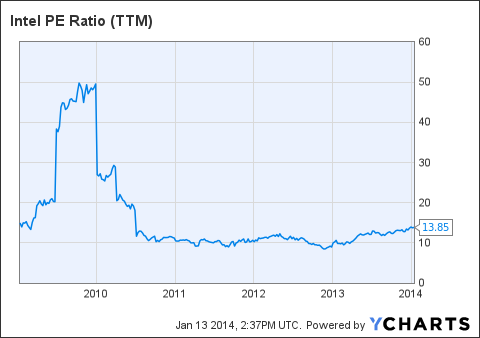 INTC PE Ratio (TTM) data by YCharts
4. The PC Market Has Bottomed
Years ago, my argument would have been that Intel is screwed for solely supporting PC's and not Macs. Now, with both platforms in its pocket and the PC market bottoming, Intel will likely benefit. It was reported days ago that the PC market seems to have bottomed, according to International Business Times UK:
Worldwide PC shipments fell by 10% during 2013, marking the worst yearly decline in the market's history - but there could be a light at the end of the tunnel, as analysts claim the drop has "bottomed out," with the market soon to stablise.

Shipments fell by 6.9% to 82.6 million units in the fourth quarter of 2013, but analyst firm Gartner, which has been tracking the industry since the 1980s, believes the worst could well be behind it.

"Although PC shipments continued to decline in the worldwide market in the fourth quarter, we increasingly believe markets, such as the US, have bottomed out as the adjustment to the installed base slows," said Mikako Kitagawa, principal analyst at Gartner.
I spent my last article on Apple screaming from rooftops that Mac is going to be Apple's secret weapon in the coming quarters. As long as Intel can keep Apple locked up, they will benefit from the PC market.
5. The Short Position Could Make for a Catalyst
Intel's short position has grown exponentially over the last few years and positive earnings in 2014 from the company could do well to squeeze out these shorts and move the stock up. Additionally, perpetual human Intel article mill Ashraf Eassa sees the same opportunity. And, Ashraf knows the semiconductor industry the same way that I know vodka martinis with bleu cheese stuffed olives - very, very well.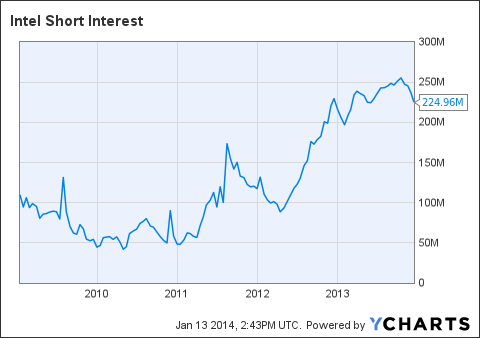 INTC Short Interest data by YCharts
Conclusion
Okay - Intel's results over the last few years from a stock perspective have been anything but a grand slam. But, what Intel is as an investment is safe.
And, for the purposes of the money that I invested in it - that's what I wanted. A safe dividend payer in the technology sector that has a chance to grow for bonus yield.
Best of luck to all investors.
Disclosure: I am long INTC, . I wrote this article myself, and it expresses my own opinions. I am not receiving compensation for it (other than from Seeking Alpha). I have no business relationship with any company whose stock is mentioned in this article.