Editors' Note: This article covers a stock trading at less than $1 per share and/or with less than a $100 million market cap. Please be aware of the risks associated with these stocks.
Friday on the OTC was pretty much a repeat of the day before, at least with respect to which category of stocks held the top position for the most number of trades. What was different, compared to Thursday, was that the numbers were all in the red. Here a quick summary of the action the leading issues by number of trades.
Growlife Inc. (OTCQB:OTCQB:PHOT)
Cannabis Science, Inc. (OTCQB:OTCPK:CBIS)
GreenGro Technologies, Inc. (OTCPK:OTCPK:GRNH)
Hemp, Inc. (OTCPK:OTCPK:HEMP)
Medical Marijuana, Inc. (OTCPK:OTCPK:MJNA)
Medbox, Inc. (OTCPK:MDBX)
This article is going to look at some of the specific data associated with Friday's trades, show that it is retail investors and not institutions, private equity, or business development is driving these trades, expose a particular risk that is pretty systemic in low priced OTC stocks, and highlight some questions individual investors should be asking.
Up In Smoke
Normally, when a particular stock, sector, or index drops by 10% to 15%, commentators will say that it has "corrected." If there is a significant drop of 25% or more in a short period of time, those same commentators will say that the issue has "crashed." So, take a look at the graphic below and determine if any of these have "corrected" or "crashed".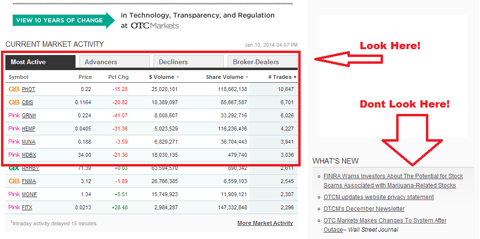 This level of volatility can be nerve wracking, and is not the norm for most exchange listed issues. Its only a norm for thinly traded, or illiquid stocks and low priced stocks such as these. So, we will not put much emphasis on Friday's price decline; for now. First, lets look at an illustration describing a market and ask a few questions.
An Illustration of a Market
Imagine that you are in the market for a car, and you decide to go to the largest auto auction in the world. There are many people there just like you, plus professionals who are experts in the industry. There is also every type and style of car imaginable. In one area, there are some models that you are interested in, perhaps because of style or fashion, and the prices are awesome. A couple hundred for this one, a bit more for another, but for the most part, they're cheap as can be, and you are sure that one of these is the car for you. Oh how far it will take you! And you're not the only one. There's a bunch of people just as excited as you are; a real race car for some, a dream car for others, the opportunity still others have been waiting for.
Now, as you are standing there, pro after pro comes strolling by. These are the big dogs, the fat cats, the connected, in the know buyers; and like it or not, they make their living off this stuff. Some of them have teams with them, and one after another they go over these cars; getting under the hood, checking out the pieces parts, rolling a crawler underneath to check them out. And you notice, one after another, they turn and walk away. Not a single one of them buys or even makes a bid on one of these cars. Do you think it's a good idea to buy if they're not? Do you think that you are smarter than these pros? Do you really think that your expectations are going to be met?
Anyway, to get back on track, let's take a look at Friday's action in these stocks. What can we reasonably deduce from the information presented?
Friday's Market Data
| | | | | | | | | | |
| --- | --- | --- | --- | --- | --- | --- | --- | --- | --- |
| Ticker | # Trades | Total Volume | Average Volume December 2012 | Average Volume Now | Float | %Float | Price | Average Trade $$ | Average Trade Volume |
| PHOT | 10647 | 118688738 | 13700000 | 77940000 | 711855833 | 16.67% | $0.2190 | $2,441.33 | 11147.62 |
| CBIS | 6701 | 85667587 | 2580000 | 66790000 | 761323906 | 11.25% | $0.1164 | $1,488.09 | 12784.3 |
| GRNH | 6026 | 33393746 | 539000 | 28420000 | 150965723 | 22.12% | $0.2240 | $1,241.32 | 5541.611 |
| HEMP | 4227 | 116236436 | 9900000 | 87030000 | 1649949387 | 7.04% | $0.0405 | $1,113.69 | 27498.57 |
| MJNA | 3941 | 36704443 | 14800000 | 45170000 | 947607961 | 3.87% | $0.1880 | $1,750.94 | 9313.485 |
| MDBX | 3036 | 479740 | 7100 | 565300 | 14475375 | 3.31% | $34.01 | $5,374.16 | 158.0171 |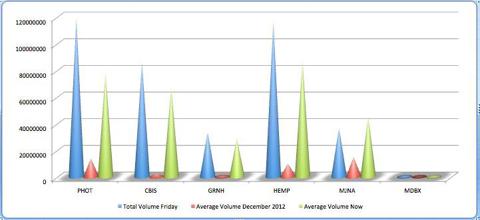 As you can see, interest in these stocks has skyrocketed. Look at those tiny little blips that indicate the 10 day volume moving average at the beginning of December. Remember that by then, elections were over, and decisions were made, and those big boy fat cat pros knew where the story was going. Now, we see the recent volume, and the 10 day volume moving average and have to ask, where was this interest back then? Were they slow to see the potential? Or, did they just miss it outright?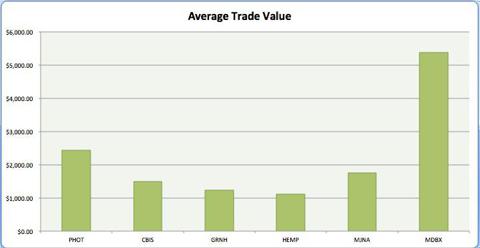 Now, let's take a look at the dollar volume of the trades on Friday, and how that compares to an average per trade dollar volume; most hovering just over $1,000. Interesting when you consider that those big boys, the in the know banksters, with their uber-staffed research departments have access to multi-billion dollar portfolios. One would think if they were responsible for this kind of action that average trade dollar amounts would be much higher. So, that begs the question: Is there are ANY institution players in the mix at all? Or, is this just all retail investors piling into the trade?
Is it realistic to think that institutional investors would only be taking a position in $1,000 increments, or is that a dollar value more aptly attributed to retail investors? One would think that if an institution was taking a position in a stock, they would be directing 100 to 1000 times that, or more. So, I think it is safe to assume that these trades cannot be attributed to the likes of investment banks or other institutions. Some might try to argue differently, but years at the trading desk have taught me more.
Understanding The High
I remember an occurrence a few years back that involved a pink sheets stock and an over abundance of retail investors. It was a company called Sponge Tech. (Soap in a sponge? Brilliant! How could that not succeed?) When the trade unwound, and retail investors rushed in to sell their stock, the market froze. The wild wild west of the OTC left them panicked with market sell orders piled up and no buyers willing to step in. Imagine being in their shoes, with your sell order queued up, millions of shares ahead of you, waiting and watching as the price ticked down down down. They were not happy campers, and I don't blame them, but on the other hand, I have no empathy either. They bought a story, and gambled on a dream. Such is life.
That's the high that you need to look out for. Not the surging stock price, or the number of penny stock emails, glossy flyers, or number of posts on Yahoo or Investors Hub boards. In most every occasion, when it comes to low priced, thinly traded OTC stocks, the selling high is much more in magnitude than the buy high.
Conclusion
It is one thing to take a bit of risk with one's portfolio, but quite another to gamble a significant portion an a wing and a prayer. I've made a case for doing extra due diligence in these companies in my previous article, and suggest that if you have not read that one yet, to go back and review it. There have been past articles that provide more in depth analysis on some of these companies, and the lion's share have been bearish. As a matter of fact, when my previous article was released last Friday, so was a bearish review on one of these stocks. And, I fear it will not be the last.
Everyone has different investment objectives, risk tolerances, and expectations. I would suggest taking a careful inventory of these three things and ask the question, "Am I being reasonable?" I'm still not going to state an individual buy/sell opinion on any of these stocks. But I don't really think I have too. Retail investors will do as they wish, as is their right. And, as long as they go in with full knowledge of what they are doing, success or failure lays solely on their shoulders.
Even if they have been warned.
Caveat Emptor!
Disclosure: I have no positions in any stocks mentioned, and no plans to initiate any positions within the next 72 hours. I wrote this article myself, and it expresses my own opinions. I am not receiving compensation for it (other than from Seeking Alpha). I have no business relationship with any company whose stock is mentioned in this article.
Additional disclosure: This information is not investment advice, nor is it a suggestion to either buy or sell any of these securities. Retail investors should do their own research and fully understand the risks associated with these companies.