By Anthony Dayrit.
The trucking industry hit a number of major potholes in 2009. The struggles of the United States economy caused freight volumes to plummet at the end of 2008, resulting in significant overcapacity and intense pressure on trucking rates. In our last trucking Stock Strategist, we discussed the major obstacles that carriers were facing: Weak demand and excess capacity, which lead to intense competition. These factors remain in today's environment, but volumes appear to be recovering, which may help tighten the market and eventually boost pricing. It's difficult to pinpoint when the market will reach equilibrium, but we will describe a few short-term trends to give our take on where the industry is headed. We will also share insights from company visits, highlighting a few approaches carriers are taking to prepare for the future.
Volumes Improving, but Weak Pricing Makes for a Bumpy Short-Term Lane
Truckers started 2009 on a steep downhill slope, because the American Trucking Association's seasonally adjusted For-Hire Truck Tonnage Index plunged 7.8% sequentially (12.5% year-over-year) during December 2008--the largest month-over-month decline since April 1994. Year-over-year declines remained in the 10%-13% range through the first half of 2009, but lessened during the back half of the year. Based on the ATA data and carriers' results, we estimate that volumes bottomed sometime around the end of the summer of 2009. The index ended the year on a strong note, as December tonnage increased 1.3% sequentially and recorded a 1.2% increase from 2008 levels--the first growth since September of 2008. For the full year of 2009, the tonnage index finished down 8.7% from 2008 levels. (Click charts to enlarge)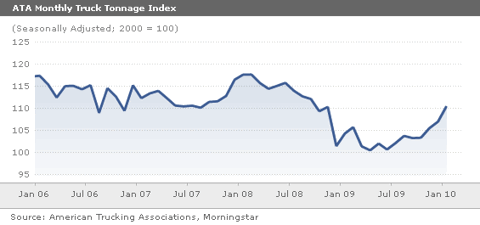 The ATA index increased 3.1% sequentially in January 2010, and tonnage expanded 5.7% from January 2009 levels. Although volumes are staging a modest recovery, overcapacity and the resulting pricing pressure remain paramount concerns for the industry. A number of carriers exited the market through 2009, but the level of bankruptcies hasn't outpaced the drop in demand. We believe lower fuel prices and the fact that banks have been reluctant to repossess tractors in a weak used-truck market have contributed to the overcapacity and pricing problem, but the timing of a demand recovery is the primary issue in determining when pricing will improve. Based on carriers' recent results, we don't expect to see significant progress on the pricing front until at least the second half of 2010.
We think the current pricing problem in the market illustrates just how challenging the trucking industry can be. The truckload market in particular is a highly fragmented landscape rife with smaller players, and we estimate that the public carriers make up less than 10% of the entire market. Although carriers provide varying levels of service, we still view truck freight hauling as a commodity service with low switching costs. We believe these factors make it difficult to establish an economic moat through pure trucking operations.
Truckers Gear Up for the Long-Term Highway Ahead
While we believe most trucking firms we cover are currently fairly valued, we note a few different strategies carriers are taking as they plan for the future. J.B. Hunt (NASDAQ:JBHT) is reducing the size of its pure truckload operations, opting instead to focus on building its intermodal franchise, as well as brokerage and dedicated services. Con-way (NYSE:CNW), one of the largest less-than-truckload carriers, is attempting to take market share by introducing a pricing system that will position its LTL operations to compete against the truckload sector. Lastly, Heartland Express (NASDAQ:HTLD) is simply sticking to its guns and continuing to execute its short- to medium-haul regional model as efficiently as possible. With freight demand highly leveraged to the health of the U.S. economy, firms can't hide from the recession, but we think these three may withstand future cyclical downturns better than their peers.
J.B. Hunt Looks to the Rails
Of the eight trucking firms we cover, J.B. Hunt is the only company to which we assign a narrow moat. The firm generates about half of its revenue from intermodal hauling, where it transports shipments between customers' docks and railroad yards. Intermodal services aren't immune to economic downturns, but provide customers with a more cost-effective option than truckload hauling. With oil prices at around $80 per barrel, in addition to paying lower base rates, intermodal shippers pay a fuel surcharge of around $0.17 per mile, which is about half of the truckload fuel surcharge of $0.34 per mile. J.B. Hunt's partnership with railroad Burlington Northern Santa Fe (BNI) affords preferential rail ramp access and positions J.B. Hunt personnel at BNSF sites. In addition, when we attended the firm's investor conference in November 2009, the company announced a similar partnership with railroad Norfolk Southern (NYSE:NSC), which will increase J.B. Hunt's presence in the Eastern states. J.B. Hunt remains a cut above the rest of its asset-based trucking peers, and we believe its intermodal forte gives it a sustainable competitive advantage. The company's performance has improved as it has increased its intermodal operations, and returns on invested capital have improved from a mid-single-digit percentage in 2001 to the midteens in recent years.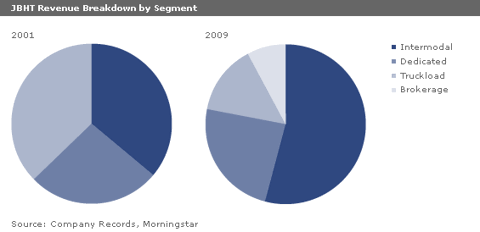 J.B. Hunt also aims to expand its dedicated service and brokerage offerings, and we think this will reduce its exposure to the challenging pure-truckload market. The company's dedicated segment provides value-added services such as specialized hauling, replenishment services, and final-mile delivery. While these offerings are less commodified than normal dedicated trucking due to the high-value nature of the freight being hauled (for example, refrigerated cargo and flat-screen televisions), not all customers require higher levels of service. Still, dedicated services may help the firm establish longer-term contracts with shippers, providing added volume during times of weak demand. J.B. Hunt also is investing in its brokerage segment, a recent trend common among asset-based carriers, including Knight Transportation (NYSE:KNX) and Werner Enterprises (NASDAQ:WERN). Although this business provides a high return on capital due to its asset-light nature, we think it will take time for new entrants to build up their networks to critical mass, and we doubt new brokers can achieve the important scale offered by rival industry juggernauts C.H. Robinson (NASDAQ:CHRW) and Landstar System (NASDAQ:LSTR).
Con-way Targets the Truckload Sector with True LTL Pricing
Con-way is one of the largest players in the less-than-truckload sector, and we view it as a solid operator. That said, the company competes with a number of formidable players, including FedEx (NYSE:FDX), United Parcel Service (NYSE:UPS), and YRC Worldwide (NASDAQ:YRCW). The less-than-truckload market is more concentrated than the truckload space and barriers to entry are higher because firms must establish a network composed of hundreds of service centers. However, LTL shipping remains a difficult business because firms need significant freight density to run through their networks in order to cover the fixed costs of operating numerous facilities.
Similar to other carriers, Con-way has been growing its brokerage segment. However, the firm also has commenced the intriguing strategy of taking share from the truckload market through its True LTL pricing system. During our visit to Con-way's Freight headquarters in August, we discussed this program with CFO Stephen Bruffett. True LTL ensures that an LTL shipment (any load that can fit inside a 28-foot "pup" trailer) will not be priced higher than a truckload shipment. In the past, truckload shipping often provided a cheaper, more direct alternative to shippers who needed a heavy LTL load shipped, constraining the size of the LTL market. We believe this strategy has the potential to be a significant revenue source over the long term, because the LTL market is significantly smaller than the truckload arena. Con-way's management estimated that the LTL sector generated revenue of around $35 billion in 2008; in contrast, the for-hire truckload market generated around $200 billion, with private fleets contributing an additional $200 billion. Although competitors such asOld Dominion Freight Lines (NASDAQ:ODFL) enacted similar pricing initiatives before Con-way, the firm believes that as much as 40% of the $200 billion for-hire truckload market could be available to LTL carriers.
Heartland Express Sticking to its Bread and Butter
In contrast to carriers that are diversifying their service offerings, truckload firm Heartland Express is concentrating on what it knows best: Running one of the most cost-efficient and profitable fleets in the industry. During our February management visit at the firm's headquarters in North Liberty, Iowa, we identified no secret to the firm's solid operations, but rather, observed a culture that looks to eliminate unnecessary expenses with great vigilance. The company focuses exclusively on the short- to medium-length of haul market, operating no refrigerated, dedicated, or brokerage services. With an average length of haul around 450-500 miles (a legal day's drive), Heartland cuts down on extra costs that accompany out of route and unpaid empty miles. As shown below, Heartland's operating ratio (operating expenses as a percentage of revenue) including fuel surcharge consistently bests its truckload peers. We attribute this outperformance to management's acute attention to controlling costs. More impressively, even with leading operating margins, the company compensates its drivers handsomely--a Heartland driver with around three years of experience typically makes $0.46 per mile, a 31% premium over the industry average of $0.35 per mile.


Although we don't see obstacles preventing competitors from imitating Heartland's model, established firms may find replicating Heartland's culture to be difficult because other truckers likely would need to scale down service offerings in order to concentrate on the niche regional model. The firm has ample potential for long-term growth, because only two of its eleven regional facilities are located in the western U.S., with one in Phoenix, Ariz., and one in Dallas, Texas. We think Heartland's debt-free, cash-rich balance sheet affords options other truckers cannot pursue, like stocking up on several hundred tractors when truck makers are discounting heavily amid the lowest sales level in the past 30 years. Heartland's incredibly young tractor fleet (average age of 1.6 years) keeps driver satisfaction high, reduces maintenance expenses, and preserves fuel economy.
What to Expect in 2010 and Beyond
The burning question of when industry supply and demand will reach equilibrium remains a key issue in the minds of carriers and investors alike, and we believe 2010 will finally put an end to a tough past few years. We've heard a number of positive reports out of the sector thus far during the first quarter, including the American Trucking Associations' January reading as well as an optimistic update by third-party logistics provider Landstar (see our Analyst Note dated March 3, 2010). We expect to see continued sequential volume improvement in first quarter results, and it's possible that a few carriers will report year-over-year volume increases. We also plan to get a better gauge on how much capacity has tightened by looking at the progress made on rates. In addition to the firms we've discussed above, we also highlight Knight Transportation as a solid performer that has weathered the downturn relatively well. We believe the key to success in the trucking arena is the ability to navigate the booms and busts of cyclical demand, and we think these firms will be able to continue this record for years to come.
Disclosure: Morningstar licenses its indexes to certain ETF and ETN providers, including Barclays Global Investors (BGI), First Trust, and ELEMENTS, for use in exchange-traded funds and notes. These ETFs and ETNs are not sponsored, issued, or sold by Morningstar. Morningstar does not make any representation regarding the advisability of investing in ETFs or ETNs that are based on Morningstar indexes.