Many think of the commodity and natural resources industry as a dirty and behind the times area to invest. That could not be further from the truth as companies routinely deploy the latest in supply chain tech and computer modeling in order to cut costs, increase efficiency and improve safety. Not all of the advances take place at the front end of the production process. In fact more and more the advancements are taking place on the products created from the commodities. Case in point is today's announcement from Ford to utilize an aluminum alloy for its popular F-150 pick-up truck that will increase its fuel economy and cut down on weight.
Chart of the Day:
Readers should avoid the SPDR Gold Shares (NYSEARCA:GLD) as gold is still in a downtrend, even with the recent rally off of support of $1,200/ounce. This might be a bear market bounce to bring in the bulls right before a new leg down.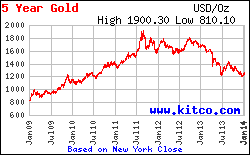 Source: Kitco
Commodity prices this morning are as follows:
Gold: $1,249.50/ounce, up by $2.60/ounce
Silver: $20.285/ounce, up by $0.062/ounce
Oil: $91.97/barrel, down by $0.75/barrel
RBOB Gas: $2.6525/gallon, down by $0.0166/gallon
Natural Gas: $4.238/MMbtu, up by $0.185/MMbtu
Copper: $3.35/pound, up by $0.0085/pound
Platinum: $1,441.80/ounce, up by $4.90/ounce
Aluminum Gain
With the news that Ford (NYSE:F) is set to switch to an aluminum body for its F-150 that will make the vehicle's overall weight decrease by 700 pounds investors in names such as Alcoa (NYSE:AA) should rejoice. Although the move is just a first step, it could lead to much bigger things down the road, not just for Ford but the entire industry.
The fight between steel, aluminum and plastic makers for space on vehicles has been ongoing. Over the years the alloys have become more exotic as vehicle manufacturers look to cut down on vehicle weight as the easiest means to increasing fuel mileage. The fact that Ford wants to use military grade aluminum on its most popular pick-up which is built to be tough and abused on work sites says a lot and paves the way for the company (and possibly the industry) to adopt the material for other large vehicles to cut down on weight. Executive Chairman Bill Ford laid out that scenario in a Reuters article (located here), so this first rollout will be important and have ramifications for commodity names - thus it demands our attention moving forward.
Could increased aluminum demand from automobile manufacturers be the spark that Alcoa investors have been waiting for to give the most recent rally staying power?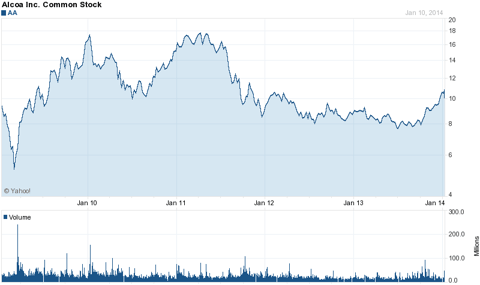 Source: Yahoo Finance
Precious Metals
The talk of gold being back is not only premature but probably best summed up by saying the rumors of its rebirth have been greatly exaggerated. First we saw gold/gold equities rally as investors sought exposure heading into the new year after tax loss selling. Then the yellow metal has risen as investors fear that the economy is going to perform worse than previously expected. Now although we do think the latest jobs figures were atrocious when compared to what was expected, it is still our belief that the US economy will grow strongly in 2014 followed by the rest of the world.
This is no reason to be buying right now thinking that a fortune is going to be made, whether you are bearish or bullish. The main reason is that it appears to us that no matter how one looks at the situation it will not get bad enough to create a spike in gold on fear alone, nor so good that gold rallies on inflation fears. We have tried to convey these thoughts over the past few months and discuss individual companies but readers continue to ask about names such as Silver Wheaton (SLW) and Yamana Gold (NYSE:AUY) as plays on either fear or inflation.
If one has to have exposure to precious metals, then silver is one of the few bright spots because of the rise in demand the metal sees during good economic times due to its industrial uses. We would prefer it to be via the physical metal, but Silver Wheaton is a lesser evil than other options but further from a silver pure-play today than it was a year ago with their added gold exposure.
Disclosure: I have no positions in any stocks mentioned, and no plans to initiate any positions within the next 72 hours. I wrote this article myself, and it expresses my own opinions. I am not receiving compensation for it (other than from Seeking Alpha). I have no business relationship with any company whose stock is mentioned in this article.
Additional disclosure: The Author owns physical silver coins as a long-term investment.