Editors' Note: This article covers a stock trading at less than $1 per share and/or with less than a $100 million market cap. Please be aware of the risks associated with these stocks.
When searching for my best ideas, I often focus on looking for asymmetrical risk/reward opportunities. I have already written about a few of my favorite and least favorite ideas for 2014. In this piece, I will articulate why Cameco Corp (NYSE:CCJ) is my favorite commodity stock for 2014.
Company Background
CCJ is the largest publicly traded uranium producer. In total, CCJ accounts for about 14% of world production. CCJ has operations is Canada, the U.S., Australia, and Kazakhstan. CCJ has 465 million pounds of proven and probable uranium resources.
The Uranium Industry Today
The uranium industry has been under heavy pressure since March 11, 2011, the day that a massive earthquake and tsunami struck Japan resulting in a disaster at the Fukushimi Daiichi nuclear power plant. Fukushimi reminded everyone of the risks posed by nuclear power and had numerous impacts on the industry. Japan temporally shut down its nuclear power plants; Germany announced plans to phase out nuclear power by the end of 2022; and plans to build new nuclear power plants were re-evaluated in China. In response to the uncertainly surrounding the future of nuclear power, the driver of uranium demand, uranium prices fell 50% from over $70 to under $35. The precipitous drop in uranium prices led to sharp declines in all uranium related plays such as Uranerz Energy (NYSEMKT:URZ), Denison Mines (NYSEMKT:DNN), Uranium Resources (URRE), and CCJ.
Fears Are Easing
Fears about nuclear energy have gradually receded over time. In fact, fears about nuclear energy have receded so far that Japan recently announced that idled plants will resume operation soon. Construction has also resumed on nuclear energy facilities in China. In another sign that fear about risks related to nuclear energy have eased, the U.S. has also approved its first new reactor since 1978. Simply put, nuclear energy is not going away.
Uranium Demand Fundamentals
By 2022, as shown by the chart below, CCJ expects 90 new reactors to be running. This is a significant increase from the current 432. CCJ expects total demand to increase to 220 million pounds by 2022 from the current 170 million pounds.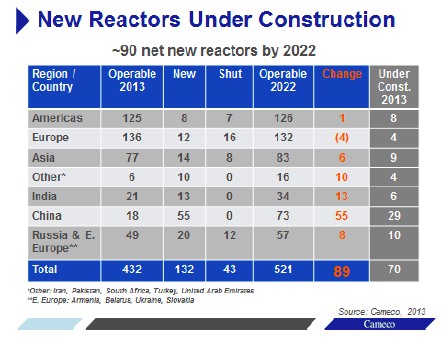 Uranium Supply Fundamentals
Currently, the annual demand for uranium is about 170 million pounds. Interestingly, of this amount, only 158 million pounds is produced from primary production. About 12 million pounds comes from secondary sources such as the megatons to megawatts program. Due to the recent drop in uranium prices, expensive mining projects have been delayed or abandoned; the response from the uranium mining industry to falling prices should bode well for future prices as supply will be more limited.
Megatons to Megawatts Ends
December 2013 marked the final shipment of uranium from Russia to the U.S. under the megatons to megawatts program. While Russia will continue the program to some extent on its own, with no commitment to exporting material to the U.S., the amount of uranium processed will fall considerably. A change in the amount of uranium that is supplied by Russia could lead to a rise in the uranium price in the near future.
Cigar Lake Mine
CCJ says that it expects its Cigar Lake mine to come on line by mid 2014. Cigar Lake is considered a Tier 1 mine and uranium unit production cost is expected to be as low as $18.60 per pound. This cost is well below current markets prices and thus CCJ should see a boost to earnings.
Valuation
As shown by the charts below, based on both the forward PE ratio and price to book, CCJ is relatively cheap compared to historic norms. In the not to distant past, CCJ traded at 35 times forward earnings and 3.5 times book value. Today, CCJ trades at 17 times forward earnings and 1.6 times book value. The low valuations suggest that the market has been focused more on the short-term story than the more bullish long-term story. The low valuation is important as it means risk is somewhat lower that it would be if the stock was trading at high valuations.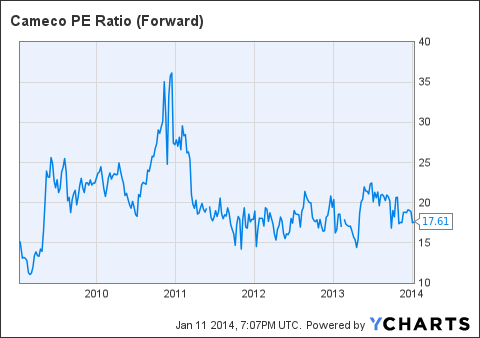 CCJ PE Ratio (Forward) data by YCharts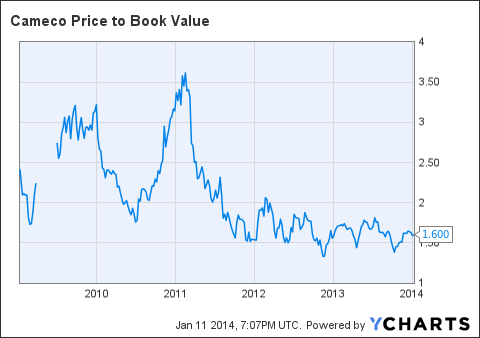 CCJ Price to Book Value data by YCharts
Conclusion
From a risk point of view, I believe the risk facing CCJ are quite limited. After a steep fall in uranium prices, I think it is unlikely that uranium prices will fall much from current levels. Contrastingly, I believe uranium prices could see significant upside as the launch date for new nuclear facilities approaches and secondary supplies fall. Finally, the upcoming start to production as Cigar Lake also has the potential to be an important driver of CCJ shares through 2014.
Disclosure: I am long CCJ, . I wrote this article myself, and it expresses my own opinions. I am not receiving compensation for it (other than from Seeking Alpha). I have no business relationship with any company whose stock is mentioned in this article.