Enstar Group Ltd. (NASDAQ:ESGR) showed up on my insider selling screen. Insider selling doesn't have the same value in predicting future returns as insider buying. In general it doesn't. However George Muzea; insider buying researcher, explains in his book: The Vital Few vs The Trivial Many, insider selling carries more weight when a stock has been declining in price in the recent past. For example, over the last six months Enstar Group has been losing ground: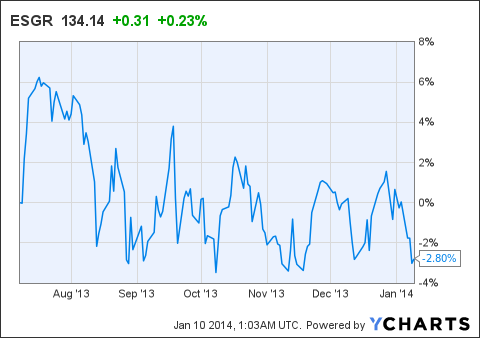 Company Profile
Enstar Group Limited acquires and manages insurance and reinsurance companies in run-off and portfolios of insurance and reinsurance business in run-off. The company also provides management and consultancy services, claims inspection services, reinsurance collection services, and other services to the insurance and reinsurance industry. It serves multinational company clients in Bermuda, the United States, the United Kingdom, Australia, and Europe. The company was formerly known as Castlewood Holdings Limited and changed its name to Enstar Group Limited as a result of its merger with The Enstar Group, Inc. in January 2007. source: Yahoo Finance
Insider Selling
One caveat in regard to Enstar Group is that its stock didn't even decline all that much in the past six months. Mainly because of the huge spike in August, I think it does feel that way to insiders. Muzea doesn't specify the reason that insiders selling into market weakness is a much stronger signal than insider selling in general, however I suspect it might be as simple as not wanting to take paper losses.
Just like regular investors insiders don't like to take losses on something that was worth more just a month ago. They will resist selling and increase their appetite for risk, causing them to hold on.
However if more losses are likely to materialize, the insider will still sell at least if he or she is legally allowed to do so.
So far this year a few insiders like Robert J. Campbell (Chairman), T.Whit Armstrong (Director) and Charles T.Akre (Director) have made token purchases of a few shares.
Yet Paul J.O Shea (NYSE:COO) and Nicholas A. Packer (Joint COO) have sold large blocks of shares, approaching $1.5 million worth of shares.
Admittedly not an extreme dollar figure especially considered their salaries are over $3 million. But in addition to their selling CFO Richard J. Harris decreased his holdings by over 20% TTM. Decreasing his holdings by several million dollars as well.
Smart Money Selling
Examining the institutional and other smart money that is invested in the stock I quickly noticed an important name that is exiting the stock.
-James Christopher Flowers
James Christopher Flowers is a private equity investor focused on the financial services industry. Mr.Flower only invests in financial companies and makes huge concentrated bets. Flowers was born in California and grew up in Wayland, Massachusetts. Forbes has him pegged as the 322th richest American. A fun detail, to me as a Dutchmen, is that he also owns a stake in the Dutch bank NIBC.
Weakness in Financials
Flying blind, except on smart money signals, is not something many investors enjoy. That's why I've also examined the financial history of the company.
| | | | | | | |
| --- | --- | --- | --- | --- | --- | --- |
| Enstar Group Ltd. | TTM | 2012 | 2011 | 2010 | 2009 | 2008 |
| net income (x $ million) | 141 | 168 | 154 | 174 | 135 | 82 |
| shares (x million) | 17 | 17 | 14 | 14 | 14 | 14 |
| book value $ | 97,3 | 94,29 | 84,56 | 73,29 | 59,05 | 46,19 |
Development of book value is progressing nicely but this is contrasted by net income that has been dropping for years on end. The number of shares outstanding are also increasing, not always a good thing for current shareholders. To get some additional insight into management skill at buying back shares I created a graph where increases and decreases in outstanding share count are marked: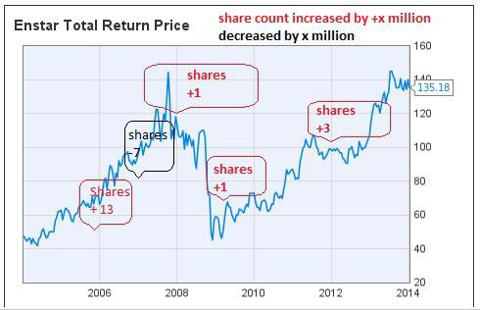 Conclusion
Reading insider and smart money can help make decisions but I wouldn't rely on just those signals by themselves. To gain additional information I also examined the companies financials and found some weaknesses, but not so much I'm excited to short Enstar. I could see myself shorting Enstar if I had my eye on a great competitor to buy. That way I could set up a pair trade and mitigate some of the sector/asset class risk.
Disclosure: I have no positions in any stocks mentioned, and no plans to initiate any positions within the next 72 hours. I wrote this article myself, and it expresses my own opinions. I am not receiving compensation for it (other than from Seeking Alpha). I have no business relationship with any company whose stock is mentioned in this article.