Last year was a great year to be invested in the market. A rising tide lifted nearly all boats and let's hope for more of the same this year. This is the first of hopefully several annual updates on the performance of the Future Dividend Portfolio.
The goal of the Future Dividend Portfolio is to maximize my dividend income starting about 10 years from now. I target the high dividend payers of ten years from now, looking for tomorrow's Walgreen's (WAG), IBM (NYSE:IBM) and Starbucks (NASDAQ:SBUX) - companies that a few years ago paid small or no dividends but are now well on their way to being solid dividend payers because of growth in their underlying business. This has two benefits - it reduces current taxes because of the low dividends currently generated by the holdings and it focuses on growth, which over time can produce much higher overall dividends.
Two Strategies
The portfolio utilizes two general strategies.
Focus on mid-cap growth stocks. This is the most important strategy. Small and mid-cap stocks have historically outperformed large-caps, and 2013 was no exception. While small-cap stocks may offer higher overall returns than mid-caps, I prefer mid-caps because they often have a longer track record and carry less risk. I don't have time to cover the entire market, but I think I can pick some winners in mid-caps. Within that universe, I focus on (1) business model/moat - can the business grow or will competition or technology cap future profits and (2) valuation. Because I have 10 years of runway on my side, I can afford to pay a 10-20% premium for a great mid-cap growth company as long as the business model/moat is solid. The goal is to find the large dividend payers of tomorrow. I do not include large cap high yielding dividend stocks (Johnson & Johnson (NYSE:JNJ),

Coca-Cola

(NYSE:KO), Procter & Gamble (NYSE:PG), etc) in the portfolio because of their low growth rates and current high valuations. In other words, the portfolio is designed to find doubles and triples rather than home runs or singles.
Selectively utilize a "roll-over" options method. This strategy involves selling long-dated naked in-the-money puts at a much higher strike price than the current trading price. I target great companies with low dividend pay-out ratios (e.g. Google (NASDAQ:GOOG), Walgreen's, IBM, Direct TV (NYSE:DTV), etc). The low dividend pay-out is important because it leaves these companies with more cash available to invest in the business or repurchase shares, each of which increases the share price over time. The proceeds from the sale of the options are typically used to purchase the underlying equity. The strategy is to roll over the puts until they expire worthless. This was the primary driver of the portfolio's profits in the rising market in 2013.
2013 Results
In 2013, the Future Dividend Portfolio returned 94.73% in value (including dividends, but excluding the effect of additional capital contributions). It was simply a fantastic year, but I am not expecting the same level of performance in 2014.
The results were primarily driven by the "roll-over" method. Puts on Baidu (NASDAQ:BIDU) with a $105 strike price were sold in mid-2013 for around $25 and expired worthless later in the year resulting in a 100% gain. Puts on Equifax (NYSE:EFX) with a $75 strike price were sold for around $15 in mid-2013 for a year-end unrealized 57% gain. When factoring in the expired puts, the BIDU position returned 173.6%.
Selling naked, deep in-the-money puts can really drive your portfolio in a strong market, particularly in a red-hot market like we witnessed in 2013. I'm not expecting that kind of performance this year, but that's the beauty of the "roll-over" method - whether the puts expire worthless in 2014 or 2020 isn't all that important as long as eventually they do. And in the meantime, you collect the dividends and return on the underlying equity purchased with the proceeds of the sale of the puts. That said, it's a risky strategy that must be used systematically and moderately to avoid having a capital call during a market dip (and you better have a very strong stomach for the dips).
In addition, a long position in Microsoft (NASDAQ:MSFT) was closed early in the year for a 30% profit. Other long positions were generally flat as they were established towards the later half of the year.
On the short side, 2013 was definitely a year where the tide lifted all ships. With the S&P 500 P/E ratio now at almost 19, I expect this year we'll finally start to see the ships with leaks actually start to sink. That's why the portfolio also contains several short positions, which are established through sales of deep in-the-money calls. Current shorts are RadioShack (NYSE:RSH), Herbalife (NYSE:HLF) and AngiesList (NASDAQ:ANGI). The short positions used to hedge the portfolio were basically flat in 2013 but I think leave the portfolio well hedged for any market dip going into 2014.
2013 Dividend Income
The current annual dividend yield for the portfolio is about 1.88% and I am targeting a 2.2% yield by the end of 2014. Those numbers are nothing to brag about, but I expect strong dividend growth next year. Equity Lifestyle Properties (NYSE:ELS) has announced a 30% increase in their dividend and I expect Equifax will announce a 15-20% increase to their dividend in early February. I am not expecting any meaningful dividend contribution from BIDU for at least the next five years or Yelp (NYSE:YELP) for at least the next seven years. Going forward, I will start recording yield on cost because I think that's a great measure of how well the portfolio is performing over time. If YELP continues its recent run, I may re-allocate a portion of that position into Avery-Dennison (NYSE:AVY), which I expect to be the next addition to the portfolio.
Overall 2013 Performance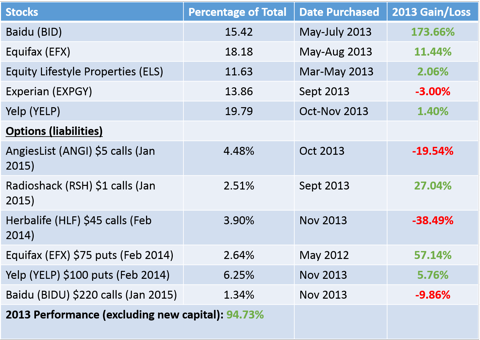 2014 Outlook
I think 2014 is shaping up to be another good year given the lack of any serious global issues on the horizon. On the long side, I expect quality mid-cap stocks to continue to outperform large dividend paying stocks. On the downside, I expect diverging performance as the businesses with weak fundamentals simply cannot maintain high P/E rates going forward.
Best trade idea for 2014 therefore is well-positioned pair trades that take long and short positions on the stronger and weaker businesses in the same industry. I expect the long YELP and short ANGI trade may perform very well in 2014. There are several similar trades in the retail industry that look interesting right now, including long Best Buy (NYSE:BBY) and short Conn's (NASDAQ:CONN).
Disclosure: I am long BIDU, EFX, ELS, EXPGY, YELP, . I wrote this article myself, and it expresses my own opinions. I am not receiving compensation for it (other than from Seeking Alpha). I have no business relationship with any company whose stock is mentioned in this article.
Additional disclosure: I am short RSH, ANGI, HLF