I'm going to give Advanced Micro Devices (NASDAQ:AMD) the benefit of the doubt going into 2014. This is because AMD's desktop strategy seems to have strengthened a little, and its upcoming (Q2 2014) line-up of server CPUs (Warsaw 12-16 cores) may drive market share gains.
Granted the real story for 2013 were customized graphics solutions, which gave AMD a monopoly on console gaming. AMD expects consolidated 5% sales growth, for the fourth quarter. AMD is also making headway in the GPU market.
Over the long-term I expect AMD to transition into a low cost provider that can depend on higher volumes to generate earnings growth. I'm not going to bother posting benchmark statistics between AMD and Intel CPUs, because everyone knows that Intel (NASDAQ:INTC) is slightly better and substantially more expensive. This isn't a revolutionary assessment, and I hope no one feels that I need to talk about CPU comparisons for half of this article, because I'm clearly not going to.
Closing out 2014 on a strong note
In Q3 computing solutions sales declined by around 6% quarter-over-quarter with year-over-year declines of around 15%. The decline was primarily driven by weakening macro factors driven by tablets and mobile. The internet of things is in full force, and for now, AMD has been able to offset its decline by focusing on custom solutions for the living room. Granted, the Xbox One and PlayStation 4 is one of the many web enabled devices that are expected to crop up over the next ten years.
AMD's low-price strategy is finally bearing some fruit, despite certain PC vendors (Dell) completely ignoring AMD. In Q3, AMD mentioned that it was able to offset decreasing notebook unit shipments with increasing desktop unit shipments.
Analysts expect AMD's GPU unit to reach 40% market share in Q4 2013 to Q1 2014. NVIDIA let the ball slip with graphics, and as of the moment, AMD's graphic solutions are at least comparable. Plus, AMD has done a much better job with marketing, talking-up the amount of memory on its GPUS and the number of stream processors. Granted, NVIDIA works with different architecture and differences in clock speed and GPU processors doesn't always mean you have the most superior product.

Source: Trefis
AMD has shown a consistent trend in declining server market share, but when considering infrastructure-as-a-service cloud is starting to take-off one must wonder whether Intel will be able to continue to price gouge its way to success. Especially when considering Google (NASDAQ:GOOG) and Facebook (NASDAQ:FB) are becoming increasingly interested in ARM (NASDAQ:ARMH) based architecture for their data centers.
Some have argued that Intel has performance advantages that save on electricity costs, which could be a factor to lifetime costs. But at this point, I really can't imagine AMD conceding anymore market share when considering the low cost of manufacturing a chip and the limited performance advantage offered by Intel's server based chips. AMD has been reported to be working on an ARM chip for servers for a couple years now, the codename is "Seattle", which is referred to as the ARM A57 CPU, and will be manufactured using 28nm technology. AMD's upcoming CPU is superior when compared to Marvell's (NASDAQ:MRVL) ARMADA XP SoC.
Currently the ARMADA XP is used in Baidu's (NASDAQ:BIDU) data centers. Baidu believes that it can lower lifetime costs using the solution provided by Marvell Technologies. ARM based CPUs can be used even in the most demanding applications. The market opportunity for AMD is ripe as the server market is growing and the Seattle CPU will come in eight or sixteen core variation at approximately 2 GHz (ARMADA XP is a quad core SoC clocked at 1.6 GHz).
Some have argued that ARM servers have an extremely limited software ecosystem. ARM can run Linux, which is open source, meaning that companies can develop their own software, and operating system in-house. Assuming companies develop alternative ARM based software, for the data center, and X86 CPUs become less of a "necessity."
Financial/industry projections
Going into 2014, analysts are pretty optimistic of AMD, as its custom solutions, graphics, and consumer desktop business is recovering. AMD's Kaveri APU, for mobile should help to keep AMD relevant in laptop and ultra-books.

Source: Yahoo! Finance
Currently analysts expect AMD's earnings to grow by 208.30% in fiscal year 2014. Intel is expected to report flat to slightly negative earnings growth for fiscal year 2014. Analysts expect Intel to grow earnings by 5% per year over the next five years, which is lower than the 8% CAGR for AMD over the next five years.
PC gaming is expected to grow at a pretty rapid rate. Granted these projected figures include software, and hardware sales, so it's not indicative of AMD's addressable market. On the other hand, it's nice to know that AMD's gaming business will experience organic growth.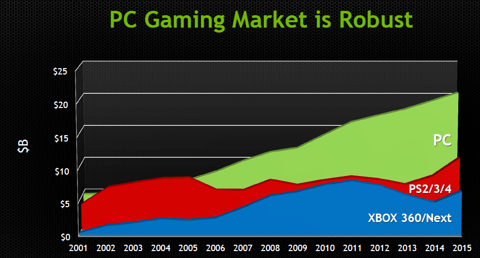 Source: NVIDIA
NVIDIA estimates that the GPU addressable market was $5 billion in 2013. So if PC gaming is on a rising up-trend, we can also assume that GPU growth will follow a similar pattern.

Source: IDC
AMD's focus on mobile has been limited in 2013. Going into the next fiscal year, AMD will have to win market share with its mobile product offerings, and while manufacturing tech isn't cutting edge, I expect the marginal gains in performance paired with lower pricing to drive meaningful improvement in its portable PC, tablet, and smartphone business.
Conclusion
AMD is a smaller company than Intel. AMD's fab-less business model is superior to Intel's, from purely a cost standpoint. Hence AMD is able to operate at break-even even with substantially lower gross margins than Intel. The low gross margins come from AMD's lower ASP (average selling price), which has both an impact on margins and total revenue. This is something that investors have had to adjust to over the past five years. A low margin business model depends heavily on favorable macro environment and gains in market share.
Taiwan Semiconductor Manufacturing (NYSE:TSM) delivered 20nm (Planar) fabrication in 2013, and 16nm FinFET is expected to generate volume production in Q1 2015. Intel's Cherry Trail at 14nm (Bay Trail) is expected to be available in Q1 2015, giving Intel a 2nm manufacturing advantage over all of its rivals assuming the roadmap goes to plan.
That being the case, AMD's product roadmap is limited to either 20nm or 14nm nodes for 2015-2016. This means that AMD will not develop better performing chips over Intel. For now, AMD will have to depend on its strategy of higher clock speeds, and greater core count to drive comparable performance figures to Intel.
I expect AMD to gain market share in both mobile and desktop CPU, on the basis of lower pricing (I think the theory of supply and demand still works). On the graphics end, AMD is safe, because NVIDIA also depends on TSM's manufacturing, so there's no risk of falling behind on manufacturing tech when it comes to graphics.
AMD is well positioned and has more upside potential than Intel over the next five years.
Disclosure: I have no positions in any stocks mentioned, and no plans to initiate any positions within the next 72 hours. I wrote this article myself, and it expresses my own opinions. I am not receiving compensation for it (other than from Seeking Alpha). I have no business relationship with any company whose stock is mentioned in this article.