I believe stocks in general are expensive at this point. Although the big commercial banks have largely recovered from the financial crisis of 2008-09, they are still cheap relative to other industries and are due to outperform, driven by:
multiple expansion as the stigma of the financial crisis fades
further recovery of profits to normalized range
NIM expansion due to steepening of the interest rate yield curve with ZIRP less QE
Rather than invest in the industry collectively based on that thesis alone, I thought it would be more effective to compare the largest banks in the areas that matter and identify the best of the bunch. From there, I intend to do due diligence on individual names and eventually invest into 0-3 of my favorites.
This article is intended to start that process by comparing the 19 biggest banks in North America. I will compare the banks objectively in following categories, using the following criteria:
| | |
| --- | --- |
| Category | Criteria |
| Size | Total Assets, Book Value, Market Cap |
| Credit Risk | Moody's Credit Rating, Common Equity Tier 1 Ratio |
| Profitability | ROE |
| Valuation | Effective Yield (ROE/(P/B), PE, P/B |
The 19 banks I am including in my analysis encompasses the Canadian Big 6:
And the 13 largest US banks:
Size
The first category of comparison isn't really as useful as the others in assessing how good the company are relative to each other, but it does tell us a lot about scale and in turn staying power. In banking, there is a clear cost advantage to being large. The biggest banks have operational efficiencies due to economies of scale that smaller banks don't. This competitive advantage gives the biggest banks staying power that I am attracted to.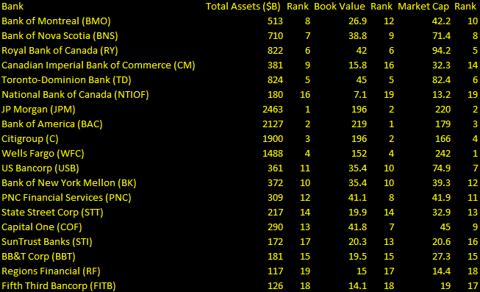 In general, the US Big 4 are the largest banks, followed by all of the Canadian Big 6 but National Bank of Canada, followed by the second tier of US banks, and rounded out by National Bank of Canada. The winners here are the US Big 4.
Credit Risk
I probably don't have to explain why it is vitally important to compare banks based on credit risk. Banks face the collectively self-imposed existential risk of financial crisis. This is why many investors shy away from banks. The banks on this list will have to fight through at least 4 or 5 serious threats to their survival in the next century. If they are not well-positioned and prepared for such a crisis, it won't matter what scale they have, how profitable they've been, or how cheap they are, because they will become non-existent.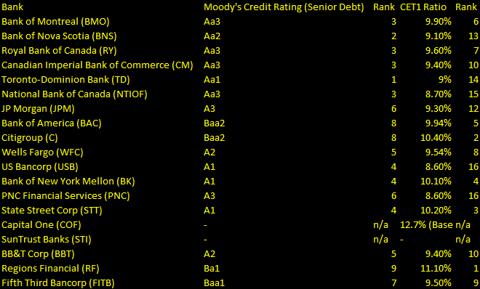 The credit data is a little difficult to interpret. With the recent change from Basel I to Basel III standardization in calculating CET1, some companies are using Basel I while others are using Basel III, and the majority are not distinguishing which one they are using. All the companies are well above the Basel III requirement though. The Canadian banks are the obvious winners of the credit ratings and several are listed near the top of Bloomberg Markets "World's Strongest Banks" list. In fact, the only US Bank on the list is Citigroup and it is 17th out of 20. There isn't really an obvious difference between the US Big 4 and the second tier of US banks, so we'll just call the winners the Canadian banks and the losers all of the US banks.
Profitability
This is the category that I feel, more than anything else, separates the banks I'd like to own from the banks I wouldn't. It is a reflection of management, operational efficiency, and competitive position, among other things. A company is intended to make a profit so it is critical to identify which are the best at doing so.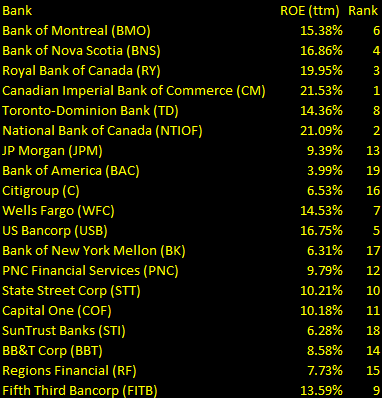 Again we see a clear-cut victory for the Canadian banks. Wells Fargo and US Bancorp held their own, but the rankings make it quite obvious that the Canadian banks are more profitable.
Valuation
After walking around the store for a little while and looking at some different items, 19 to be exact, we're now looking at the price tags and making some final decisions. We won't buy just from this, but the best deals we spot will be deserving of further individual research. PE and P/B should be familiar to you, and effective yield, though I like to think of it as my own proprietary handy little metric, is I'm sure used by many investors and called a variety of things. All it is ROE/(P/B).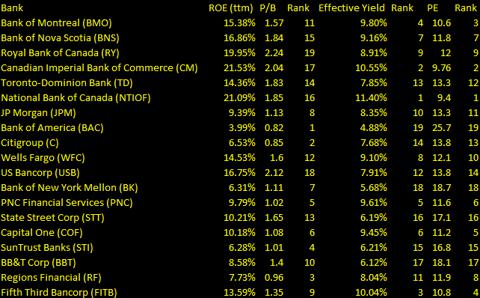 From this data the biggest US banks all look somewhat expensive. A few of the Canadian banks, Canadian Imperial and National Bank, look cheap, as does Fifth Third. I know already that if I model these companies I'll be using a cost of equity of at least 9.5%, so only the ones with an effective yield substantially higher than that are interesting to me.
Summary of Findings
Overall, the Canadian banks seem to be the clear winners. Though smaller than the US Big 4, they are much more profitable, have better credit ratings, scored higher in the Bloomberg "World's Strongest Banks" list, and 2 of the 3 compelling values come from the Canadian Big 6. Executive compensation is much more reasonable at Canadian banks and they seem to be better ethically-managed on more than just that level. Canadian banks also have a better operating environment going for them in my opinion. The Canadian budget was balanced for 11 years from 1998-2008. The global financial crisis forced their spending hand but in 2013 the deficit was cut dramatically and the budget should once again be balanced in a few years. Canada has a better record of economic growth than the US and other global financial centers: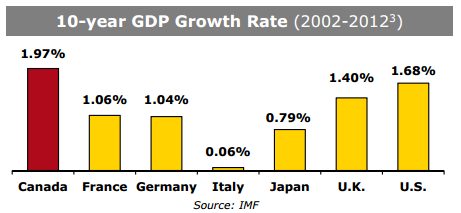 Of the 19 companies compared, I'm most interested In Canadian Imperial Bank of Commerce. CM scored the highest on the Bloomberg list of all the companies mentioned here, boasts the highest trailing ROE figure, the second highest effective yield, 3rd highest Moody's rating, and has shown remarkable consistency in the past 4 years. I've already dug into the details and plan to write up an article on CIBC specifically soon. I may also take a look at FITB and NTIOF. I cannot stress enough that this is only the first step and that further company-specific due diligence is an absolute must.
Disclosure: I have no positions in any stocks mentioned, but may initiate a long position in CM, over the next 72 hours. I wrote this article myself, and it expresses my own opinions. I am not receiving compensation for it (other than from Seeking Alpha). I have no business relationship with any company whose stock is mentioned in this article.