In a previous article on Apple (AAPL), I suggested that Apple's success in mobile devices was the result of fairly small innovations and that Apple could be disrupted in turn by some similarly minor innovations. I went on to suggest that it be hard to predict just precisely what form that these innovations would manifest themselves, though I speculated that a device that combined the media consumption focus of tablets with the productivity of a PC, could be the thing that usurps Apple's leading position.
I also mentioned that Tim Cook might regret saying the following:
Our competition is different. They're confused. They chased after net books. Now they're trying to make PCs into tablets and tablets into PCs. Who knows what they will do next?
How about trying to turn Windows machines into Android tablets and Android slabs into Windows' slates? During the latest Consumer Electronics Show, ASUS showed off a "4 in 1": a tablet that can convert into a laptop and whose operating system can switch between Windows 8 and Android at the flick of a button.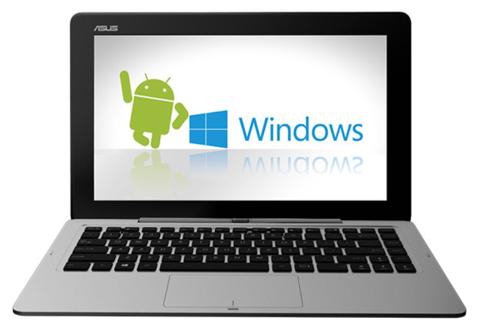 Why am I laughing at this idea? Simply because this isn't exactly how I imagined Microsoft (NASDAQ:MSFT) and Google (NASDAQ:GOOG) would try and compete with Apple's all conquering iPad. Now, personally I quite like the concept. I find myself short of an Android tablet after discovering first hand that they aren't waterproof, and I also wouldn't mind a device that has Office on it as well. If someone can throw in 4G connectivity, all the better.
But I can only imagine what most people's reaction to this Frankenstein (meant affectionately) of a machine will be. It turns out that this creation is the result not of Google or Microsoft, but rather Intel (NASDAQ:INTC). In fact according this report in the Verge, both Microsoft and Google are against it.
Does Intel have clout?
One can see why Google is against it since Google already dominates the tablet market with about 80% market share and if these devices take off with consumers it might allow Microsoft to expand their current microscopic beachhead in this area. On the other hand it's not likely that sales of these devices will result in much cannibalization of pure Android tablets; the thing you should appreciate about this dual-boot concept is that it's not really symmetric. What I mean by that is that you should consider these devices as primarily Window 8 machines with an Android add on, rather than the reverse. Why do I say that? The basic issue comes down to cost. Most Android devices are cheap: less than $200, and don't have particularly good hardware specifications. Consequently, there isn't enough hard drive space to include both a full Windows 8 OS and an Android OS in most current Android tablets. So these dual-boot devices are really aimed at more affluent people who are deciding between a high end iPad and a Windows 8 machine.
I'm much more puzzled by Microsoft's lack of enthusiasm. At the moment, the most frequently stated reason given by consumers as to why they don't want a Microsoft tablet, is the lack of apps. Android's rich library of apps on these dual-boot devices will fulfil those consumer needs, while at the same time letting Microsoft sell another pair of Windows and Office licenses. Indeed Microsoft will presumably make money on both its sale of a Windows license and the revenue it collects from all Android licensees. That's a nice double whammy.
Intel needs to make inroads in mobile
Clearly, the only company really enthusiastic about this scheme is Intel. Intel stands to gain as the ASUS tablet is powered by a top of the range Intel i7 chip. One assumes that Intel is willing to back this scheme with marketing subsidies - just as it's doing with Bay Trail -though it's not clear whether this is part of, or in addition, to Intel's 40 million tablet target for 2014.
The reason to be skeptical about this concept is that this isn't the first dual-boot tablet. Back in 2011 there was dual Android/Windows tablet called the ViewSonic ViewPad 10Pro (apparently the tablet was a failure because the name was considered too short).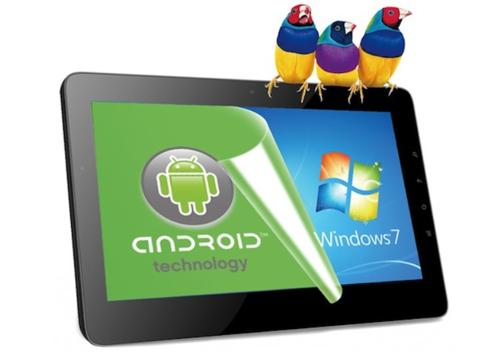 This tablet had a number of quite serious flaws: it was Windows 7, so not optimized for touch and the Android version was 2.2, which meant there wasn't any Google Market. Furthermore the Android OS was running as a virtualization inside Windows, resulting in an inevitable performance penalty.
But might Intel have the last laugh? It's tempting to dismiss Intel, which hasn't had a good record recently in attempting to gin up demand for its chips. At the very same CES event Intel showed off something it called the RealSense 3D camera, a perceptual computing device; before that it wasted hundreds of millions of dollars on Internet TV.
However, as I noted at the beginning of this article, Apple's success in smart phones and tablets didn't come about because it invented them. Before Apple, Microsoft had its tablet PC and Nokia and others had their own smart phones. Rather Apple's success came about because it managed to hit upon the tablet form factor and design that resonated with consumers. Likewise this isn't the first dual-boot device, but it does refine it: no virtualization, no Android 2.2, full Windows 8. It may well be the case that further refinement is needed: a cheaper chip than the Haswell i7 may be in order, for instance.
Conclusion
There certainly is a desire on the part of consumers for a tablet that combines the richness of Android's and Apple's app suite, the user interface of those operating systems and the productivity of Windows programs. Intel really has taken people preferences extremely literally. It certainly would be ironic if instead of something like Microsoft's Surface devices, which have two modes and two versions of the same operating system - something Microsoft was criticized for as being too confusing and clunky - Intel's seemingly far more Rube Goldberg solution, triumphed.
Disclosure: I have no positions in any stocks mentioned, and no plans to initiate any positions within the next 72 hours. I wrote this article myself, and it expresses my own opinions. I am not receiving compensation for it (other than from Seeking Alpha). I have no business relationship with any company whose stock is mentioned in this article.