I have this "thing" about retailers. I do not like to own shares of any of them aside from Amazon (NASDAQ:AMZN), which is more of an everything all in one stock. Here is what irks me about the retail sector:
Ridiculous same store sales reports that make shareholders crazy.
The seasonality of different retail items that might be undersold or overstocked.
The year to year insane sales during holidays which impact margins.
Brick and mortar retailers are susceptible to gasoline prices, traffic, the weather, changing styles, and unkempt stores.
Customer service is ALWAYS a hassle and we are ALWAYS complaining.
Returns are ridiculous.
Most retailers over charge and don't really have great sales aside from Black Friday.
I realize that I am painting with a broad brush here, but aside from the non public mom pop retailers, I cannot think of any of them whose shares I would feel good about owning!
When someone buys shares of Johnson & Johnson (NYSE:JNJ) are they worried about the weather forecast? Seriously, retail stocks and I do not get along!
The Exceptions
There are always exceptions aren't there? It is no different in the retail sector. I do like a sector that seems to always have higher margins, keeps stores open 365 days a year, are always stocked, and never have returns.
They are situated in locations that are easy to find, easy to get to, and in many instances all over the place. You hardly ever have a problem parking and most of the time you are in and out of the stores in less than 10 minutes.
Now take all of this and add to it, the fact that not only can you buy some necessities (food stuffs) as well as best selling paperback novels, but you can also get some medical care there at the same time! I am not talking about brain surgery, but having your blood pressure checked, medical supplies, prescriptions, flu shots, and minor immediate care needs.
Roll all of this into one big ball, and we have the DRUG STORES.
There Are Only Two That Matter To Me
The largest drug stores in this country and probably the world, are Walgreen's (WAG) and CVS Caremark (NYSE:CVS).
For those of us that are looking for income, both of these stocks have utterly wonderful dividend track records even though their current yields are not off the charts. In time however, as dividends are increased, your yield on cost will go up as the share prices increase and the dividends are raised. Thusly for the long term, they make sense, in more ways than just the "shopping experience".
Let's take a look at some of the fundamentals.
Walgreen's
A reasonable forward PE of just 15.3.
Widely held by institutions with 63% of all shares outstanding held.
A price to sales ratio of just .79. Seems undervalued to me.
YoY quarterly revenue growth of 5.80%, and a stunning YoY quarterly earnings growth of 68%!
A price to book value of just 2.90 which is below the industry averages.
A dividend champion with a current yield of 2.20%.
A payout ratio of just 41%.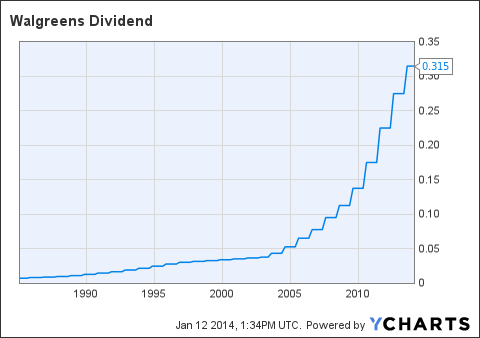 A beautiful dividend chart, and since 2005 the dividend has gone from $.05/share to the current $.31/share, per quarter, a six-fold increase. Can you say the same about your paycheck?
Now this is a "retailer" I can relate to!
CVS Caremark
A forward PE of 15.55, which like WAG ,is quite reasonable.
More widely held by institutions than WAG, with an amazing 86% of all shares outstanding held.
A skimpy price to sales ratio of .67, also lower than WAG which means it is even more of a value.
YoY quarterly revenue growth of 5.80% as well as a nearly 25% YoY quarterly earnings growth rate.
A price to book of just 2.18, which like WAG, is lower than the industry averages.
A dividend of 1.50% with an impressive dividend increase rate.
An extremely low payout ratio of only 23%.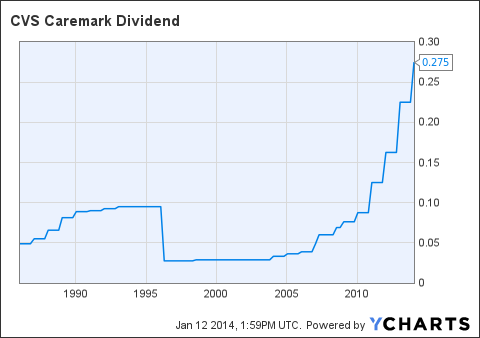 Not quite as picture perfect as Walgreen's, but impressive none the less with a 6 fold increase in dividends from 2005 to the present. Again, whose paychecks have increased by that much since the great recession?
My "Peter Lynch Style" Impressions
Peter Lynch is a fund manager whom I came to respect with his down to earth basic approach to investing, especially in retail. He would watch trends, visit stores, and look at the business through the eyes of a consumer. I follow that approach because it has served me well over the years, and is a true "regular guy" approach to investing.
I live in South Florida. On basically every street corner there is either a Walgreen's or a CVS store. Usually right across the street from each other. It is easy for me to travel about 5 miles and walk into about a dozen of each store.
Here is what my eyes see:
While there is not much difference between the two, Walgreen's looks better stocked and well laid out.
CVS has fewer people working in the stores that I saw.
Walgreen's looked cleaner to me.
CVS seemed to have more in-store "specials", while Walgreen's had some lower prices on some basic products.
There really is not that much difference between the two, and I think cleanliness stood out more to me than anything else. That being said, we are investing in a stock not eating off their floors.
So Which One Should A Dividend Investor Own?
I can only speak about my own personal preference, but since I do not have any other retailers (aside from Amazon of course) in any of my portfolios, I would buy shares of both.
Not only are they both reasonably priced, but with a focus on healthcare, I like the footprint of both of these stores in that arena. The ease of shopping is wonderful, and for a shareholder, the margins in this type of retailer seems more attractive to me.
Yes, I would own both, if you are inclined to this market sector.
The Bottom Line
Some folks really hate these convenience type retailers because they feel that the prices are too high. I say that the convenience is worth a few extra dollars, especially when most folks tend to buy just the necessities anyway.
The portfolios we track will own at least one of these stocks, and perhaps both with an equal allocation.
Disclaimer: The opinions of the author are not recommendations to either buy or sell any security. Please remember to do your own research prior to making any investment decisions.
Disclosure: I have no positions in any stocks mentioned, and no plans to initiate any positions within the next 72 hours. I wrote this article myself, and it expresses my own opinions. I am not receiving compensation for it (other than from Seeking Alpha). I have no business relationship with any company whose stock is mentioned in this article.
Additional disclosure: I will add WAG or CVS (or both) to at least one of our retirement portfolios at any time.