With the lifting of the NDA on Advanced Micro Devices' (NASDAQ:AMD) latest offering, code named Kaveri, we will finally get an opportunity to see firsthand what the chip will offer consumers in 2014. Anticipation for the chip is extremely high and is looked on by many as the make-or-break product for AMD's long-term strategy centering on the merging of differently-optimized computing units - GPU, CPU, various DSPs -- being housed under one die.
Early leaked benchmarks have painted a very mixed picture. Fellow Seeking Alpha contributor Justin Jaynes has done a fine job collating some of the early information - here and here -- and a leaked set of benchmarks from a user in Spain were posted over the weekend, which are very promising. But as we are bombarded with benchmarks and rhetoric over the next few weeks it is important to keep in mind that no benchmark can tell the entire story and given the current structure of the market testing methods need to be scrutinized carefully.
Reality-Based Computing
There is a lot at stake for a lot of people with a chip that has as much promise as Kaveri and not just for AMD and for its competitors. The entire industry itself operates along the current Intel (NASDAQ:INTC) and Nvidia (NASDAQ:NVDA) dominance in PCs. Companies like AMD with its checkered history and tenuous market position are always looked at with more skepticism than those that are dominant.
As analysts confirmation bias is the thing that we have to fight against the most. And it is human nature to see the dominant team in a positive light. The up and comer always has a tougher row to hoe. We see it in professional sports with officials unconsciously giving the benefit of the doubt to the champs over the challengers. Perception creates reality in this sense and it is rampant both in sell-side analysis and in the interpretation of performance benchmarks.
For example, when AMD released Trinity it was tested in a crippled platform - single channel slow memory - versus the best chips Intel had on offer, without any consideration for price, relative value or target markets, feeding the perception that AMD was a company on the ropes, which it was. Kabini, which was targeted for lower-power netbooks and low-priced laptops was purposefully benchmarked by Tom's Hardware versus discounted Ivy Bridge Core i3s in a poor attempt to normalize cost to performance, when Kabini would spend the majority of its life cycle competing against Bay Trail and Haswell.
Do not mistake this as apologia for any poor benchmarks Kaveri puts up. It isn't. It is simply a reminder that all testing has both confirmation bias and limitations and that headlines tell the story that is desired not the story that is. Kaveri has a number of innovations that will be hard to test upon release because benchmarking software, Windows 8.1 and many games do not support them now.
For example I will not give much, if any credence, to a review done on Windows 7 after Windows 8.1 was better optimized for AMD GCN cores last fall. I don't use Windows 7 and Windows 8.1 is shipping on nearly all tablets and laptops being sold today and in 2014. What would be the point?
So, we will likely only get a glimpse of the effects of the Mantle API, and HSA on performance. TrueAudio's effect on CPU load will also be difficult to measure. Without mobile chips to review it will be difficult to corroborate AMD's marketing claims about performance at lower TDPs. As I said in my last article on the subject, breaking Kaveri down into its component parts is the wrong way to assess its potential value in the marketplace. This is a future-looking chip which includes advances that both consumers and developers have long desired.
The Road to Adoption
AMD's position today within the industry is light years ahead of where it was when it released Llano. Being late to market with a good product with not ingratiate yourself with OEMs whose margin are razor thin in the first place. Those damaged relationships took a long time to repair and 2013 was that year. With a shrinking PC market OEMs were likely very reluctant to put a lot of resources into new designs for AMD chips and so we saw rehashes of old Trinity and Bobcat designs using Kabini and Richland.
Late in 2013, however, that began to change with HP (NYSE:HPQ) releasing a 13.3 2-in-1 utilizing Temash and Lenovo (OTCPK:LNVGF) releasing a Temash/Kabini road-warrior ThinkPad X140e into the U.S. market. And while we bulls were disappointed by the uptake rate of Jaguar into the netbook/tablet segment the groundwork was being laid for Puma and Mullins/Beema for this year.
With PC sales continuing to fall at the unit level, it is obvious that part of the problem is the mismatch between form factor, price and performance and consumer needs. Intel's offerings are still too expensive for the performance. While Microsoft's (NASDAQ:MSFT) license cost for Windows 8 is a major issue versus Android tablets and Chromebooks, there is a real need in the market for the right balance between power, price and performance. Microsoft has committed to implementing HSA improvements into Windows 8.1 and not a moment too soon for both Microsoft and AMD.
As support for the innovations enabled by Kaveri matures the perceived performance gap between AMD's APUs and Intel's will shrink radically. Windows is heavily committed to Intel's hardware. But, the future of computing is in parallelism and coordination, not single-tasking and Microsoft's acquiescence to this is a point that hasn't been stressed enough. This is why the AMD story is an incomplete one and why the initial round of benchmarks will too heavily discount the future performance of all of its upcoming products.
Rising Value, Falling Prices
What we are seeing is Kaveri - and Mullins/Beema later in 2014 - at its worst value proposition for the consumer. As this product cycle matures so too will the value proposition for early adopters of this technology. It's a weird moment in computing history where the opportunity exists for hardware to improve in performance as it ages.
The more I think about Kaveri the more I'm convinced that asymmetric dual graphics - using a discrete GPU with an iGPU - is its true secret weapon. The inclusion of the XDMA block that improved dual graphics for the new R-series, Hawaii-based video cards should translate to Kaveri in dual-graphics setups much better than it did for Richland/Trinity. Full support will not come until the 14.1 Catalyst drivers are released later in the quarter so, again, this will not show up in the initial rounds of testing and the reviews will be heavily qualified.
The Past is Not Prologue
In my last article I looked at the technical picture for AMD's stock coming into next week's earnings release. A weekly close above $4.12 per share was key and that occurred with the stock ending last week at $4.17. This is a technical breakout from a 6 month bottoming pattern and is a very bullish event. But, there could be a pullback to $4.00 this week without any technical damage being done in case the earnings report is not well-received. After a 7 week uptrend and a potential reversal forming in the S&P 500 (NYSEARCA:SPY) - violating last week's low of 1823 - there is a good chance that sentiment will erode into options expiration and we see a pullback into earnings especially if the initial reviews are as mixed as I expect them to be.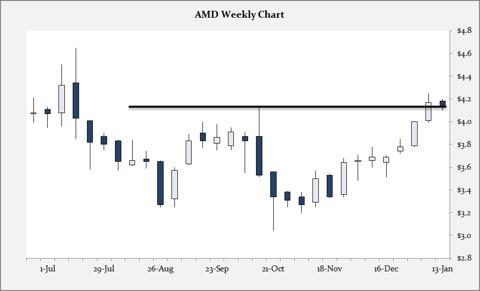 Disclosure: I am long AMD, . I wrote this article myself, and it expresses my own opinions. I am not receiving compensation for it (other than from Seeking Alpha). I have no business relationship with any company whose stock is mentioned in this article.