Barron's recent article on fixed income names really left me scratching my head. The article was basically ranking the best sectors for yield for 2014. The top pick, municipal bonds, is hard to argue against, with Barron's noting that municipal bonds offer high yields compared to treasuries and trade at large discounts to par. However, where I disagree with the publication would be with its ranking of master limited partnerships, or MLPs. Barron's basically ranked MLPs near the bottom of its list, above only treasuries.
Below is the key excerpt from the article:
The sector is coming off another strong year, with total returns of 27.6%, as measured by the benchmark Alerian index. With the gain, MLPs don't look as appealing as utilities, telecom stocks or REITs.

Among the negatives, MLPs trade for almost twice the valuation of utilities and telecom stocks based on a key financial measure, enterprise value to earnings before interest, taxes, depreciation, and amortization. MLPs do benefit from tax breaks, but those already are reflected in valuations. MLP distributions average about 5.5%, but many companies barely cover their payouts, a contrast to the vast majority of dividend-paying corporations. Projected distribution growth for large MLPs in the mid-to-high single digits is attractive, but hinges on growth projects funded with new equity and borrowed money.
For starters, it appears as if Barron's is solely focusing on the midstream MLPs. This is extremely odd given that other names in the sector offer very high yields. For example, upstream (read E&P) MLPs typically yield north of 10%, while some of the downstream (read refining) MLPs at one point had yields approaching 20%.
However, even when considering only midstream MLPs, Barron's still appears to be off the mark. Comparing MLPs valuation to utilities and telecoms is simply not an apples to apples comparison. Also, yields from telecoms and utilities are hardly set in stone, just ask the shareholders of CenturyLink (NYSE:CTL) and Exelon (NYSE:EXC)
MLPs pay distributions while telecoms and utilities pay via dividends. While this difference seems minor, it is a pretty big distinction. Also, the jab regarding MLP weak coverage ratios can be similar applied to many of the telecoms. Verizon (NYSE:VZ), AT&T (NYSE:T) and the rural telecoms (Frontier (NYSE:FTR) Windstream (NASDAQ:WIN) and CenturyLink (CTL)) all have dividend payout ratios well above 100% based on EPS. For many years now, telecoms have based their dividends on their FCF generation, which is very similar in concept to a MLP's DCF. Furthermore, some midstream MLPs yield much higher than 5.50% while also offering the same mid-single digit growth.
Kinder Morgan Energy Partners: The best value in the midstream MLP sector
Case in point, let us look at Kinder Morgan Energy Partners (NYSE:KMP). For 2014, this midstream MLP is projecting a distribution growth rate of 5% to $5.58 per unit, yields nearly 6.70%, and has had a stable distribution coverage ratio of 1.00x. Kinder Morgan Energy Partners also offers a stock dividend paying sister stock via Kinder Morgan Management (NYSE:KMR), which often trades at a discount and has none of the schedule K-1 issues of an MLP.
The company has massive growth potential, with a capex backlog of over $14B, with $3.4B planned for 2014 alone. Kinder Morgan Energy Partners is also extremely conservative with guidance, meeting or exceeding its projected distribution growth target 13 out of the past 14 years.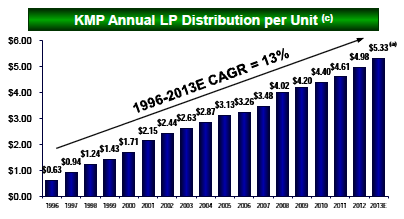 While Barron's does have a point in that midstream MLPs are pricey, Kinder Morgan Energy Partners' valuation is not out of synch with its peers. However, unlike the telecoms, midstream MLPs often have their revenues essentially locked in due to long-term volume commitments for pipelines, which essentially guarantees an adequate IRR. As shown below, Kinder Morgan Energy Partners is actually valued well below several other well known peers such as MarkWest Energy Partners (NYSE:MWE) and Enterprise Products Partners (NYSE:EPD).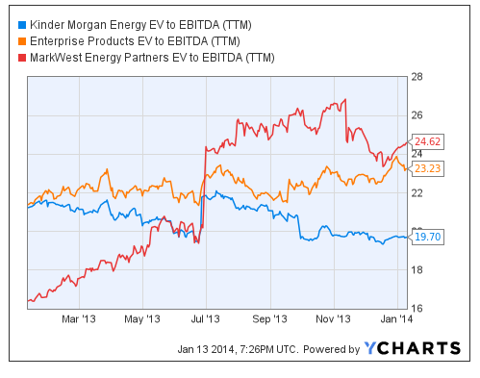 Finally, Kinder Morgan Energy Partners wins where it matters the most, namely yield. With its current 6.70% yield, the company clearly has the telecoms and utilities (represented by the SPDR ETF XLU) beat. Even midstream peer EPD's yield is nearly 40% below Kinder Morgan Energy Partners.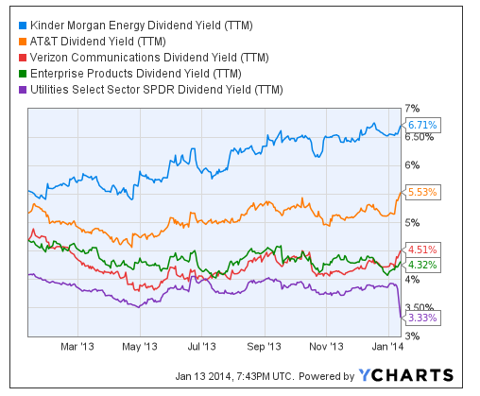 Conclusion
Barron's appears to be flatly wrong with regards to MLPs. While there are some duds in the sector, discounting the whole group seems to be wrongheaded. Kinder Morgan Energy Partners is the clear counterargument to Barron's piece, with its robust yield and a long history of steady distribution growth.
Disclaimer: The opinions in this article are for informational purposes only and should not be construed as a recommendation to buy or sell the stocks mentioned. Please do your own due diligence before making any investment decision.
Disclosure: I am long KMI. I wrote this article myself, and it expresses my own opinions. I am not receiving compensation for it (other than from Seeking Alpha). I have no business relationship with any company whose stock is mentioned in this article.