The business of department stores is well-known for its competitiveness. What differentiates one company from others is usually not any kind of disruptive products (iCloth or iShoe, anyone?). Instead, it is a whole bunch of little things that make or break a company. Kohl's Corp. (NYSE:KSS) seems to have a convergence of good little things right now so that an optimistic case can be made for KSS for the next few years. These include:
favorable macro environment
shareholder friendly management
improving inventory management
customer enticing new initiatives
attractive valuation
positive technical signs
These will be further explained in this article.
Favorable Macro Environment
The U.S. economy is entering a period of slow but healthy growth, with jobs gradually created by various industries and sectors. This will surely help consumer spending. Since the newly created jobs will be mostly on the lower end of the pay scale, the increases in consumer spending will be most noticeable in places such as discount stores. KSS is in such a sweet spot to cater for low- to mid-income families with merchandise for everyday life.
Within the business sector of department stores, the continuous decline of Sears Holdings Corp. (NASDAQ:SHLD), the recent trouble at J. C. Penney Co. (NYSE:JCP) and the data breach at Target Corp. (NYSE:TGT) will likely slow business at these respective stores, sending market shares to other companies, including KSS. There is a large overlap in businesses between KSS and JCP and TGT, and a smaller one between KSS and SHLD, so that KSS may gain market share from these three companies. The health of the general U.S. economy and the scaling down and/or closing of other department stores can help KSS increase its sales and profits. It should be pointed out that the entire consumer discretionary sector may face some headwinds in the next couple of months because of the disappointing sales in Q4 2013. There have been many sales/earning warnings in the last week or so, and the slow business in the Christmas sales season may also affect KSS, leading to near-term volatility in its stock price.
Shareholder-Friendly Management
After a long period of rapid growth when KSS focused on investing in the company's business, KSS in the past few years initiated shareholder-friendly measures to return money to investors. One of the measures is its aggressive share buyback program that has significantly shrunk the total number of shares outstanding, as illustrated in the figure below. From 2006, the diluted share count has continuously been reduced from 335 million to 216 million, a reduction of 36% in the total share count (data from KSS annual reports).
Click to enlarge images.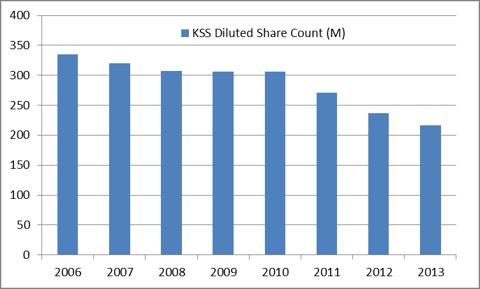 In 2011, KSS started its dividend paying program as a way to return money to investors. In the three years since then, its annual dividend has increased from $1 to $1.28 to $1.4. These measures will attract both growth and income investors and thus provide a support to its stock price.
Improving Inventory Management
The history of KSS shows that it used to be a growth darling in Wall Street, until it started to mess up with its inventory some years ago, for which its stocks paid the price with basically stagnant sideline movements in the past five years or so, while the other companies went through a bull market. The problems are common to unsuccessful retailers: lackluster merchandise mix, inventory imbalances, inability to attract national brands, and constricted profit margins. KSS still has a lot of work to do to resolve these issues.
Some hopeful signs are emerging that point to the right direction, one of which is inventory management. This is illustrated in the figure below, which plots its Y/Y inventory increase in the recent quarters (data from KSS 10-Q). In 2012 and the beginning of 2013, quarterly inventory increase sported double digit figures, but starting in the second quarter of 2013 the increase has come down to a few percent. Ideally, inventory increase should not be faster than sales growth. The trend in the past two quarters may be an indication that the KSS management eventually has a handle on this important issue.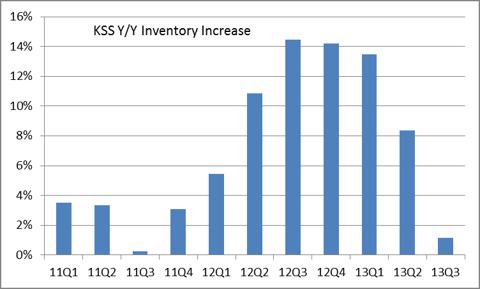 Customer Enticing New Initiatives
In addition to tackling the inventory issue, KSS has also initiated some measures to entice customers and to drive more store traffic. In recognizing customers' preference, KSS has put more emphasis on national brands, giving them more attention in its advertising and improving store presentation. The most recent quarters have seen increasing sales of national brands. In the third quarter of 2013, national brands contributed 47% of sales with an increase of 4% penetration quarter over quarter. KSS will add branded apparel from Juicy Couture and IZOD beginning in the fall of 2014 to its existing suite of national brands.
KSS is in the early implementation of its customer loyalty program, which is designed to attract more customers to its stores. The program has been tried in about 100 stores, amounting to about 30% of its total store count. KSS has revealed that this program has already increased sales by a low single digit, maybe 1% to 2% (from KSS 10-Q).
Another smart move from KSS is the adjustment of its capital allocation; it has cut back sharply on new store openings, with 12 for 2013, compared with 40 in the previous year. Instead, the company is using more of its free cash, which totaled $381 million in fiscal 2013, to remodel existing stores, update information technology, and enhance its e-commerce. KSS plans to leverage its e-commerce platform to boost sales, which has seen sales jump in recent years: 40% during fiscal 2012 after a 37% rise in 2011. To meet the demand for its e-commerce sales, KSS now has three distribution centers.
Attractive Valuation
Among its peers of department store companies, KSS sports an attractive valuation on the basis of the price/earnings ratio. This is illustrated in the following figure for a group of companies including Macy's (NYSE:M), Target, The TJX Co. (NYSE:TJX), Wal-Mart Stores (NYSE:WMT), Ross Stores (NASDAQ:ROST), Dillard's (NYSE:DDS), and Nordstrom (NYSE:JWN). The P/E values in this figure are computed by using the stock prices of the companies on Jan. 10, 2014, with the annual earnings from analyst projections. It is clear that KSS has the lowest P/E in the group, both for the current year and for the forward P/E.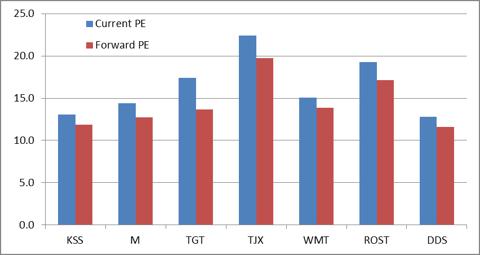 The averages of the group without KSS are 16.9 and 14.8, respectively, for this year and forward P/E. If you believe that KSS deserves at least the average P/E of its peer group, you can consider KSS as being undervalued. The potential of price appreciation for KSS is summarized in the table below, which shows a target price in the lower $70s, a potential gain of more 25% from its recent price. These target prices are computed by applying the group average P/E to the earning of KSS.
2013

2014

KSS Price on 1/10/2014

56.99

KSS Earning

4.37

4.81

P/E Ratio

13.0%

11.9%

Peer Group Average P/E

16.9%

14.8%

KSS Target Price

73.85

71.19

Potential Gain

29.6%

24.9%
Positive Technical Signs
I usually don't use technical analysis for stock selection, but I occasionally pay some attention to the stock price movement, just in case some obvious trends show up. The following chart shows that KSS just broke out a multi-year trading channel on the upside. From the middle of 2009 to about a few months ago, KSS traded within a slightly downward price channel, as indicated by the two dashed lines in the figure. Recently, it moved upward outside this channel. According to technical analysis, the upper bound of the trading channel will become the support after the upward breakout, which has a price somewhere around $54. On Jan. 8, 2014, the stock dropped back to touch $54.75 and promptly bounced upward, with the support price holding in place.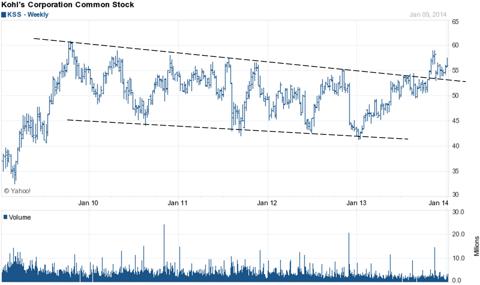 Summary
None of the aspects discussed above can be considered a disruptive or revolutionary breakthrough, and none of them, taken individually, can make significant improvement to the business of KSS. An individual aspect, taken in isolation, may well be argued to the opposite effect -- an example being the low P/E of a company, which can be argued as a reflection of the less promising growth potential of the company. The features discussed above should be considered together, which offer an optimistic case for KSS for the next couple of years -- even though there may be some near-term head winds due to the slow business in the current quarter for the entire consumer discretionary sector. If the management of KSS executes well, KSS is likely to see its business slowly but surely improving. This improvement should be anticipated by its stock price.
Disclosure: I am long KSS. I wrote this article myself, and it expresses my own opinions. I am not receiving compensation for it (other than from Seeking Alpha). I have no business relationship with any company whose stock is mentioned in this article.