Investors in 2013 could basically throw darts to pick stocks and make a nice profit. 2014 will be much different and the huge gains seen throughout the indexes will likely fade. Contrarian investing isn't for everyone, but it does have its advantages and there are several stocks that are very appealing at current levels for the long-term investor.
CenturyLink (NYSE:CTL)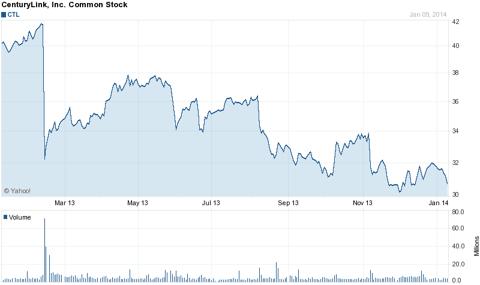 CenturyLink is the third largest telecommunications company in the US. It is currently going through a transition phase as it tries to move away from legacy voice service and focus on its strategic growth plan which includes data hosting services, high speed broadband internet, TV services, cloud infrastructure and hosted IT solutions. As the chart shows, this transition hasn't been very smooth, but its strategic growth strategies are starting to take shape and there is a flicker of light at the end of the tunnel.
CenturyLink's strategic revenue segment increased 4.2% in 3Q2013, driven by high-speed broadband services, data hosting and Prism TV services. Broadband internet added 33,000 subscribers to end the quarter with 5.94 customers. The company also deployed gigabit service to over 40,000 homes in Omaha, Nebraska, and announced Las Vegas as the second city to receive download speeds of 1 gigabit per second. Prism TV added 17,000 customers to now total 149,000. Most importantly, Prism TV saw solid subscriber growth in newly launched markets and expanded its footprint by 285,000 homes.
CenturyLink's 3Q2013 revenue was $4.1 billion, a year-over-year decline of 1.0%. The company also generated $761 million in free cash flow and net income of $375 million, excluding special items. Unfortunately, the company recorded a $1.1 billion impairment charge related to goodwill assigned to the Data Hosting segment, which resulted in a net loss of $1.05 billion and marred an otherwise decent quarter.
CenturyLink is attractive at current levels and has seen support around $30-$31. With a P/B of 1.1 and P/Sales at 1.03, there is decent downside protection. Despite a somewhat painful transition, the company is starting to see traction in its strategic growth plan and has strong free cash flow that the company continuously returns to investors. In mid-February, the company cut its quarterly dividend from 72.5 cents to 54 cents a share, causing the stock to drop 22%. At the same time, the company stated it would use that savings to buy back $2 billion of shares by February 13, 2015. So far, it has delivered on their promise and from mid-February to November 5, 2013, 38 million shares were repurchased totaling $1.3 billion. This is roughly 6.1% of outstanding common stock. Even with the dividend cut, CenturyLink offers an impressive 7.0% yield. The company expects 4Q2013 revenues of $4.5-$4.55 billion, $1.75-$1.8 billion operating cash flow and $0.55-$0.6 EPS.
The consensus price target for CenturyLink is $35.38, or 14% higher than today's price. Investors also get to enjoy an attractive 7% yield as they wait. Merrill Lynch rated CenturyLink as one of its Top 10 large cap stocks for 2014.
Sociedad Quimica Y Minera (NYSE:SQM)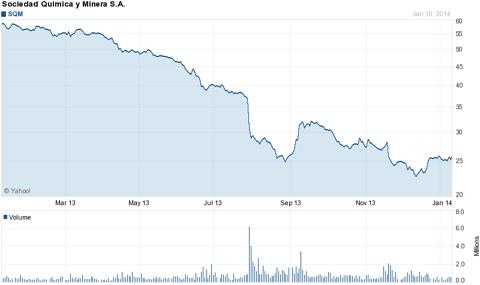 SQM is a Chilean based company engaged in the production of a wide variety of industrial chemicals and applications through its five business lines: Specialty Plant Nutrition, Iodine, Lithium, Industrial Chemicals and Potassium. From an insider trading scandal to a breakup of the Russian/Belorussian potash cartel, SQM had a pretty miserable 2013.
| | | | | | | | |
| --- | --- | --- | --- | --- | --- | --- | --- |
| 9 months ending 9/30/13 | Specialty Plant nutrients | Iodine | Lithium | Industrial chemicals | Potassium | Other | Total |
| Revenue ($millions) | $ 533.3 | $ 358.4 | $ 148.4 | $ 129.3 | $ 472.3 | $ 69.2 | $1,710.9 |
| % share | 31% | 21% | 9% | 8% | 28% | 4% | 100% |
When the Russian/Belorussian potash cartel split in August 2013, SQM dropped roughly 21% in 2 days. At the end of 2013, there was positive news on this front. Alexander Surikov, Russian ambassador to Belarus, said in a press conference that "Uralkali is ready to restore cooperation with Belaruskali." As I pointed out in my last article on SQM, new stake holders involved with Uralkali could lead to a renewal of the cartel and a rise in potash prices. While nothing is finalized and the price of potash has yet to rise, it's a glimmer of hope in an otherwise ugly situation.
SQM is up 11% since my article on December 11, 2013, but it is still moderately priced with a P/E of 12.6 and a current yield of over 4%. The analyst consensus price target is $34.09, or 40% higher than today's price. With a diversified product base and positive developments on the horizon, SQM is positioned for a solid 2014.
IAMGOLD (NYSE:IAG)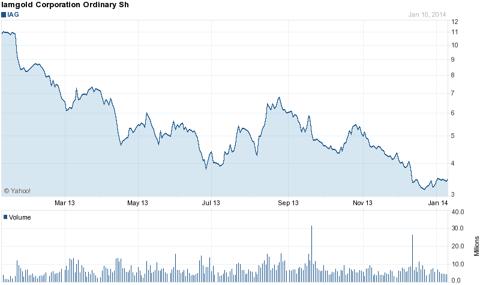 IAMGOLD is a mid-tier gold producer with 6 operating gold mines on three continents. Gold miners are down significantly across the board and IAMGOLD is no exception. The company suspended its dividend on December 11, 2013, and dropped 10% as a result. Company president and CEO said, "This decision to suspend the dividend allows us to conserve cash and ensure we maintain the flexibility we need to take advantage of opportunities when they arise." The company is near its 52-week low but represents an excellent entry point for patient long-term investors.
| | |
| --- | --- |
| 52 week high (1/14/13) | $ 11.22 |
| 52 week low (12/23/13) | $ 3.15 |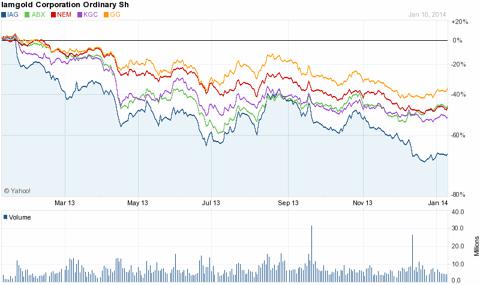 IAGOLD is down significantly more than its peers over the past year and the elimination of the dividend at the end of the year further magnified the decline. The company's 3Q2013 all-in sustaining cost was 1,216/oz, which doesn't qualify it as a low-cost gold producer, but management has taken steps to reduce costs that have yielded results. Management set a goal of $100 million in cost reduction in 2013 and as of 3Q2013 $77 million in cost have been eliminated and further cost reduction plans are expected in 2014. IAGOLD will continue to lower is gold production costs through 2014.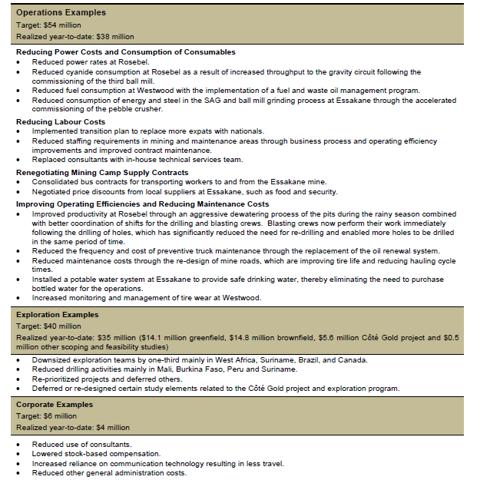 Ben Kramer-Miller wrote of 2 projects in Canada, Cotes and Niobec, which have the potential to drive revenue and profit in the future.
At near 52-week lows, IAG represents a good buying opportunity. Management is committed to bring down operation costs and returning value to investors. The suspended dividend will only be temporary and IAG is poised to jump when gold prices rise. A weak December jobs report has already led to a 1.5% rise in gold prices. Even with decreased gold prices, IAMGOLD is generating positive cash flows and reducing costs will further benefit the company's bottom line.
Disclosure: I am long SQM. I wrote this article myself, and it expresses my own opinions. I am not receiving compensation for it (other than from Seeking Alpha). I have no business relationship with any company whose stock is mentioned in this article.