Analog Devices Inc. (NASDAQ:ADI) offers semiconductors, which it designs and manufacturers, to electronics manufacturers. Recently, the company reported earnings that beat expectations by 6.9% but revenues that disappointed. Management is expecting revenues to decline 5-10% in the fiscal first quarter relative to the fiscal fourth quarter.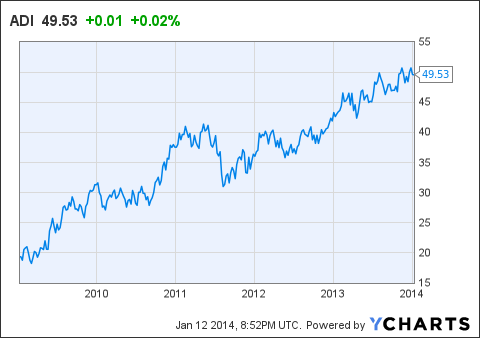 The company has competitive advantages in a fragmented industry. Part of its competitive advantage emanates from its manufacturing process. Near term, the company may face some revenues head winds, but longer term I view revenues as growing at a 4.5% pace.
Hopefully, the less than stellar news can provide a buying opportunity, as the intrinsic value estimate is $46 per share with an accumulation level of $34.50 per share. The distribution level is $69 per share. I'm waiting for a catalyst that could cause the premium relative to the market to shrink.
Recent Developments
Wells Fargo's David Wong downgraded Analog Devices citing uncertainty about 2014 guidance.
FQ4 EPS of $0.62 beat by $0.04 and revenues missed by $10.5M.
InvenSense bought Analog Devices' microphone unit.
Business Summary
Analog Devices Inc. is a world leader in the design, manufacture and marketing of a broad portfolio of high-performance analog, mixed-signal and digital signal processing integrated circuits used in virtually all types of electronic equipment. The company's offerings are used in automobiles, digital televisions, aerospace and defense electronics, medical imaging equipment, optical systems, digital cameras, and portable electronic systems. If you live in a modern society, you have probably used Analog Device's offerings.
The organization breaks down its segments by geographic locations. The United States and Europe are the major markets; they represented a combined 63% of revenues during fiscal 2013. Japan and China comprised 24% of revenues. So, from a geographic macroeconomic perspective, the company faces favorable economic dynamics with Europe emerging from recession and growth in the U.S. picking up.
The industry is fragmented with numerous competitors. Key competitors include: Texas Instruments (NYSE:TXN), ST Microelectronics (NYSE:STM), Microchip Technology (NASDAQ:MCHP), Broadcom (BRCM), and NXP Semiconductors (NASDAQ:NXPI). Although the industry is fragmented, Analog Devices has shown an ability to be consistently profitable.
The 10-year average revenue growth rate at the end of the October quarter was 2.55%, with operating income growing at 7.26% and net income growing at 8.49%. The company appears to have competitive advantages. The operating margin is in the 28-32% range with the net income margin in the 25-29% range. The return on equity is in the mid-to-high teens. Overall, the profitability profile is excellent.
From a liquidity perspective, the cash ratio stood at 8.2 at the end of the October quarter. The current ratio was 9.58. The liquidity ratios are extremely high and management should either use the excess cash for investment(s), acquisition(s), or share repurchases. A larger share repurchase program would reduce the payout ratio, while decreasing the dividend expense and increasing the return on equity. The financial leverage ratio was 1.34 with net cash of $3.81 billion. The trailing twelve months EBITDA/net interest expense was 35.3. So, there is a large margin of safety in term of financial leverage.
My 5-year growth expectation is for annual revenues growth of about 4.5%, but there could be some fluctuations around my expectation. For example, management expects first quarter of fiscal 2014 revenues to be down 5% to 10% from the fourth quarter of fiscal 2013.
Risks
The share price is likely to remain volatile and investors could lose a portion or all of their investment.
Investors should judge the suitability of an investment in Analog Devices in light of their own unique circumstances.
This section does not contain all risks related to an investment in Analog Devices.
A decline the global economic growth rate and/or a decline in the pace of economic growth in the United States could adversely impact the results of operations and the share price.
Cyclicality in the semiconductor market may affect the performance.
The technology industry is characterized by rapid technological change, which could materially adversely impact the results of operations.
Competition in product development and pricing could adversely impact performance.
Incorrect forecasts of customer demand could adversely impact the results of operations.
Higher interest rates may reduce demand for Analog Devices' offerings and negatively impact the results of operations and the share price.
Valuation
Based on the fundamentals of the enterprise, it should trade at a premium to the market (it currently does trade at a premium and has historically) At 23.2 times earnings and 3.2 times book value, Analog is not overvalued. Thus, based on this model, the share price can go higher.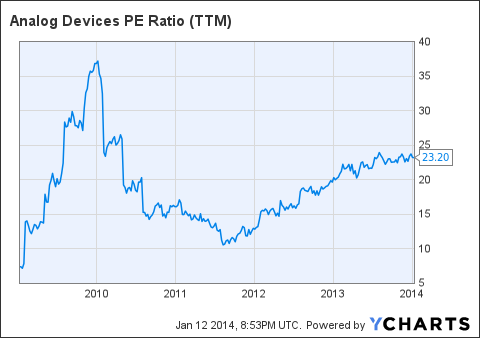 ADI PE Ratio (TTM) data by YCharts
The intrinsic value estimate is $46 per share while Analog trades at $49.32 per share. The distribution level is $69 per share with an accumulation level of $34.49. The intrinsic value estimate is less uncertain; in other words, I am confident in my estimate of the firm's value. But valuation is more of an art than a science.
Disclosure: I have no positions in any stocks mentioned, and no plans to initiate any positions within the next 72 hours. I wrote this article myself, and it expresses my own opinions. I am not receiving compensation for it (other than from Seeking Alpha). I have no business relationship with any company whose stock is mentioned in this article.