GameStop (NYSE:GME) will release their Holiday sales figures Tuesday, January 14th, which will set their stock trajectory for 2014. Despite having disappointing returns from 2009-2012, GME took off on a major rally in late 2012 and early 2013 as the Xbox One (NASDAQ:MSFT) and PS4 (NYSE:SNE) did not decide to go exclusively digital, and Microsoft retracted several used game prohibitions.

I was bullish on GameStop starting in 2011, and published my latest bullish article on August 14 when GME traded close to $18. I saw GME as highly undervalued and a prime candidate for a private equity takeover. GME had strong cash flow, a budding dividend program, and very aggressive repurchases combined with a large short float- a near-perfect bull thesis.
I saw a 'fair price' for a takeover at $35, but I personally sold my shares at $28-$32 due to disappointing developments in digital. On August 29, 2013, at a price of $50.66, I suggested that it was "time to short GameStop." While my direct short did not work out on the timeframe, I remain with $40 Apr14 puts, and I recommend the $40-$45 Apr14 strike for investors who agree on the bearish side.
The Bearish Thesis
It's simple: GameStop is priced-to-perfection in a dying industry. Even anticipating $600M in FCF in 2014 (a record-compares to just under $481M in 2012), dropping to $500M in 2015 and by $50M each year thereafter until flat at $200M for 2021, gives GME a 'fair price' of $34.70 ($4.06B market cap) with a 10% discount rate applied.
This FCF projection is moderately bullish and assumes GME can remain profitable indefinitely, which might prove untrue in a few years. Even with a 'moderately bullish' thesis applied, GME still trades for a 30% premium.
Why Holiday Sales Matter
As per the Q3-13 results, GME is holding EPS guidance of $3.08 to $3.25, which consists of $1.97-$2.14 for the fourth fiscal quarter. The majority of these sales will have occurred during the 'Holiday Sales' timeframe, and any substantial miss (or even a match) of expectations could send the stock diving.
Analysts are currently expecting (according to Yahoo Finance), EPS of $2.14 and revenues of $3.74B. This compares to sales of $3.56B and EPS of $2.15 reported last year. The higher revenues, but lower EPS, even as the share count has been reduced, is a result of a product shift to low-margin "new hardware" (i.e. Xbox Ones and PS4s).
'New video game hardware' typically sells for a gross profit margin of 6-8%, versus 46%+ for 'used games.' This can be seen in reports from last year's 4th fiscal quarter and pasted below (red emphasis added).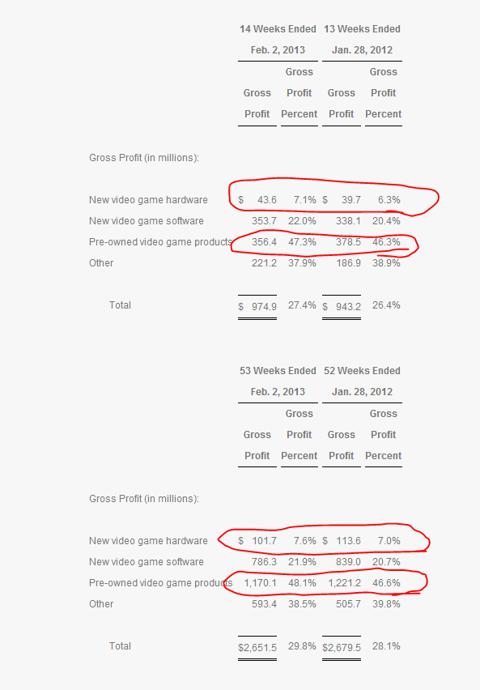 Last year's Holiday sales (Thanksgiving-Christmas) accounted for 81% of total sales (Nov-Jan), and should represent a similar range this year. If GME doesn't announce a figure of at least $3.02B (a 5% increase from last year's sales), I expect the stock to perform very poorly.
New Console Sales
Recent report suggest that MSFT sold over 3M Xbox One consoles (40-50% at GME) and Playstation 4 sales are rumored at close to 1M more globally. Assuming GME captured 50% of the global market gives GME 'new hardware sales' of over $1.55B from the Xbox One and PS4 alone. This compared to sales of $617M last year. Assuming GME can hold sales flat in other categories, and the new consoles amount to 80% of 'new hardware,' GME could pull up to $4.88B this quarter, which blows out analyst expectations ($3.74B).
However, I personally expect the high margin used games as well as new software sales to disappoint. With new hardware margins at 6-7%, this segment will only contribute $116M (approx. $1 EPS) to the bottom line. Although Yahoo is showing analysts expecations at $3.74B, I think the 'real' expectation is for something close to $4.2B and anything less will be a disappointment.
Increasing Digital Pressures
Sony recently announced a cloud gaming service which will potentially place pressure on GME's sales. I have been personally very disappointed with GME's ventures in the area, which include flop mobile operation Jolt Gaming, failed streaming startup Spawn Labs, marginal online casual game site Kongregate, and Impulse Driven, which is little more than an afterthought compared to Valve's Steam offerings. GME's current "digital sales" mostly amount to low-margin gift cards and DLC expansion packs and will eventually be squeezed out by other stores (even 7-11 offers "digital" iTunes and Steam Wallet cards now).
Investment Recommendation
I am personally long the Apr14 $40 puts, and I recommend the $40-$45 range in puts for Apr14, which trade for $1.80-$3.85. I believe the long-dated Jan15 $40s are not worth the additional premium (approx. $5.50-or 3x the Apr14s), since if GME is going to collapse, it will likely be around poor Holiday and Q4-13 sales.
This is a rare case where I expect sales expectations to be (easily) exceeded, and I am still bearish the equity. I believe FY14 will be the most profitable year in the company's history, and the market will turn very bearish on GME in the coming months.
Disclosure: I am short GME. I wrote this article myself, and it expresses my own opinions. I am not receiving compensation for it (other than from Seeking Alpha). I have no business relationship with any company whose stock is mentioned in this article.
Additional disclosure: I am long MSFT. I am short GME via Apr14 $40 puts.